by Susan
Education Officer and National Coordinator—United Coalition of Reason
In our last newsletter, we called for photographs of winter displays that various non-theistic groups are erecting across America. The first group to respond was the Rhode Island Coalition of Reason, and they've successfully put up displays in their state house the past few years.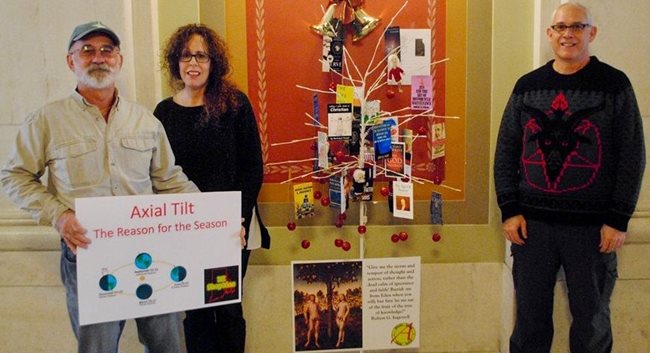 This year, Rhode Island CoR was able to secure a space and advertise not only their ornate Tree of Knowledge, but also to draw attention to the birthday of the founder of Rhode Island Colony, freethinker Roger Williams. According to Rhode Island CoR's coordinator, Dr. Tony Houston, "This year, we weren't pushed up to the "nosebleed section," but certainly nothing as prominent a place as the big tree or menorah. We're as prominent as the manger scenes, though, some upstairs and some on the main level. We have big plans for next year, with our eyes on a spot with electricity."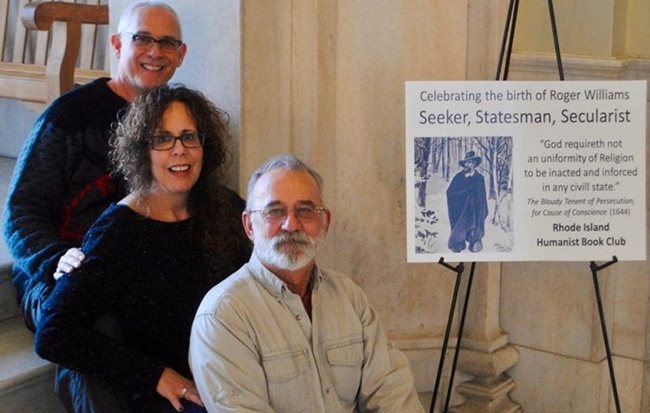 Excellent job to all in the Rhode Island Coalition of Reason, who have helped to not only advertise their CoR in the winter displays, but to also help bring Roger Williams' poignant message to the forefront at a time when it's needed. If there are other winter displays that people are holding, please send your photographs and a story to us by email, and we'd love to publish them in our upcoming newsletters, and to show how much is happening in local areas.
"Peoples' consciences ought in no sort to be violated, urged or constrained." Roger Williams—The Bloudy Tenet of Persecution (1644)