by Melissa Pugh
Grassroots and Outreach Coordinator–United Coalition of Reason
Every year around the time of the Winter Solstice, thousands gather in downtown Chicago to walk around Daley Plaza and view the beautiful lights of snowmen, reindeer, and, of course, Christianity, displayed for all to see. In 1985, a group of volunteers formed something called the "God Squad" and vehemently demanded that the Daley Plaza Holiday Committee permit them to "keep Christ in Christmas" and let them erect a life-sized nativity scene on the tax-payer property next to the large, traditional holiday tree. After years of other religious groups placing their own displays in Daley Plaza (in 1983, two years before the "God Squad", the Jewish Organization Lubovitch-Chabad of Illinois placed the first private display, a large menorah, in the square and in 1997 the Christkindl Market, a type of German Christmas Market was opened for the public),  atheists felt their time was due and the Freedom From Religion Foundation Metropolitan Chicago Chapter filed papers to have the first, ever atheist display placed in the plaza in the 30 year history of the exhibition. Finally, the large, lighted sign of the Richard Dawkins Foundation depiction of the scarlet letter "A" was placed in Daley Plaza to represent all Chicago atheists who were in, or out, of the metaphoric closet.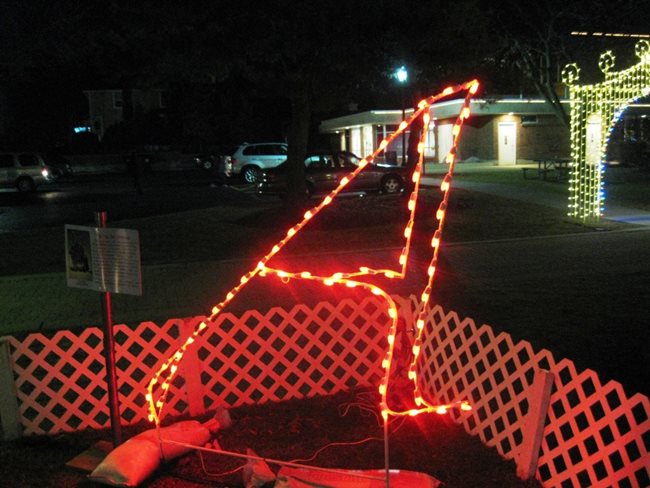 In 2014, in a small, northern suburb of Chicago called Arlington Heights, another struggle ensued in the public forum at North School Park. After three years of trying to encourage the Park District administration to discontinue allowing religious imagery (a large nativity scene…. across the street from a private church with a large nativity scene) within its yearly holiday display, FFRFMCC continued their counter protest with a non-theist display of their own and was joined by United CoR and the groups in Chicago CoR to place their own banner alongside FFRFMCC's rendition of their scarlet "A" displayed in Daley Plaza. Both groups placed their displays right next to the nativity scene. The Chicago CoR banner read "Are you Good Without God? Millions are", a message that has been printed on many billboards throughout the country to show theists that atheists are good people with families and jobs and that Christianity does not hold a monopoly on morality. This effort, unfortunately, did not go without its problems. A week after the erection of the displays, the Chicago CoR banner was ripped from its stand as well as the disclaimer signs being severely bent. This criminal act was technically a misdemeanor but was also a Class 4 felony under the Illinois' Hate Crime Law. Regrettably, the vandal was never caught but the FFRFMCC display is erected every year while the Chicago CoR banner is being repaired.