by UnitedCoR's Executive Director, Executive Director, UnitedCoR
Are your CoR and its cooperating groups sponsoring any major events during the winter holidays? If so, please send us some promotional information so that we can help you advertise and reach more participants. We'd also appreciate photographs from your winter parties and charitable events to include in some upcoming newsletters.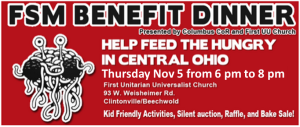 Speaking of charitable events, we would like to take a moment to congratulate members of the Columbus Coalition of Reason, whose 4th Annual Flying Spaghetti Monster Benefit Dinner set a record: 391 lbs. of food was collected and nearly $2,400 was raised to help support the Mid-Ohio Foodbank!
P.S. If you're in the Detroit area and wish to come to the Secular Winter Bash, please RSVP to [email protected] by today, December 1, at the latest!