UPDATE: CLICK HERE TO DOWNLOAD THE APP!
by Jase
Executive Director–United Coalition of Reason
I remember sitting on the Metro one day, observing a fellow-passenger who had an app on their phone to announce the adhan (the Muslim call to prayer), and it made me recognize that if our theistic friends and neighbors have been able to use technology to their benefit, why shouldn't we?
We are pleased to let everyone know that this Tuesday, March 21st 2017, UnitedCoR will officially unveil and launch its FREE secular-friendly app. The first platform on UnitedCoR's secular app will be a calendar function which is free to download, free to use, and is the first of many platforms to follow. As people around the world use the app and bring in new members to their local events, ideas will bubble-up from the grassroots level, giving us ideas for new platforms and functions for the app that increases membership in local groups.
The app has been designed to put the spotlight onto local groups and activities rather than to give attention only to UnitedCoR: once again, a true and real grassroots focus. In time, new platforms will be added to the app, thereby causing it to evolve and change to continually serve the needs of local secular communities, instead of being single/limited-use.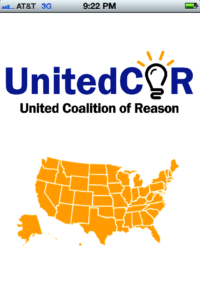 From the app, you can choose to see events in any of more than 50 metro areas in the US, Canada, the UK, Ireland, Australia, New Zealand and South Africa.
You'll see each month with a calendar that has yellow dots: each yellow dot signifies that there's an event taking place somewhere that day in the area. If you touch on the date with a yellow dot, it will then display the event with all of its details. From there you can:
Click the link to visit the event's primary webpage,
Email the event to yourself or to a friend, or
Add the event to your smart phone's calendar
You can browse events in three ways:
A monthly grid (like a wall calendar).
A flat list that simply shows everything (limited to three months out, or it makes the app slow)
Just today
Here are answers to common questions:
How will my organization use the app?
Just publish your events on meetup.com or Google Calendar. For major events we can also type them in manually.
Will the app help people new to the secular movement?
Certainly, by putting them in touch with hundreds of local groups with local events, and also regional, national, and international events.
Will the app grow my group's membership?
Yes. Just like Google, we send traffic to you. Users don't get stuck on our app. Instead, we send them through the app to your events webpage.
Or users can also touch "Learn More" in the bottom right which sends them to the UnitedCoR website and from there to all of our CoRs and affiliate groups.
We make it easier for potential new members of your group to see what is happening around town and take a chance by going to a new group and new place.
Do people have to share their personal information in order to use the app?
No. No sign up is required. The app can be used without giving any email or username.
We are excited to share our new app with you! On March 21st, please download it, use it to help build your local communities and invite your friends and their friends and networks to download the app and use it. And we'd love your thoughts about future future. We are working hard to bring aid to local groups around the world.