Three weeks ago, UnitedCoR visited Central Iowa CoR and Eastern Iowa CoR for a meet-and-greet. Little did we know before our visit that those two CoRs were planning a large demonstration by the Iowa atheist community at the final GOP debate of 2016. Our press release set off a flurry of new media who began to follow the demonstration, and over the course of the days leading up to the debate, camera crews and reporters were actively looking to find the #AtheistVoter demonstrators and to hear what they had to say. Contributing to this week's newsletter are three people who were present for the demonstration, each with different perspectives on the event: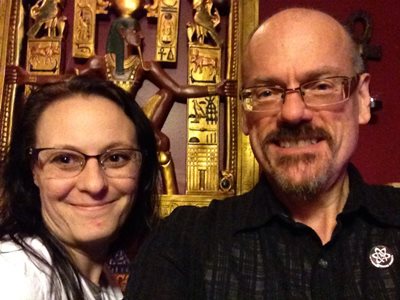 The final Republican Debate before the Iowa Caucuses was held at the Iowa Events Center in downtown Des Moines, Thursday January 28. Security was very tight and you couldn't enter the venue without credentials. The undercard debate began at 6pm with the regular debate slated for 8pm. Our Atheist Voter demonstration was scheduled for 5pm to 8pm, and our group of 15 people—representing atheist, humanist and secular groups of the Central and Eastern Iowa Coalitions of Reason—were positioned beside all the media outlet satellite trucks. Flying in to join us was Melissa Pugh, President of the Atheist Alliance of America. She was excited to help with the demonstration and had a lot of fun as we all did with the spectacle about to unfold. We tried a different strategy following the lead of other groups. While one or two of us watched our table, the others circled the block to get more attention with good success!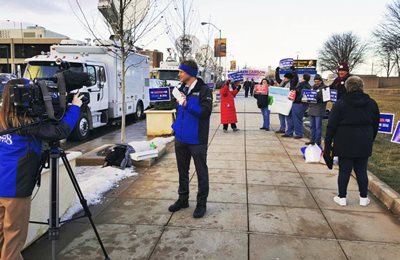 We had interviews with Des Moines TV station KCCI, Boston's WCVB ABC 5, the Daily Iowan newspaper, a reporter from Spain, the Korean Broadcast Network, and photos by Rueters. We were in the background of the expanded one hour 6:00 news on KCCI TV for both segments! Our #AtheistVoter signs, Keep Your Theocracy Out of Our Democracy and This is Not a Church (with an image of the U.S. Capitol building, were clearly visible behind the news reporter while on the air.) Back home, watching the 10pm news on local KCCI, some of our demonstrators that had been interviewed including Justin Scott (our #AtheistVoter photo op and viral Q & A man) as well as Iowa Atheists and Freethinker's PR person, Jason Benell, had sound bites included in the story and were able to see some of our group and signs in the background! Earlier in the day Jason Benell and I had separate phone interviews with American Family Radio, headquartered in Tupelo, MS: media was coming at us from all sides and times.
Perhaps a carnival atmosphere better described the events on the street! We weren't the only game in town…not by a long shot. There were other demonstrations in support of the Renewable Fuel Standard & Ethanol, Don't Trust the Liberal Media, Global Zero for no nukes, and other groups supporting the various candidates….but we were totally upstaged by the parade of a reported 500 demonstrators (Iowa CCI) that marched up 5th Avenue and to the front entrance of the Iowa Events Center demanding a $15 an hour minimum wage. They were chanting, beating drums and using noise makers to make quite a statement!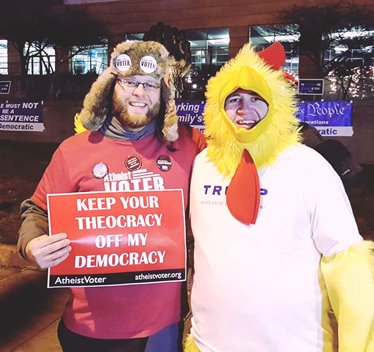 Donald Trump, of course, skipped the debate to hold his own event at Drake University. Two of our members of the Iowa Atheists & Freethinkers left the demonstration early to attend his event in person. At the main event there were a few Rand Paul supporters dressed in chicken costumes to show Trump as "too chicken to show up"!
A special thank you to United Coalition of Reason for providing for the coffee, hot chocolate and cookies! We were shivering in the cold and it really helped warm us up!
Rory Moe
Coordinator—Central Iowa Coalition of Reason
The Eastern Iowa Coalition of Reason took a vanload of folks to rally for free speech outside the GOP Presidential Debate last week. Part of the discussion on the two hour trip there concerned what each of us hoped to achieve by attending this rally. Predictably, the answers were varied, as some simply wanted to personally become more active and enjoy the spectacle. Others felt strongly that it was time for non-theists to speak up and express that we, too, are Americans with values and concerns that deserve representation in our political process. Some have been openly atheist all their lives and others have only recently declared themselves. It was, in other words, it was a diverse group of non-believers en-route to Iowa!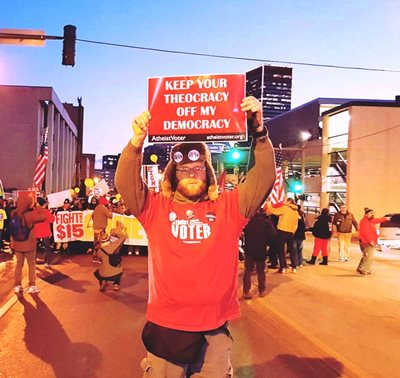 My personal motivation for becoming more active is and always has been, to demonstrate to non-theists that they are not alone and that there is community and support for them when and if they choose to "come out" publicly about their lack of belief in any god or gods. It is important to rally and demonstrate and fight for separation of religion and government and for the civil rights of non-theists because, in addition to the obvious reasons, it confirms that the sense of community we are trying to create extends beyond our local groups to include the entire country.
It is a regular occasion that during such rallies, or anytime we have a presence at a public event, that local people come up and thank us for being there, which is usually followed by them telling us of their own non-belief. The rally on the 28th was no different. Instead of being bound to one spot, we had the opportunity to walk all around the venue. We met Quakers protesting the big bank system and the industrial-military complex, who also expressed their support of our message "Keep Your Theocracy Off My Democracy." There were the nurses who asked for our "Atheist Voter" buttons and people with the "Fight for Fifteen" living wage protest who gave us encouragement and thanked us for being there as we demonstrated for our own rights and the chance for our voices to be heard.
There are many ways to be active in the move to make non-theists' voices heard in this country and many ways to contribute to creating a safe and welcoming community. For me, it is the quiet voices of those who come up to us and say, "I'm so glad to see you. I thought I was alone," that makes all the time and effort worthwhile. Sometimes those quiet moments at a loud rally that are the most profound and long-lasting.
Roxanne "Rocky" Gissler
Coordinator—Eastern Iowa Coalition of Reason
I had the opportunity to fly to Des Moines, Iowa on January 28, 2016 and protest the Fox News GOP Debate (minus "The Donald," as was represented by two men in chicken suits carrying a milk carton with a picture of Trump and the headline "Missing") with a few wonderful people representing the Eastern Iowa Coalition of Reason. Rory Moe was my wonderful host and I had a wonderful time working with the entire Iowa Coalition.
As I was standing near the media trucks, all of a sudden this big ball of energy came into my world, named Justin Scott. I'd seen his pictures on Facebook with the various candidates for POTUS on both sides of the aisle, and I am sure, like everyone else, I thought it not only hilarious, but also quite inspiring. He was there, wearing an #AtheistVoter t-shirt and a big, furry hat with two buttons that said "Atheist Voter" on the flaps, running up to candidates with no fear in his eyes, only excitement, and put these potential world leaders on the spot. How important to them was the vote of the fastest growing demographic in the nation: the atheists, agnostics, secularists, and humanists?
I've always had a huge passion for the movement but the Iowa CoRs seemed to somehow outshine my own that evening. I decided to learn some things from everyone at the demonstration. All of us were interviewed by various media outlets but our big moment came when 500 people marched and blocked the entire street outside the Veterans Memorial Auditorium, chanting for a living wage of $15 per hour. Some of us in the demonstration supported this idea and were welcomed with open arms into this demonstration with our "Keep Your Theocracy Out Of Our Democracy" signs and stood up with other protestors. As we gained the steps of the auditorium, Justin completely disappeared (as was his thing) so I stood atop the highest wall with my sign and shout "Keep Your Theocracy Out Of Our Democracy" over and over until I lost feeling in my feet and most of my voice, almost 40 minutes later. I did this because I was so fired up, completely energized by the passion of everyone assembled, and I decided it was also up to me to demand our rights from a government gone mad with the idea of religious expression.
After the demonstration, I went back to our meeting spot and noticed that Justin began taking pictures and conducting interviews with the Ben Carson supporters. I returned to the two CoRs, exhausted but more than content, and watched as they poured coffee and hot chocolate, provided by UnitedCoR to provide some warmth against the cold elements, while passing out cookies to the tired $15-an-hour protesters and their cold, precious, little children. At that moment and in that instant, I was proud to call these people my companions, proud to call them my fellow activists, but more importantly, I was proud to call them my friends!
Melissa Pugh
President—Atheist Alliance of America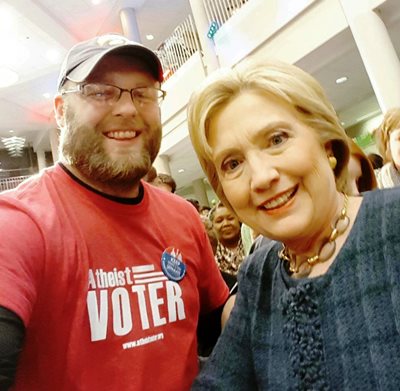 During the week of the demonstration, Justin Scott put on his famous red t-shirt, and took his questions to more candidates, including recording a conversation with Dr. Ben Carson that was nationally broadcasted by C-SPAN. The media surrounding the demonstration increased as more and more people followed and shared these stories on UnitedCoR's Twitter and Facebook pages. Curiosity eventually got the best of the media, and Justin was interviewed by The Washington Post, where he boldly outlined many of the issues that non-theists have wanted to be taken seriously by politicians who continually choose to make their religious belief a central discussion point.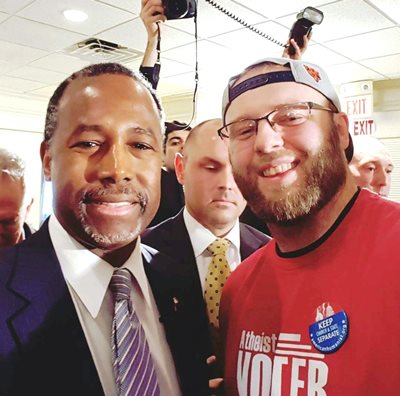 UnitedCoR is grateful for the work that our CoRs in Iowa have been doing over the past few months, as they have made personal sacrifices to make these demonstrations, interviews and representation high-profile and visible. Their work in Iowa can be continued throughout other states with a unified voice from non-theists everywhere who don't want to be left on the fringe.
Executive Director—United Coalition of Reason