While at the Conservative Political Action Conference (CPAC), #AtheistVoter Justin Scott was able to get in front of fellow Iowan Steve Deace (a widely popular conservative radio host, political commentator and contributor to many major media outlets) and get his thoughts a variety of atheist-related questions. Justin is a Member of Iowa Atheists and Freethinkers, a cooperating group within Central Iowa CoR.
Check out the film that Justin was able to capture, with excellent discussion of some thought-provoking issues!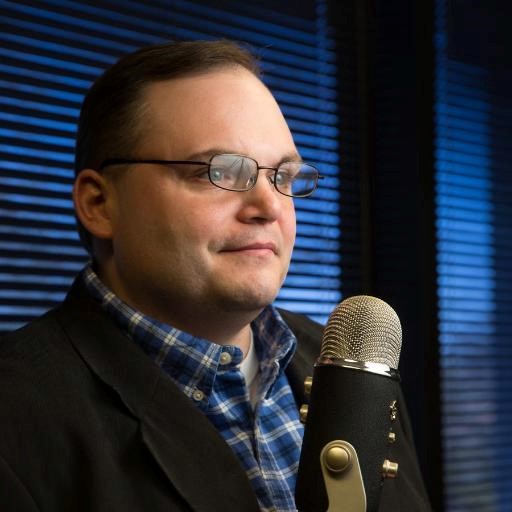 Justin was able to sit down with conservative personality and The Blaze contributor, Lawrence B. Jones III, to get his thoughts a variety of atheist related questions in this candid interview.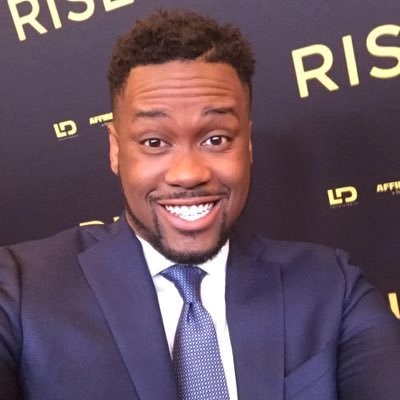 The third photo is of Justin with students from Liberty University. As Justin said, "They were fascinated with the fact that I was a real, live atheist and that I didn't have horns or eat babies. We probably talked for an hour and a half. Good times!!"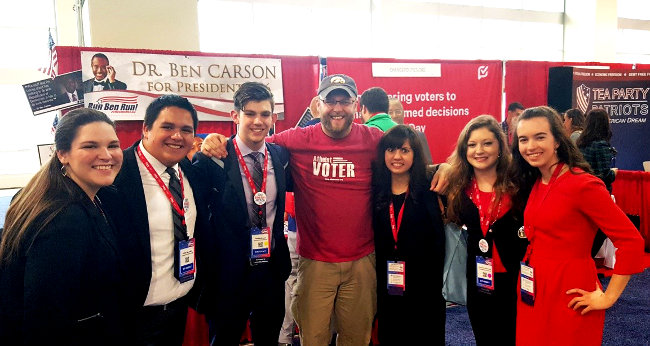 Two weeks ago, during a townhall in Waterloo IA, Justin had the opportunity to represent atheist voters during a Q&A session with Pat Murphy, the former Speaker of the Iowa House and current 2016 Democratic candidate seeking election to the U.S. House to represent the 1st Congressional District of Iowa. During the Q&A session, Justin asked him for his thoughts on both discriminatory legislation based in religious belief as well as when elected officials don't support certain legislation because of their religion, along with where he stands on "Death with Dignity," which Iowa Governor Terry Branstad has firmly stated he will not support.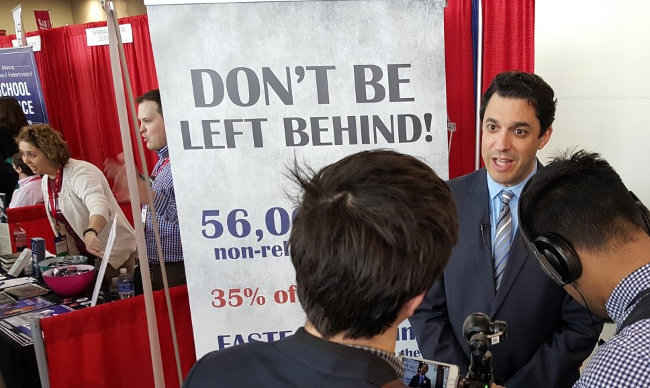 Justin felt he gave a very candid and strong answer to the questions, especially to his support for "Death with Dignity". Justin said, "I was able to discuss privately with him after the forum ways to welcome nonbelievers to his campaign in both his speeches (by including the phrase "nonbelievers" or "nonreligious" and by not pushing "God Bless Iowa" or "God Bless America" like typical candidates). He seemed genuinely responsive to the ideas and I exchanged contact info with him."
Justin plans to continue presenting similar questions in similar fashion to Murphy's competitor Monica Vernon, a longtime Republican-turned-Democrat who is currently leading the race for the Democratic nomination for the 1st District. She has been cancelling debates and other events for fundraisers lately so it'll be interesting to see if Justin is given the opportunity to ask her questions like with Mr. Murphy.
UnitedCoR admires Justin's continuing work to represent non-theistic communities to political hopefuls with a smartphone camera, a red #AtheistVoter t-shirt, and a spirit of tenaciousness.