by Melissa Pugh
Grassroots and Outreach Coordinator–United Coalition of Reason
I had the opportunity to attend two conferences in two weeks, one across the country from the other! (Yay, travel!!) Both were total successes, and both made an impact on their audiences in their different—yet similar—ways.
The first conference I attended was the 15th Annual California Freethought Day in Sacramento, CA on October 16, 2016. This conference was centered on the attention that secular-minded Californians have been bringing to their state government about their rights as atheists, secularists and freethinkers to participate in their local and state government decisions without any restrictions because of their non-belief. It was also a general celebration of #secularpride to show the state of California that they were voting citizens and a strong and growing bloc, not to be dismissed.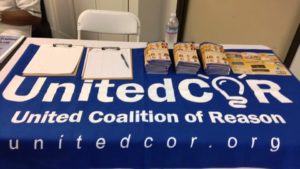 On Saturday, October 15, 2016, I was able to participate in a workshop entitled "Secular Leadership Day." This workshop focused around local and national leaders sharing their ideas with each other and also described our successes and failures, as well as how to involve the different people in our different groups. We also discussed strategies on how to get folks more active in their communities. I spoke about the need for the generation of Millennials to be more engaged and involved in the atheist movement. I discussed how all leaders needed to recognize the passion and fire among this group of atheists and to devote more time to them and their different needs. This generation is the first generation in American history to embrace non-religion in large numbers. According to the Pew Research Center, people born after 1981 are more likely to not believe in a higher power than every other generation before them at a whopping 50% saying they don't believe in God with absolute certainty. Only 1 in 4 Millennials say that religion is very important in their live.
This reminded me of a young man by the name of Thomas Westbrook, 26, who is a large atheist activist on YouTube, with his channel, Holy Koolaid, very popular amongst his generation. I came across him on Facebook a few weeks earlier and commented on a very engaging video he had posted sharing his trek from evangelical Christian to atheist blogger and YouTuber and a few people were giving him a hard time. This young man was so well spoken, so honest and so heartfelt, I couldn't help but comment. We became Facebook friends and he came up to me before the Leadership Day and introduced himself. I was again, impressed by his passion, his directness, and his wonderful air of humor and wit. I see him as one of the up-and-coming rising stars in atheism from the generation of Millennials.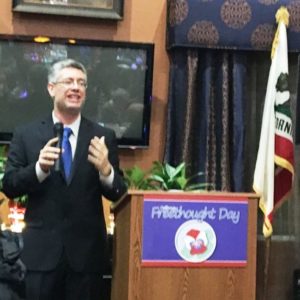 Another Millennial who made a huge impression on me was Mercedes Macias, a young woman who is running for city council in her hometown of Chico, California (part of the Butte County Coalition of Reason). Mercedes is running on a definite liberal platform of women's rights and Latino rights as well as many other issues facing the Millennial generation. She told us of the first time her hopefully-future constituents reacted upon hearing of her atheism. Now, she hadn't publicly run on the platform of being an atheist but after a bout with a discriminatory manager, she decided to add atheism to the long list of concerns she has for Chico. Luckily, unlike many other parts of the state, Chico is fairly liberal and very non-religious so I wish her the best of luck in the upcoming election.
On Sunday, October 16, 2016, was the event that was open to the public: California Freethought Day. We were scheduled to be gathering on the steps of the California State Capitol, but unfortunately, the weather disagreed with us. The great thing was David Diskin, the organizer, found us a wonderful replacement with room for everyone at the last minute. There were over 250 residents of California there to wander among the tables and talk to leaders and other residents about their concerns and views on the upcoming elections.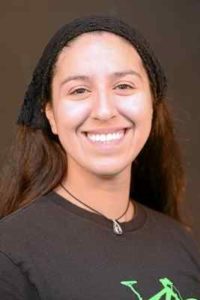 I was honored to speak on the Community Panel representing United Coalition of Reason, along with representatives from The Satanic Temple, Foundation Beyond Belief, Secular Coalition of America, Secular Student Alliance, Grief Beyond Belief, American Atheists, and Camp Quest about our different groups and what we do for our communities. Afterwards, we had a chance to celebrate with wine and pizza at the adjoining Reason Center, a center where many of the Sacramento freethought groups meet and organize events. The California residents and activists had a lobby day planned with their legislators at the State Capitol on Monday morning and I have heard it was a great success!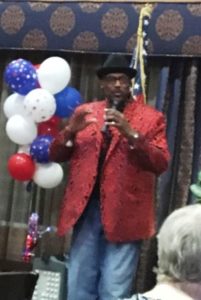 The next weekend was the long awaited Mythinformation III Conference in Milwaukee, Wisconsin sponsored by our friends at Mythicist Milwaukee and showcasing the long-awaited debate between Dr. Bart Ehrman and Dr. Robert M. Price on the historicity of Jesus. Before the Buzzed Belief Debate of these two leading scholars, there was an entire afternoon filled with amazing speakers. Mythicist Milwaukee's own Rob Moore, one of their two talented podcasters, spoke about the word mythicist and the fact that very few Americans know what the word means. Another speaker was the very talented and hilarious Thomas Smith from Atheistically Speaking and Thomas and the Bible podcasts. Dan Barker, co-founder of the Freedom from Religion Foundation, played the piano and discussed his group and the legal action they take against religious discrimination and violations of the First Amendment.
I absolutely enjoyed all of the speakers but one speaker in particular, not only stole the audience's hearts but made most of us cry. That was Allie Jackson, CEO of Atheist Republic. She spoke so passionately about her work with atheists' in the highly religious Middle East, and there wasn't a dry eye in the room. She spoke of people—atheists—whom she had tried to help, who were brutally murdered because a "secular" country denied them asylum time and again until the Islamic extremists finally caught up. She spoke of Christian women who were raped by family members and couldn't come forward for fear of being labeled a "rape victim" by their own flesh and blood. She discussed her group which provides support and resources for those who want and need asylum from their overtly religious and dangerous countries and how we can help and become strong activists, not only for the cause of atheism, but also for the cause of human rights. Her speech was empowering, emotional and inspiring, coming from a strong woman with a huge heart.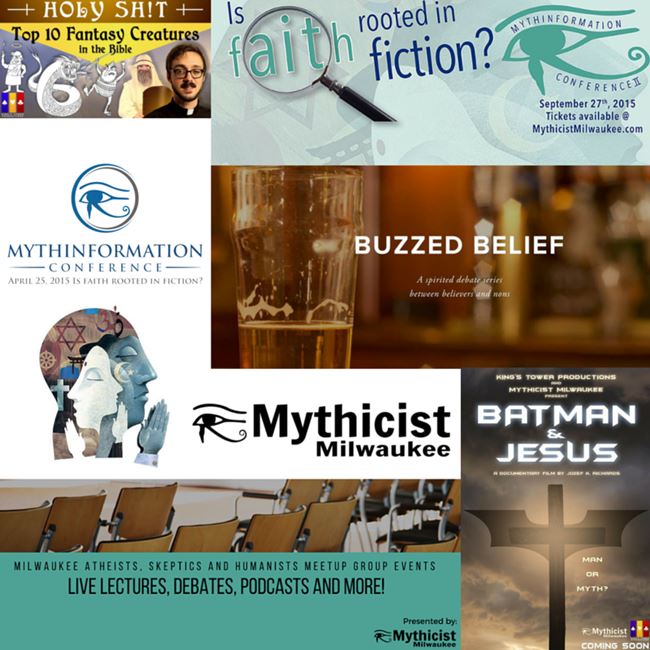 After speaking with Sean Fracek, the co-founder of Mythicist Milwaukee, I was pleasantly delighted to learn that not only was the conference a huge success but they doubled their numbers by including a live YouTube feed of the conference via a paid subscription to their YouTube channel. As Sean wrote to me:
Up front, I would like to thank Mario Quadracci for believing in the Mythicist Milwaukee team and going out on a limb to fund this extremely costly event. I also want to thank all of the sponsors and speakers that took a Friday off to support the Mythinformation Conference III. Based on the survey data that we have received, it appears that Dr. Bart Ehrman made a better argument defending the historicity of Jesus during the debate. However, the fact that Bart agreed to debate Dr. Robert Price on the mythicist position at all, tells me that mythicism has a shot to start trending in the direction of being viewed as a legitimate argument. We had over 270 people from over 15 states at Turner Hall in Milwaukee, and over 1000 live viewers from more than 20 countries that took a Friday off to view this debate. I feel that this debate is just the tip of the iceberg and will make it even harder for scholars to ignore this topic. I was honored to be a part of this event, and I am proud to be a part of the team of professionals at Mythicist Milwaukee. We have big things on the horizon and we will continue to bring unique initiatives to life that will shape the future of what secular events look and feel like. If you liked this debate, you will love our upcoming movie Batman and Jesus that will be premiering in 2017!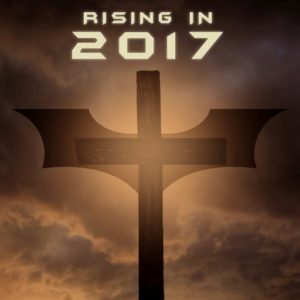 All in all, both of these conferences were huge successes for everyone involved. The general public got a wealth of information on how to lobby, how to become active and what kinds of scholarship atheist activists are concentrating on. David in California and Sean in Milwaukee have informed me that both conferences will be continuing next year, with dates yet to be determined. Keep an eye on www.freethoughtday.com and www.mythicistmilwaukee.com for updated information on these returning conferences in 2017!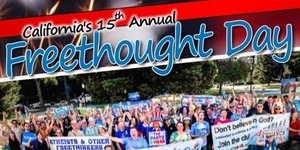 Follow California Freethought Day on Facebook and Twitter. You can also check out Mythicist Milwaukee's Twitter and Facebook pages.