by UnitedCoR's Executive Director, Executive Director, United Coalition of Reason
Recent events that have attracted positive and friendly media inquiries have caused me to reflect on people in their local communities who are constantly putting their ideals into action—doing good without a need to believe in a god. Since late-June of this year, many of our UnitedCoR newsletters have highlighted chaplains and other caregivers who continue to put this ethic into action. Today, I want to shine the spotlight onto some groups who try to help the humiliated feel beautiful again, as well as making strides to transform their communities into better places to live and flourish.
Last week, we sent out a press release, informing the media around Iowa and Nebraska that one of the Central Iowa Coalition of Reason's cooperating groups had raised a record $1,800+ from a school supply drive that they were donating towards some schools in impoverished areas. When we met Rory Moe—Central Iowa CoR's coordinator—at the Heartland Humanist Conference a few weeks ago, he came to the UnitedCoR table with a special glimmer in his eye and he was filled with excitement.
"We're about to do a huge fundraiser to purchase school supplies for some good kids! We could use your help getting the message out to the media," Rory said. We had only been in Des Moines a few days earlier, and it was during that evening's discussion that we discovered how active the folks in Des Moines had been, when they weren't being inundated with presidential candidates that continued to appear like whack-a-mole at a fairground. During that presentation, I shared how Dr. Martin Luther King, Jr. wrote in his book, Why We Can't Wait, "More and more I feel that the people of ill will have used time much more effectively than have the people of good will…We must use time creatively, in the knowledge that the time is always ripe to do right." It was shortly after that presentation that the press release for the Iowa Atheist & Freethinkers' school supply drive began to take shape.
Less than an hour after the press release went out last week, our phone rang from a person that identified themselves as being with The Daily Caller—an outlet that sometimes makes our friends at FoxNews appear liberal. "I'm not planning to do a piece on your press release, but I just wanted to ask you, what exactly are non-theistic ethics?" asked the voice down the other end of the phone. I have to admit that I wasn't entirely sure what they wanted me to say, so I spoke to them in general anecdotes to begin with.
I told them of the time when Omaha Coalition of Reason and South Dakota Coalition of Reason had a friendly competition to raise money and items for a local shelter that supported battered women, or when the Gulf Coast Coalition of Reason raised money and food during World Humanist Day, or how the Dallas/Fort Worth Coalition of Reason has regular activists in the food banks. I also spoke about how someone named Michael Kimberl in Pensacola wakes up every morning to make sandwiches for the homeless people he's trying to help get jobs at his Sean's Outpost Homeless Outreach (all of this done with BitCoin!). Each of these people are doing these things in the name of good, and not because they are hoping to find some sort of reward from a divine personality.
Yet, the person on the phone persisted, "I support these kinds of people, too. What's different about my motives and yours?" Motives? Hm, I hadn't considered that one. It reminded me of a time when I was interviewed by a U.S. Army chaplain who was working on her Master's thesis titled, For Man and Country: Atheist Chaplains in the U.S. Army. I referred the caller to a response I once gave to Chaplain Major Dr. Valeria Van Dress: "Ethical living of the individual in relation to others. Let's face it: if I screw it up, it's MY doing. Yes, there may be factors that impacted upon my screwing something up, but it's ultimately on my shoulders to do something about it. It isn't a live-for-now ethic, but rather a realisation that I am in charge of my own life and its decisions. If I'm ashamed with the outcomes of something I have done, it's my responsibility to put it right and to do so as quickly as possible because there is no afterlife when it'll all be wonderful and warm/fuzzy.
People's feelings are real and they are real today. The consequences of our life choices on the natural world are real and we are seeing this today. If a need is discovered and I am in a position to do so now, then now is the best time to take action. See what I mean? I do not want to be 80 years old, and then look back on my life with regrets. When it's my time to go, I'd like to do so with a sense of dignity, knowing that I did the best I could with what I had. If an opportunity is lost, then on my head so be it. This ethic is one that mixes strength with debasement at the same time: it means that I am an empowered individual, and at the same time, I am responsible for what I do with this empowerment when I relate to others and the world around me." With this, the caller said thanks, and that ended the conversation.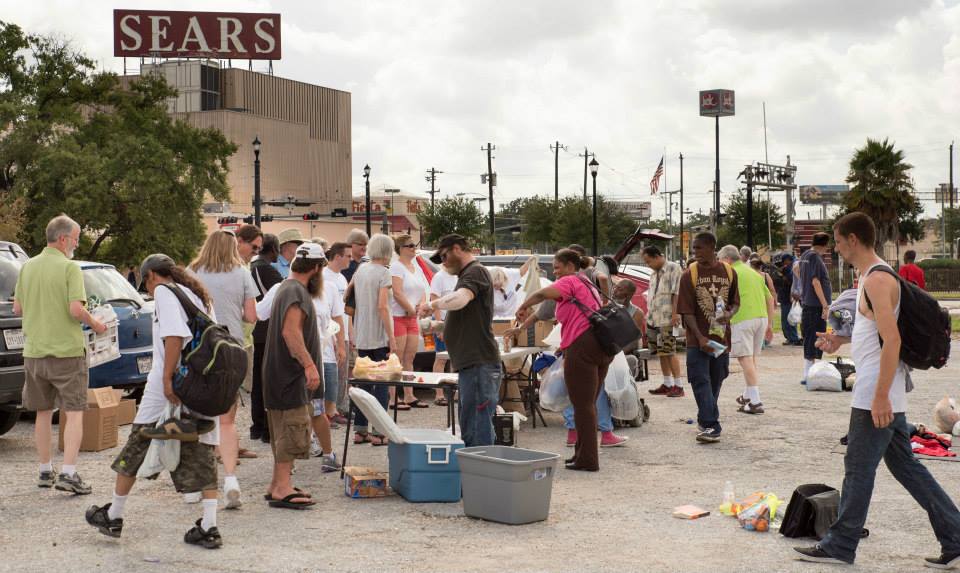 As I was writing this article, I received an email from Susan (UnitedCoR's National Coordinator and Education Officer) that simply read, "This is wonderful!" The link took me to a Meetup event where one of the cooperating groups within the Houston Coalition of Reason—Atheists Helping the Homeless (AHH)—had completed a June giveaway in downtown Houston. I looked at one of those photographs and was transported back to a time when I was about 8 years old and my father was working for a company in that location that would ultimately merge with others to become the ill-fated ENRON.
I remember thinking to myself, "I know that place…it's in the Museum District, but very close to Houston's Third Ward—a place that has been in desperate need for many years." AHH's work is making a difference in the lives of women, men and children, and they are also receiving donations and assistance through groups such as Camp Quest and Humanists of Houston to continue with their local outreach. The question remaining in my mind is why didn't I know about this sooner?
I spent some time talking with Rebecca Vitsmun of Foundation Beyond Belief last June when we visited the FreeOK Convention in Tulsa. Rebecca recalled a story to me of how she had first-hand experience of theistic relief groups in the aftermath of a tornado. She told me that the theistic-based groups were there like a shot: organized, with high-visibility vests, teams of volunteers, press coverage, and of course religious literature to help people understand the reasons for their actions.
Reflecting upon Rebecca's experience, it makes me wonder if part of the challenge behind non-theistic ethics is that because our charitable acts are not done because we think someone is watching, these efforts often go unnoticed unless someone else tells people about it. It could be said that our reward for doing good things is knowing that it made a difference to other people, and yet it could also be said that what is good news is certainly worth sharing with others.
If there is good work being done in your local area that you'd like others to know about, please write to UnitedCoR and we'll help make sure that good causes receive the recognition they deserve.