by Rocky Gissler
President–Humanists of Linn County
Humanists of Linn County organized and hosted their second half-day symposium on August 26th, 2017. With the help of Iowa Atheists and Freethinkers, once again the Eastern and Central Iowa Coalitions of Reason worked cooperatively to provide secularists in Iowa an outstanding educational opportunity. Dr. Dale McGowan presented a 4-hour workshop to 65 adults at the Indian Creek Nature Center in Cedar Rapids, Iowa.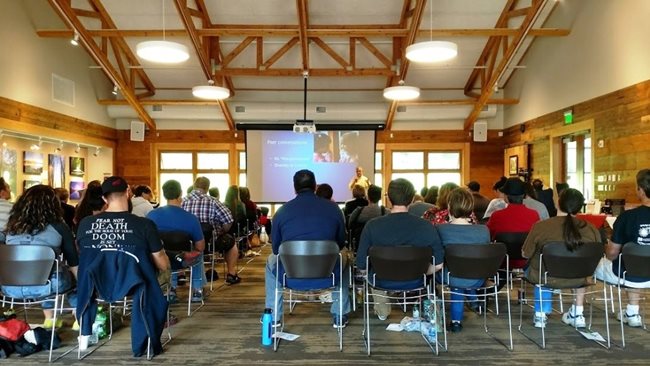 Rocky Gissler—President of Humanists of Linn County—was pleased with the outcome of the event. Rocky said that "After last year's Death and Dying Beyond Belief symposium, we wanted to kind of go to the other end of things and offer something to anyone who is raising kids in a predominantly religious world.  "With the creation of our new affiliate, Freethinking Families of Linn County," Gissler continued, "we thought Parenting Beyond Belief would be an ideal way to serve that group and bring more attention to them. Dale McGowan seemed like the perfect person to bring in and fortunately for us, he was available and we received two large financial donations to make that happen."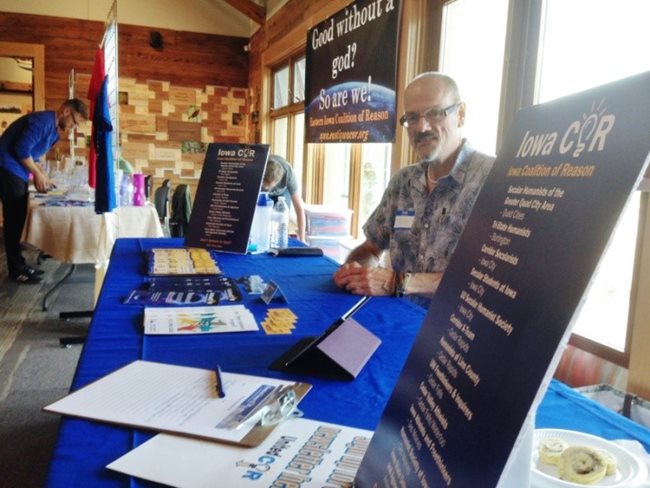 In addition to the main workshop, Humanists of Linn County also provided a separate track for kids ages 5 and up. Kids spent the afternoon doing science experiments, going on a nature walk, doing arts and crafts, and movement & music. Fourteen kids participated and it was a large reason why many of the parents who attended were able to come. Connie Clancey, Secretary of Humanists of Linn County and one of the adult leaders of the kid's track explained, "We had the advantage of being able to encourage critical thinking rather than follow a lesson plan. The kids asked questions about the activities and then were able to design ways to answer their own questions. The room was full of ideas and enthusiasm!"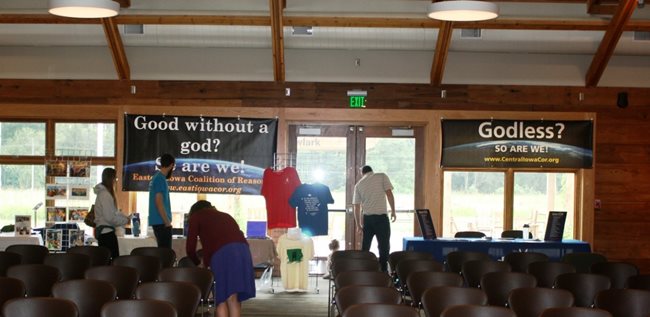 One final fun part of the day was a silent auction which raised an almost unbelievable $666. "Yeah, we had to count that twice," said Gissler.  "It seemed crazy but it got a big laugh when we announced it to the room."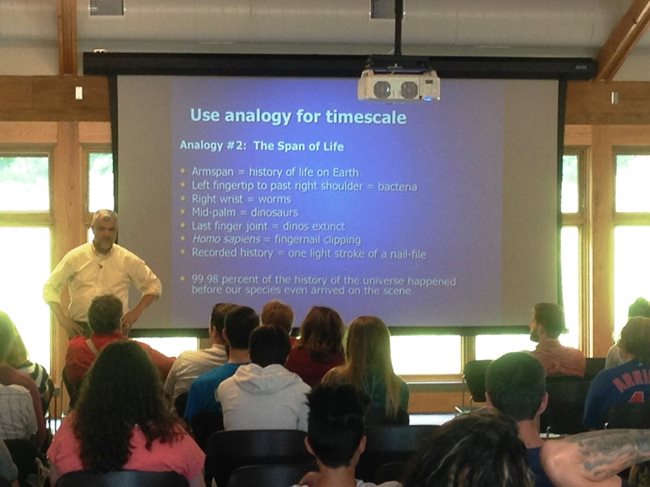 Plans for next year's symposium are already underway and it will undoubtedly be another successful effort between the two Iowa CoRs.
UnitedCoR: We're thrilled to see so many people show up to this family-friendly event, and we're proud to have been able to help the two Iowa CoRs publicize the event. One of UnitedCoR's many services that we offer to local groups is to help handle your media needs through free press releases and sharing your news on our social media, just like we did for the Parenting Beyond Belief symposium.
Keep the good news coming from Iowa, and congratulations again for a wonderful and positive event!