90 attendees signed up!
Dedicated volunteers made Columbus CoR's second time tabling at the Columbus Community Festival successful. 19 volunteers worked a total of 128 hours setting up the booth, tabling and helping with cleanup, recycling and security June 26 – 28. Many of the Columbus CoR member groups provided volunteers. Omnipresent Atheists supplied the most closely followed by Central Ohio United Non-Theists (COUNT) with Central Ohio Gay Atheists (COGA) and Humanist Community of Central Ohio (who also had their own booth) tied for third.
Columbus CoR Member Group
# hours worked*
Omnipresent Atheists
14
109
Central Ohio United Non-Theists
13
66
Central Ohio Gay Atheists
8
79
Humanist Community of Central Ohio
8
76
Atheists of Columbus
5
67
Recovering from Religion Columbus
4
25
UU Atheists, Skeptics, Humanists
1
16
Daniel's Atheist Drinking Club
1
6
Sunday Assembly Columbus
1
3
Secular Student Alliance at OSU
1
3
*Note that some volunteers are members of multiple groups.
The large "Don't believe in God? Join the club!" banner generated substantial interest. 90 attendees signed up on an e mail list to receive more information about Columbus CoR groups; one even attended the Omnipresent Atheists meeting two days later. "It was a great weekend for Columbus CoR minus the festival getting shut down early on Friday due to rain and it being muddy, windy, and chilly on Saturday, but Sunday was perfect weather with no rain or cold temperatures. Columbus CoR tabled a total of 33 hours hours with 19 people volunteering." according to Avery Winston, Columbus CoR Coordinator.
An online gofundme effort and collections gathered at COUNT and Omnipresent Atheists meetings and the Day of Reason Picnic raised more than sufficient funds to pay expenses. Avery Winston led the overall effort including fundraising, recruiting/scheduling volunteers and purchasing leaflets and sides for the canopy. Last year, United Coalition of Reason had paid for the canopy and banner that were reused this year. COUNT members planned the booth and produced signage. Dan Hronek again loaned us tables. Other volunteers who helped out in the booth and with COMFEST in other ways included: Christina McDuffie, Phil Radliff, Gary Glowacki, Dan Hronek, Michael Bondoc, Brian Waters, Heidi Al-Sahsah, Bob Roehm, Brian Costlow, Amy White, Amanda Barker, Scott Ford, Mike McFall, Jared Gray, and Dave Nohle.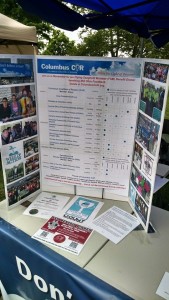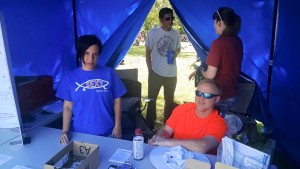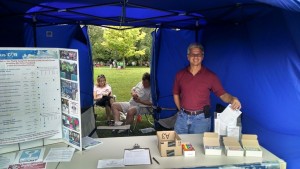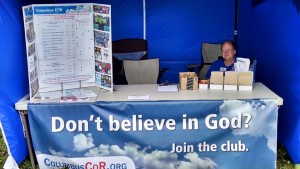 [7/6/2015: article corrected to add Day of Reason Picnic collection, change to gofundme and remove erroneous amount.]
Columbus CoR Pages