On Wednesday January 11, 2017, Columbus Coalition of Reason (CoR) sponsored a Charity Fundraiser Happy Hour at Land Grant Brewing Company in Franklinton, east of Downtown Columbus, to benefit the Mid-Ohio Foodbank. Seventeen people from multiple Columbus CoR groups showed up to support the local charity and the local brewery and raised $150. This fun event paired great conversations with great hand crafted local beer.
Land Grant originally approached Columbus CoR about doing the event and it hopefully has started a lasting relationship for future events. The business is one of the many local breweries that have worked with Columbus CoR on charity events in the past and hopefully the future. Columbus CoR is working with other local breweries to do similar events, so stay tuned for another happy hour in March.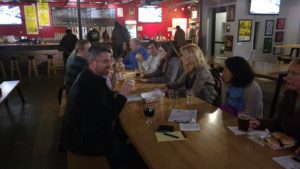 Two Central Ohio United Non-Theists (COUNT) members arranged the event for Columbus CoR and various member groups advertised it building on the annual Flying Spaghetti Monster (FSM) Benefit Dinner's success in helping the foodbank. Columbus CoR has now raised $11,236.37 and collected 1,510 lbs of food for the Mid-Ohio Foodbank since 2012.
Starting on January 19th, HCCO's successful Bleed-N-Feed expands to be a Columbus CoR event. Blood donations are scheduled at the Carriage Place Red Cross on 3rd Thursdays in January, March, May, July, September and November and will be followed by dinner at a nearby restaurant. RSVP with HCCO or COUNT
COUNT and HCCO are members of the Columbus Coalition of Reason.
Columbus CoR Pages