by UnitedCoR's Executive Director
Executive Director—United CoR
It's harder to build than destroy. To build is to engage and change. In jazz, we call progressing harmonies changes. Changes are like obstacles on a speed course. They demand your attention and require you to be present.  They are coming…they are here….. and then they are gone. It's how life comes. Each moment is a procession from the future into the past and the sweet spot is always the present. Live in that sweet spot. Be present.
–Wynton Marsalis, jazz trumpeter and conductor
The Southeast Secular Student Regional Conference ("S3RC" as it was known) that was held in Tallahassee on February 20th reminded me of Marsalis's view of a harmony change. Although S3RC was historic in that it was the first student conference of its kind in this region, it also built on some strong foundations. Part of that foundation was the support that they had received from established groups such as Tallahassee, Gulf Coast, Tampa Bay and Orlando CoRs. Some of the students had been moved and inspired by volunteering with local organizations such as BEOrlando or by attending conferences like FreeFlo. Perhaps part of that foundation came through the diversity of speakers—including students—some of whom had travelled from as far away as American University in Washington, DC. At its core, the foundation that united everyone who attended the conference was the value placed on secularism, and how it plays a role in our daily lives.
However, like the progression of a great jazz riff, the foundation has to change and evolve. During a break between speakers, I sat amongst a large group of students to talk with them about expanding their outreach and how they could connect other like-minded students. It was then that a sophomore music major landed an interesting point into the conversation: "I'm not an atheist, actually. I'm a Christian. And my boyfriend's Jewish." I took the opportunity to ask others how they would describe themselves. "Gaytheist" said one young man, "Jewish, but haven't been to synagogue all that much lately," said another, and "My dad's a Sikh!" explained another student from 3 rows back. I asked, "So, how does this work for you? How are you feeling at this conference?" The response I received was moving: "What he does in synagogue or what I do in church is our personal decision. But being secular is more than just religion. It's about bigger things in life that affect all of us. Like that person outside who has information on fracking, or where we'll find jobs, or pay our student loans, or if our government is making enemies around the world. How is prayer going to help any of this? But although I disagree with a person's religious reasons for doing things to make our life better, we can still work together, right?"
Too often, I wonder if we have limited our own views of what it means to be "secular," in that it means anything that doesn't have a religious basis. Like a jazz riff that evolves and grows during a performance of a song, the foundation melody takes on new meanings, sounds, techniques. Likewise, views on "secular" can also evolve from the foundational definition, as new perspectives, experiences, inspirations and aspirations enter into the conversation. We non-theists are more than happy to acknowledge the rise in the religiously-unaffiliated Millennial generation. A growth in this demographic also entails a change…are we all ready to adapt with the change?
I recently visited the National Museum of American Jewish Heritage in Philadelphia. At the conclusion of the exhibition, the museum invited visitors to respond to questions, and on the day of my visit, two questions were displayed: "Can businesses refuse services based on religious beliefs?" and "Should religion play a role in who is allowed to visit the U.S.?" Visitors could post their comments in yellow, affirming the question, blue to denote uncertainty, and pink to indicate "no." An hour or so prior to my visit, a large group of students from a local, public middle school had visited the exhibition. As you can see from the two photographs below, nearly 70% of the students disagree with the idea that a business could refuse service, based on religious belief; an even larger percentage disagree with the notion that religion should play a role regarding who is allowed to visit the U.S. The concept of what is "secular" moved beyond the definition of "what is/isn't religious" and into other areas such as immigration, citizenship, public relations, business and enterprise, and international relations. There is no way to tell what religious beliefs (if any at all) were held by the students in the museum, but like the students in the S3RC conference, they were prepared to dialogue with others on topics beyond religion/government separation.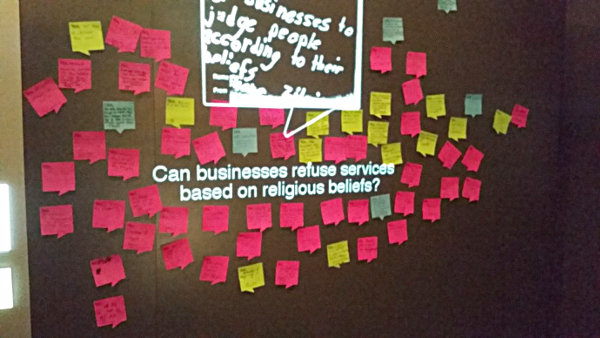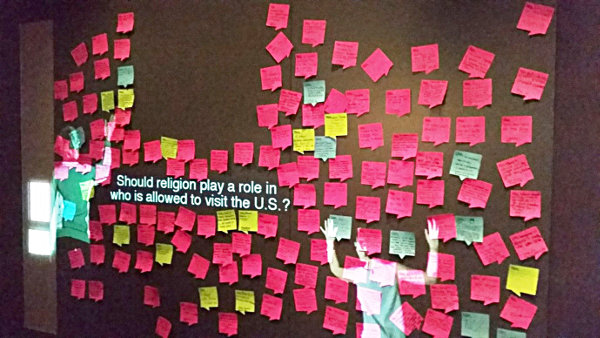 Since UnitedCoR became independent last year, we are excited to have seen, for the first time, an increase in interest from younger audiences: 4% of our audience is middle and high school students, and this number has been rising each month. Like jazz musicians, the foundation that has been laid in each local CoR through experienced, committed volunteers will have the opportunity to grow and flourish in the future when we add new voices and co-workers to continue building on and evolving the strong foundation. Let's embrace, welcome and support the rising number of student groups that are entering into secular conversations and our local groups. Let's look for ways to incorporate diversity into our work, and to make the secular present that "sweet spot."