by Melissa Pugh
Grassroots and Outreach Coordinator–United Coalition of Reason
UnitedCoR was able to speak with one of the founders of Mythicist Milwaukee—Fritz Blandón—after last summer's Reason Rally. Since then, Fritz has also been an active supporter and advocate for a new and exciting organization that is quickly emerging and gaining attention: STEM-CAN (Science, Technology, Engineering and Mathematics Community Action Network).
Fritz is currently in his second year as the principal of Allen-Field Elementary in the Milwaukee Public School system. He has been a principal in both the high school and elementary school level.  As a teacher, Fritz taught science classes from middle school physical science to high school biology and chemistry courses, with experience in both public and international private school systems. Fritz's undergraduate degree is in Bacteriology from the University of Wisconsin-Madison, and his Master's degree is in Educational Leadership.
UnitedCoR: How did you first hear about STEM-CAN?
Fritz Blandón: I first heard about STEM-CAN through Melissa Pugh, who currently works with STEM-CAN and United CoR. I met her the previous year, when as President of the Atheist Alliance of America, donated three compound microscopes to our school.  As a representative of STEM-CAN, she messaged me directly via email explaining that her organization was interested in working with my school in order to help support science awareness for my community, provide needed science equipment for my students, and help support leadership opportunities for students at my school. As a former high school chemistry and biology teacher, I immediately jumped at the opportunity. As a result of our collaboration and the generous donation of the STEM-CAN organization, I am able to provide my students with brand new blazers for leadership opportunities, added compound microscopes for my students to explore the microscopic world, and other materials that will be utilized for my school-wide science fair.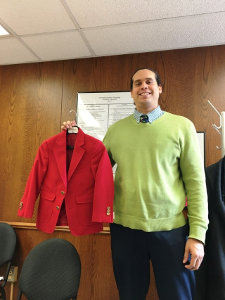 UnitedCoR: What kind of problems do you deal with on a daily basis at Allen-Field Elementary as principal?
Fritz Blandón: One major challenge that we encounter as a community is related to the disproportionately high level of impoverishment that most of my families face. Our school and district offer many programs and services to help support our students and their families on a daily basis, but it is becoming more challenging each year to ensure that we continue to maintain the highest-level quality of services with added budget cuts at the federal, state and local level. In addition, more of these remaining revenues are going to private school systems in the area.
UnitedCoR: What is your school's community like in Milwaukee?
Fritz Blandón: Allen-Field Elementary is located in the heart of a densely populated, largely Hispanic area of Milwaukee's south side, just 1.5 miles southwest of downtown Milwaukee. One block to the south of Allen-Field, lays the historic Mitchell Streets commercial district, which is one of Milwaukee's oldest neighborhoods. Allen-Field is currently one of the largest elementary schools in Milwaukee, and at one point in its history, in terms of enrollment, was the largest bilingual elementary school in the state of Wisconsin.
UnitedCoR: Do you think when your school opens its first STEM-CAN club that getting the parents and community around Allen-Field Elementary more cohesively involved will make a difference in your student's success?

Fritz Blandón: In general, any increased involvement of families in their child's education will improve overall student achievement. Providing STEM support for teachers and getting students engaged with their families in STEM subjects is crucial for ensuring that we are preparing our nation for the next generation of scientists, engineers and mathematicians. As the pace of research into these fields accelerates, the average citizen will continue to be faced with matters of science every day. Some of the most complicated and urgent public policy matters are centered on questions of science, so we need everyone to be as informed as possible in order to be able tackle these issues.
UnitedCoR: Do you think STEM subjects are important to your student's success and do you think there should be more federal funding towards these particular subjects?
Fritz Blandón: STEM subjects inspire curiosity and critical thinking, which are two important traits for life-long learners. Providing needed STEM tools and support for students at an early age will also help prepare students for math and science in high school, which have traditionally been seen as "gate-keepers" that prohibit many students from earning a diploma. Additionally, our national security is strengthened when citizens understand what a question of science is, and what public policy issues can be informed by science. This makes it imperative that more federal funding be provided towards STEM fields. We will not compete as a nation, economically, if we continue falling behind in math and science.
We appreciate Fritz's time for giving us an interview. We invite folks who are interested in working with STEM education in their local area to check-out STEM-CAN to find out how they can help you in your local area.