by UnitedCoR's Executive Director, UnitedCoR Executive Director
Last month, we asked people to send in the photographs of their parties, events and winter displays. We immediately received some wonderful photographs from four groups, demonstrating their public pride for being non-theistic.
Celebrating the birthday of the founder of real American religious liberty—Roger Williams—the Rhode Island CoR proudly announced that this year, their winter display in the state assembly building was located in the center of the ground floor, rather than upstairs as it was last year. Pictured with Dr. Tony Houston—Rhode Island CoR's coordinator—is writer and author Steve Ahlquist and David Finnegan of the Secular Coalition for Rhode Island.
The ground floor of the Nebraska capitol building is now occupied by a large atheist display from Omaha CoR—so large that it is crowding-out the Thomas More Society's nativity display that caused a lot of controversy last year. When a local resident placed an FFRF poster in the rotunda, UnitedCoR received this unsolicited, scathing and hate-filled email on December 23, 2014 from the official email account of Alan Brecht, Account Executive of KQKY-KRNY-KGFW:
"BACK OFF.  I'M REMEMBERING THE YOUNG MEN THAT DIED FOR THE FREEDOM OF THIS COUNTRY.  IF YOU WANT ALL THESE DEMANDS, GET YOUR OWN COUNTRY! ARE THESE THE PEOPLE WHO BEHEAD OUR CHRISTIAN MEN IN ALL THOSE BACKWOODSY COUNTRIES.  IF THEY WOULD TAKE CARE OF THEIR OWN, YOU WOULDN'T BE STRUTTING AROUND.  IN THIS COUNTRY.  I WAS RAISED WITH THE IDEA THAT THE MAJORITY RULES.  I KNOW I SPEAK FOR A LARGE PERCENTAGE OF NEBRASKANS.  THIS ISN'T THE HOME OF THE GOOD LIFE WITH PEOPLE LIKE YOU ARE TRYING TO RUIN..  GOD BLESS AMERICA!!!"
Recently, one of the lawyers for the Thomas More Society has claimed that the atheists aren't prepared to share their space with the crèche, although the British press reported the story with less emotions, refuting the Society's claims and clearly showing that the hand of friendship had been extended to them.
Please keep the photographs coming in: we'd love to include them in upcoming newsletters!
Local CoR Celebrations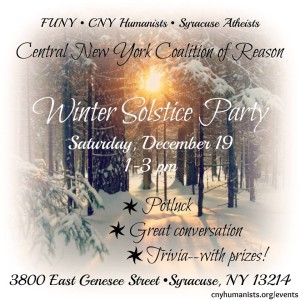 Many Local CoRs are holding celebrations to spread good cheer:
In Connecticut, have you heard the news about a new, upcoming conference, called CARE (Connecticut Assembly for Reason and Ethics)? It will take place on April 2, 2016 from 8:30 a.m. to 5:30 p.m., and is set to take place at the Mark Twain House in Hartford, CT. Upcoming information can be found on CARE's Facebook page as well as Twitter.
PhillyCoR's cooperating member, the Ethical Humanist Society, has hosted two wonderful musical events, featuring the classically-trained pianist Rollin Wilber, accompanying internationally-acclaimed solo instrumentalists. Connecticut CoR also sent in two photographs with Dennis Paul Himes (State Director of Connecticut Atheists) and Richard Westcott of the Connecticut Valley Atheists, who erected their display alongside a crèche in Vernon, CT.
There are more than 1,500 non-theist or secular groups in the United States and Canada. Contact your local CoR to find out what's happening in your area.
–UnitedCoR's Executive Director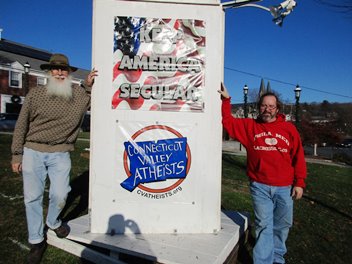 Connecticut Valley Atheists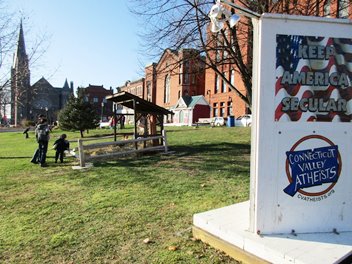 Connecticut Valley Atheists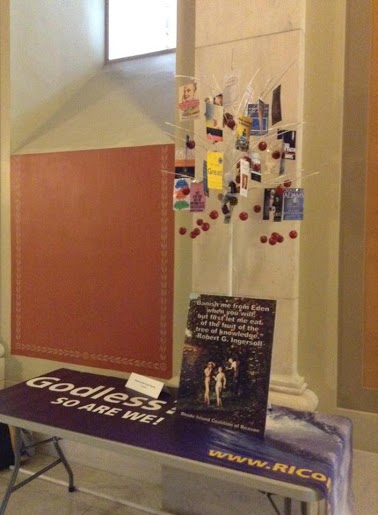 Rhode Island CoR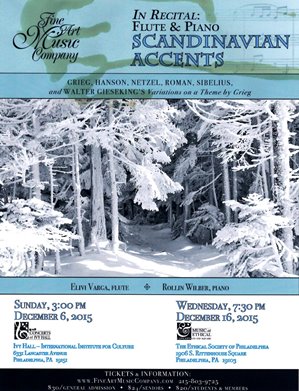 Philly CoR concert