Bleed-N-Feed Expands, Secular Summit, Proclamations and more!
Reason Rally Leader to Speak
The Humanist Community of Central Ohio (HCCO) invites you to attend a Winter Solstice Celebration on Saturday evening 12/10. Lyz Liddell, Executive Director for the 2016 Reason Rally will present "From Columbus to the Capitol – Humanism At Work". A winter clothing drive to benefit the Columbus Ohio Open Shelter is part of this event which will feature catered Chipotle and a dessert potluck. RSVP for the event before midnight on 12/7.
Ronald McDonald House
COUNT will be working at the Columbus Ronald McDonald House (RMH) on January 1 (kids are sick on holidays, too!), February 5, and March 5. Last month, our 14 RMH volunteers surpassed 800 hours helping at the Columbus "House" which is the largest RMH in the world! Mike Bondoc and Vickie Young often work the 9:00 AM – 1:00 PM shift, Dave Nohle often works the 1:00 PM – 5:00 PM while Andrew Whitacre sometimes works both! Join us for whichever shifts suit you.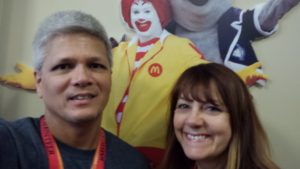 Charity Happy Hour
Columbus CoR is hosting its first ever charity happy hour at Land Grant Brewing, located at 424 West Town Street in Franklinton, on Wednesday January 11, 2017 from 5:00 PM until 9:00 PM. 20% of all taproom sales of Land Grant beer will be donated to the Mid-Ohio Foodbank. There will be an Oh! Burgers food truck there as well. Avery Winston, Coordinator, said "This is great opportunity for CoR to work local businesses to help important causes here in Central Ohio. We are currently in negotiations with four other local breweries to host similar events. We are hoping to host one of these every other month so we can keep raising more money for the Mid-Ohio Foodbank to help improve the reputations of Non-theists and their charitable acts. Let's hope for a successful event; come out and support great local food and beer." RSVP with Central Ohio Gay Atheists (COGA), COUNT, HCCO or OA or contact Avery at [email protected] or (740) 815-5559 with questions.
Day of Reason Proclamations
The National Day of Reason is held on the first Thursday in May each year as a counter to the National Day of Prayer. COUNT is again leading an effort to request Day of Reason (DOR) proclamations from the Governor of Ohio, Franklin County Commissioners and Columbus Mayor. Proclamations were requested in 2014 and 2016 and resulted in a Certificate of Recognition for Columbus Mayor Michael Coleman. The recently formed Ohio Chapter of Americans United is being invited to co-sign the 2017 Ohio request along with Secular Coalition of Ohio and Columbus CoR. Contact Dave Nohle if interested in participating or attend a meeting on 1/12. Note: We changed the date since originally announced from Weds 1/11 to Thurs 1/12 because a Columbus CoR fundraiser was scheduled on 1/11 and also because one participant had a conflict.
Van Buren Dr Shelter
COUNT and HCCO, both Gold/level 3 Beyond Belief Network teams for 2016, have together surpassed 500 hours working at the shelter since January 2015. Columbus CoR volunteers serve dinner to homeless men, women and families and cleanup after. RSVP with HCCO or COUNT for the January 10, February 14 and March 14 second Tuesday events. Omnipresent Atheists (OA) welcomes volunteers afterwards for socializing at their regular Tuesday meeting at Hamptons on King.
8th Not Celebrating Xmas
Dawn Owar is hosting a Gathering of People not Celebrating Xmas for the 8th year. "Those of us who don't celebrate or aren't celebrating Christmas need something to do on Christmas Eve!! Traditionally we get together and 'not celebrate' all together at one of the local bars. Same deal this year. If you're Jewish, Atheist, Humanist, or whatever else, don't sit home feeling sorry for yourself. There's a place you belong. Invite anyone you know who doesn't celebrate or isn't celebrating Christmas this year." Location is Oddfellows on Saturday, December 24 from 7:00 PM – 2:00 AM but RSVP for details.
Secular Summit
The 5th Secular Summit is scheduled for January 17 from 8:00 AM – 5:00 PM. This is a chance for non-theists to talk with their representatives and make their voice heard. The Center for Inquiry (CFI) Northeast Ohio invites you to register for this event which will be held in the Ohio Statehouse Museum Gallery.
"Join us for the 5th Annual Secular Summit and Lobby Day at the Statehouse on January 17th, 2017. We will be focusing on actual religious freedom, Secular Celebrants, Gerrymandering and more. Remember, if you are not advocating for your rights, no one is." Organizer Monette Richards further says "Speakers include CFI's Director of Public Policy, Michael De Dora, Common Cause's Catherine Trucer, CFI Legal Director Nichola Little and more!"
Bleed-N-Feed Expands
For years, the Humanist Community of Central Ohio has held Bleed-N-Feed (BNF) events to encourage blood donation at the Red Cross. Donation is followed by dinner at a local restaurant. All Columbus CoR members are invited to participate on Third Thursdays every other month starting with an event on January 19. Central Ohio United Non-Theists (COUNT) will be collecting and reporting results to Foundation Beyond Belief. RSVP with HCCO or COUNT.
Growing Up In & Out of Islam
HCCO has an ex-Muslim speaker at their monthly meeting on February 11. "Malick A is a secular activist who is a part of Ex-Muslims of North America and HCCO and who is a committee member of Omnipresent Atheists (OA). Join us at 11:30 for pizza in the meeting room! The formal program starts at 12:00."
COGA, COUNT, HCCO and OA are members of the Columbus Coalition of Reason. The Ohio Chapter of Americans United is a Friend of Columbus CoR. Center for Inquiry Northeast Ohio is a member of the Northeast Ohio Coalition of Reason.
Columbus CoR Pages