Several Spring social events blend charity, education and activism.
2nd Charity Happy Hour
Columbus Coalition of Reason (CoR) groups are hosting a second Happy Hour charity event fundraiser at Seventh Son Brewing Company, 1101 N. 4th St, on Wednesday, March 8 from 5:00 – 9:00 PM. $1 for each pint of beer served to all in the tap room that night will be donated to the Mid-Ohio Foodbank. A food truck will be at the event. Columbus CoR started holding Charity Fundraiser Happy Hour events in January with the first at Land Grant Brewing Company raising $150.00. "Our first event was a great success and we look forward to another one; everyone had a great time and we hope to raise more money this time. The local businesses are being very responsive and we look forward to future collaboration with others." says Coordinator Avery Winston. Columbus CoR groups have collected a total of 1,510 lbs of food and $11,236.37 for the Mid-Ohio Foodbank so far. RSVP on Facebook or on Meetup with Central Ohio Gay Atheists (COGA), Central Ohio United Non-Theists (COUNT), or Omnipresent Atheists (OA).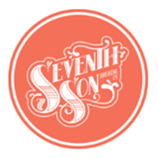 Bleed-N-Feed
HCCO's long running Bleed-N-Feed expanded as of January 19 and included participants from COUNT and the Unitarian Universalists Atheists, Skeptics and Humanists (UU ASH). All Columbus CoR member groups are invited to participate on Third Thursdays every other month. Blood donation at the Red Cross is followed by dinner at a local restaurant. COUNT collects and reports results to Foundation Beyond Belief to publicize non-theist charitable efforts and improve the reputations of humanists and atheists. RSVP with HCCO or COUNT for March 16 and HCCO or COUNT for May 18.
Ronald McDonald House
COUNT will be working at the Columbus Ronald McDonald House on April 2, May 7, and June 4. Some COUNT volunteers work the 9:00 AM – 1:00 PM shift and some work the 1:00 PM – 5:00 PM shift. Andrew Whitacre was awarded an inaugural McAwesome Award in February because he has been working both! Join us for whichever shift suits you.
Hemant Mehta
SSA at OSU has invited Columbus CoR group members to hear Hemant Mehta, the Friendly Atheist, on Thursday March 30th at 7:30 PM in Thompson Library Room 165. Central Ohio United Non-Theists (COUNT), Omnipresent Atheists (OA) and the Humanist Community of Central Ohio (HCCO) are advertising this event and HCCO and the national Secular Student Alliance (based here in Columbus) are among the sponsors. The topic is "Why Young Atheists Are On The Rise", a talk about the popularity of secularism among students and youth. Snacks/refreshments will be provided. You may use any of the surrounding pay-to-park lots, garages, or meters on OSU's campus. There is also a COTA bus stop on Neil Ave, not far from Thompson.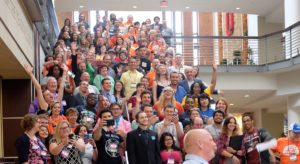 B.R.E.A.D.
B.R.E.A.D. (Building Responsibility Equality And Dignity) is an interfaith activist group that HCCO is working with via the First Unitarian Universalist Church (home of the UU ASH group). The agenda for the May 1 event has a jobs focus and includes "helping those with criminal backgrounds reiniegrate by getting jobs" and "helping some improverished areas and workers who are difficult to hire." B.R.E.A.D. has a track record of putting pressure on local legislators to make significant local changes. HCCO worked with them in 2014 on local mental health.

Van Buren Dr Shelter
COUNT and HCCO, both Gold/level 3 Beyond Belief Network teams for 2016, have together surpassed 561 hours working at the shelter since January 2015. COUNT has already reached Bronze/level 1 for 2017 and HCCO is close behind. Ten COUNT and 3 HCCO members were recognized as "Handful" volunteers in January; since then, another HCCO volunteer, Steve D, has joined the list of volunteers who have worked at least five times at the shelter.
RSVP with HCCO or COUNT for the April 11, May 9 and June 13 second Tuesday events. Omnipresent Atheists welcomes volunteers afterwards for socializing at their regular Tuesday meeting at Hamptons on King.
Day of Reason Potluck
The National Day of Reason is held on the first Thursday in May each year as a counter to the National Day of Prayer. Columbus CoR groups are celebrating with a Potluck on Saturday May 6 from 1:00 – 4:00 PM at the Actual Brewing Company, 655 N. James Rd. RSVP on Facebook or on Meetup with COUNT or OA. COUNT is again leading an effort to request Day of Reason (DOR) proclamations from the Governor of Ohio, Franklin County Commissioners, Upper Arlington Mayor and Columbus Mayor. Proclamations were requested in 2014 and 2016 and resulted in a Certificate of Recognition from Columbus Mayor Michael Coleman. The recently formed Ohio Chapter of Americans United, now a Friend of Columbus CoR, is co-signing the 2017 Ohio request along with Secular Coalition of Ohio and Columbus CoR. Each request includes an invitation to the Potluck to present the Proclamation.
COUNT, HCCO, OA, SSA at OSU and UU ASH are members of the Columbus Coalition of Reason. Americans United – Ohio Chapter, Secular Coalition for Ohio and Secular Student Alliance are Friends of Columbus CoR.
Columbus CoR Pages