Celebrate with COUNT and OA!
Van Buren Dr Shelter
Central Ohio United Non-Theists (COUNT) and the Humanist Community of Central Ohio (HCCO), both Gold/level 3 Beyond Belief Network teams for 2016 and 2017, have together surpassed 678 hours working at the Van Buren Dr. shelter since January 2015. Volunteers help serve dinner and clean-up. Fifteen volunteers have been recognized as "Handful" volunteers, having worked at least five times at the shelter.
RSVP with HCCO or COUNT for the September 12, October 10 and November 14 second Tuesday events. Omnipresent Atheists (OA) welcomes volunteers afterwards for socializing at their regular Tuesday meeting at Hamptons on King.
Ronald McDonald House
"COUNT volunteers are creating fabulous winter hats for Ronald McDonald House guests! If you can crochet or knit, please join us at Ying's Teahouse and Yum Yum on Wednesday, September 13. If you do not know how to crochet, personal instruction will be provided. Completed hats will be donated to Ronald McDonald House on Sunday, November 5, 2017. Each hat will be labeled with the COUNT logo and signed by the hat maker."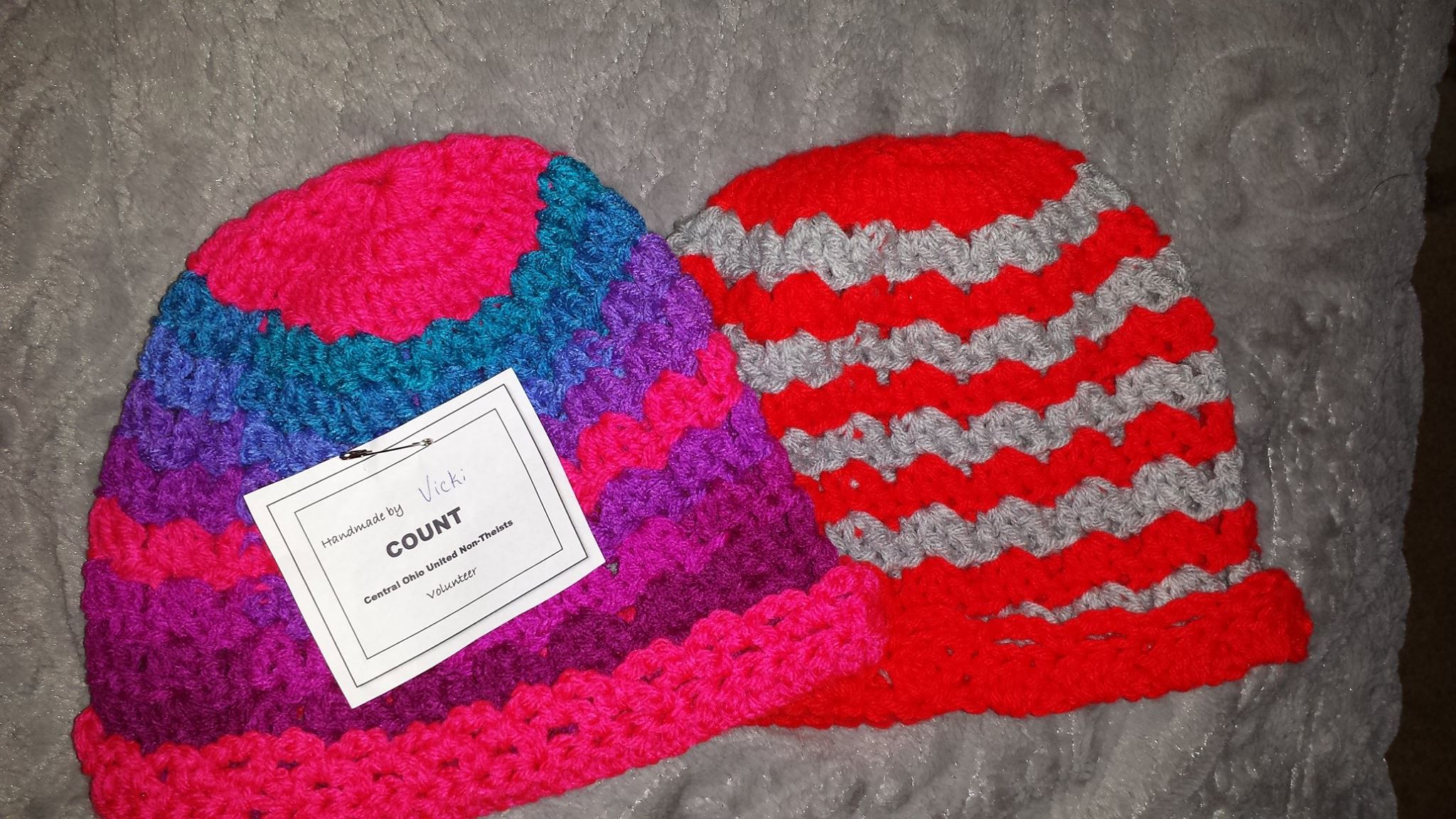 COUNT will be working at the Columbus Ronald McDonald House on October 1, November 5, and December 3. Some COUNT volunteers work the 9:00 AM – 1:00 PM shift and some work the 1:00 PM – 5:00 PM shift. Join us for whichever shift suits you. Members of Columbus CoR groups volunteer via COUNT to serve as Housewarmers, restocking "hotel" rooms and otherwise assisting guests. Volunteers may choose to help at the front desk if they like. Our eighteenth volunteer joined us this month to help us exceed 1,000 hours worked there since from May, 2013.
Planned Parenthood Action Group
COUNT is forming a new advocacy group for Planned Parenthood (PP) that will coordinate with PP and the American Atheists. It will meet every first Tuesday. Gail Ukockis, group leader, says "Please come and help us to fight for women's health!" RSVP for the September 19 event.
Bleed-N-Feed
All Columbus CoR member groups are invited to participate on Third Thursday events every other month. Blood donation at the Red Cross is followed by dinner at a local restaurant. COUNT collects and reports results to Foundation Beyond Belief to publicize non-theist charitable efforts and improve the reputations of humanists and atheists. Twenty-seven life-saving units have been collected from 10 Columbus CoR donors so far in 2017. RSVP with HCCO or COUNT for September 21. We will also donate on November 16th and January 18th.
Habitat for Humanity
The Secular Student Alliance (SSA) at The Ohio State University (OSU) will be volunteering at Habitat for Humanity on September 30th. The group is accepting signups at their 9/21 meeting in Thompson 204.
High Holidays with HJCC
The Humanist Jewish Chavurah of Columbus Ohio (HJCC) will celebrate the High Holidays Sunday, September 24. This will be a combined Rosh Hashanah and Yom Kippur service and will start at 1:30 PM at the JCC, 1125 College Avenue in Columbus. If you plan to attend, please email.
Atheist Reunion & Revival
Central Ohio United Non-Theists (COUNT) and Omnipresent Atheists (OA) invite you to a joint celebration on October 17. This fall COUNT is 5 years old, OA is 10 and we will celebrate these and other milestones.
If you have ever been a member of either group, have ever attended one of their events or are non-theists, atheists, agnostics, humanists, skeptics or just atheist-friendly, this event is for you. Dave Nohle, an event host for both groups, says: "We hope to reunite people who have come to these groups at various times in their histories."
This Tuesday evening event will be at Hampton's on King; RSVP with either COUNT or OA. Jacob Burrell of ChefTex Brand, a food truck operator, has taken over over Hampton's kitchen and will feature some great BBQ options (including vegan jackfruit).
We will be collecting canned goods for the Mid-Ohio Foodbank at the event.
FSM Benefit Dinner
The 6th Annual Flying Spaghetti Monster (FSM) Benefit Dinner is scheduled for Thursday November 9th from 6:00 – 8:00 PM. The UU Atheists, Skeptics and Humanists (ASH) group has again arranged to hold this fundraiser at the First Unitarian Universalist Church of Columbus at 93 West Weisheimer Road in Clintonville. This year, the event features a spaghetti dinner, bake sale, silent auction, raffle and entertainment to raise money and collect food donations for the Mid-Ohio Food Bank. Adult dinner $10, $5 for kids 14 and under (cash/check). Columbus CoR groups collected a total of 1,510 lbs of food and $11,406.37 for the Mid-Ohio Foodbank since 2012. Columbus CoR groups are recruiting volunteers to help in advance, during and after the event. RSVP to volunteer with COUNT (which is handling project management, serving and wrapup).
Winter Solstice Celebration
HCCO posted: "Mark your calendars for the evening of Saturday, December 9th. We will be hosting our Winter Solstice Celebration at that time and we're looking forward to bringing an exciting new format to it for attendees. Stay posted for ticket sales, but in the meantime, make sure you keep that spot on your schedule reserved for HCCO!"
COUNT, OA, HCCO, HJCC, SSA at OSU, MOA and UU ASH are members of the Columbus Coalition of Reason.
Addendum 9/21/2017: Habitat for Humanity and HJCC events added.
Columbus CoR Pages