by UnitedCoR's Education Officer and National Coordinator
Education Officer and National Coordinator
During the Halloween weekend, San Diego CoR held a well-attended community booth in Balboa Park, and distributed some of UnitedCoR's leaflets to many curious people. This isn't the first time that San Diego CoR has hosted this table—Robert Hudson and a team of local volunteers have been doing this every weekend for many years!
The following day, The Freethought Society helped the San Diego CoR host a Secular Day of the Dead. Margaret Downey—President of The Freethought Society—said, "Day of the Dead, or Día de los Muertos, is a festival in which we honor our deceased loved ones. During the secular version of Día de los Muertos, we honor our departed loved ones without the notion of a religious afterlife; instead, we celebrate life before death. We remind ourselves that instead of dwelling in the sadness of death, we can be grateful for what our loved ones left behind for us to pass on."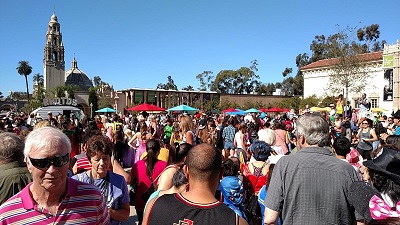 Using the "how to" guides found on Secular Celebrations is a great resource for local groups who want to celebrate the wealth of cultures in America, without the unnecessary theistic overtones. We'd encourage local groups to also check out Secular Seasons, as this is another resource to provide some ideas for celebrations and gatherings during different times of the year.
UnitedCoR is also producing a 2016 calendar that will be available for everyone to download. If you know of any major event, conference (whether it is state or local) such as the Reason Rally, or special days, please email United CoR at [email protected], and let us know about the event so we can include it on the calendar.