by Jase
Executive Director–United Coalition of Reason
I met Chief Petty Officer (CPO) Doug Wright online about 3 years through Jason Torpy of the Military Association of Atheists and Freethinkers (MAAF). Since that time, it's been a pleasure for me to get to know Chief and his family through Facebook—watching his children grow, seeing him work with his colleagues, reading about his activism commitment to the San Diego CoR, and so much more. My first opportunity to meet Chief was when he and his family drove up from San Diego to Riverside, CA, as he was a featured guest speaker at a special meeting when the Inland Empire CoR was first forming. I noticed how everyone immediately warmed to Chief—people of all ages, all ethnicities, all backgrounds—and he was a positive and proud non-theistic ambassador to the people who were meeting him for the first time.
It was my honor and privilege when Chief asked me to serve as a Humanist-endorsed chaplain and to offer the invocation and benediction to his retirement ceremony last week. As soon as I knew I would be in San Diego, I immediately turned to Col. Erwin Kamp—Chief of Humanist chaplains in the Royal Dutch Marines—and he sent his own greetings and words of encouragement that I shared during the ceremony:
Dear CPO Doug Wright: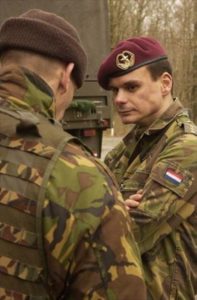 I have heard that you are one of the most high-profile enlisted Humanists in the United States Armed Forces. Although we have never met each other, it's like I've known you for years, as we are friends on Facebook.
I know that one day your country will adopt Humanist Chaplains. For me is not the question of "if," but the question is when. In June this year, I visited with the Chairman of the Dutch Humanist Association, Boris van der Ham, and our troops in Jordan: we work together in this area to fight Daesh. We had contact with Protestant and Catholic Chaplains of the US Air Force. The invited us on their base and we talked about our work; they were very receptive about our ideas of working together!
We also had a meeting with seven US military and invited them on our base. They all are Humanists, and were very willing to listen to our work in the Royal Dutch Armed Forces. I believe that this friendly contact is very important to get a Humanist Chaplaincy in the US armed forces realized. Due to your fantastic work and your presence, a lot of military know that you also can live a good life without having a faith in a higher power.
I wish you a very good retirement and hope that your experience can be used on a voluntary base.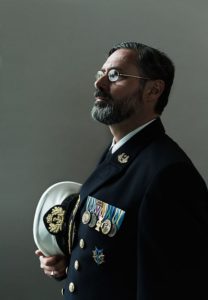 All the best, your (Facebook) friend,
Col. Erwin Kamp
The ceremony itself was one of the most dignified I have experienced. I focused on two themes for the invocation and benediction: celebration and gratitude. As I began the invocation and requested that people didn't bow their heads and close their eyes in deference to a supernatural presence, the facial expressions on some of the audience reflected relief and for others, it was clearly disturbing. What might have been even more disturbing was that Chief re-wrote the 13 folds of the American flag, and removed the highly-divisive Christo-centric language into something respectfully more inclusive and unashamedly non-theistic:
The first fold of our flag is a symbol of life.
The second fold is a symbol of our belief in the promise made by our Forefathers to stand for 'Life, Liberty and the Pursuit of Happiness'.

The third fold is made in honor and remembrance of the veteran departing our ranks, and who gave a portion of his or her life for the defense of our country to attain peace throughout the world.

The fourth fold represents our weaker nature; as human beings trusting in each other, it is to each other we turn in times of peace, as well as in times of war, for comfort and guidance.

The fifth fold is a tribute to our country, for in the words of Stephen Decatur, "Our country, in dealing with other countries, may she always be right, but it is still our country, right or wrong."

The sixth fold is for where our hearts lie. It is with our heart that we pledge allegiance to the republic of United States of America, one nation, indivisible, with liberty and justice for all.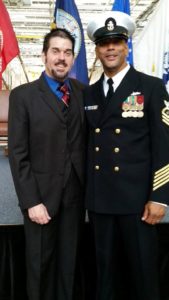 The seventh fold is a tribute to our armed forces, for it is through the armed forces that we protect our country and our flag against all enemies, whether they be found within or without the boundaries of our republic.
The eighth fold is a tribute to our mothers, for whom it flies on Mother's Day.

The ninth fold is a tribute to womanhood, for it has been through their faith, love, loyalty and devotion that the character of the men and women who have made this country great have been molded.

The 10th fold is a tribute to the father, for he, too, has given his sons and daughters for the defense of our country since he or she was first born.

The 11th fold, in the eyes of the global citizen, represents the responsibility for our lives and the kind of world in which we live is ours and ours alone.

The 12th fold, in the eyes of a Humanist, represents the embracing of a vision with the informed conviction that humanity has the ability to progress toward its highest ideals.

When the flag is completely folded, the stars are uppermost, reminding us of our first national motto, E Pluribus Unum, or "From Many, One".
I'm proud to have been able to be a part of such an important milestone—not only in Chief's life—but in the lives of his family: his children, his wife, his mother, his siblings and people whom he holds with such respect and admiration. It has been a privilege to work with another member of our military who is not afraid to challenge the misconception of "no atheists in foxholes." The bell was rung and the boatswain piped Chief one final time, as he and his family have started a new course in their lives together.