by Melissa Pugh, Grassroots and Outreach Coordinator, United Coalition of Reason
It came as a pleasant surprise to me when people from the San Antonio CoR sent me a link to a newspaper article that proclaimed "Acceptance of Atheism promoted in front of the Alamo by secular groups across Texas." Although it was a short article, the writer was clear that a peaceful representation by non-theists was met with indignation from a disrespectful street preacher.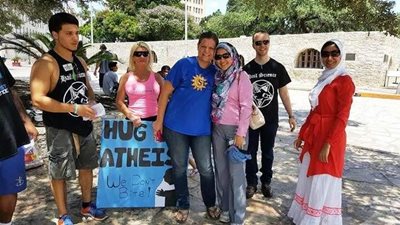 I contacted Vicki Gettman, whom we had featured a month ago, to see if she knew more about this situation. Vicki was proud to let us know that the Hug-an-Atheist event was a huge success! "The University of Texas—San Antonio Secular Student Alliance (UTSA SSA) set it up and we met down there by the Alamo. There are often street preachers there so we wanted to show a different side," Vicki explained to me. "While he preached about hell and damnation we hugged people. Lots of Christians hugged us and the Muslim women could only hug females. There were no issues at all. A few short debates but everyone from our group was respectful to others around them."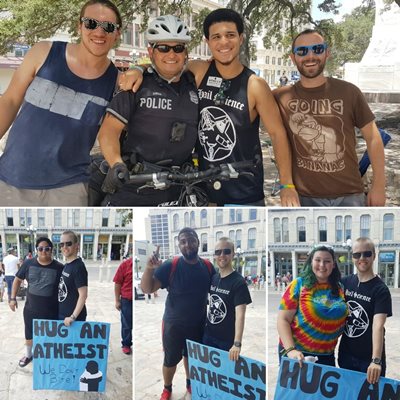 But what was it that prompted this gathering? According to Gettman, "On August 3, our group gathered in front of the Alamo to engage with interested passersby and address common misconceptions about not the nonreligious, their values, and their sense of purpose in life. Given the current political climate, including the recent issue of a DNC representative's accusations of atheism being used as a method of attack on Senator Sanders, it is more important than ever to normalize atheists, who are among the least trusted demographics in the nation. So, we decided to stand in front of the Alamo between noon and 4pm on August 3rd with a sign labelled "Hug and Atheist"."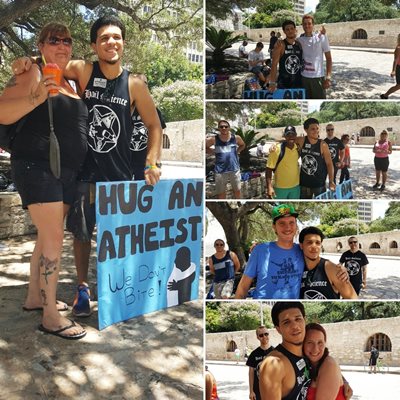 Others in attendance at the Alamo agreed with Gettman. Sean Omar Rivera, the President of the UTSA SSA said, "We showed up to the Alamo shortly after noon with our "Hug an Atheist" sign, and there was a street preacher who had been going on for at least half an hour according to those that had shown up early. He tried to engage us, but we didn't humor him, and he decided to stay to the sides and refer to us through the rest of his 2+ hour sermon from afar. We, the Secular Student Alliance at UTSA, also had attendees from the Freethinkers Association of Central Texas (FACT) and South Texas Atheists for Reason (STAR). We had a well-rounded diversity of ages, genders, and ethnicities to demonstrate the diversity of the secular movement. We had a fantastic reception! The hugs started pouring in the moment our sign was visible. The majority of people who approached us were religious, but were civil, friendly, and genuinely interested in our input. We prepared pamphlets to hand out covering some of the most common questions and misconceptions that we've faced in the past. People accepted them gladly and went on their way. We even had several people come back later to introduce other friends and receive more hugs and pictures. We had several people approach us and note that their sons and daughters were atheists or that they were atheists themselves."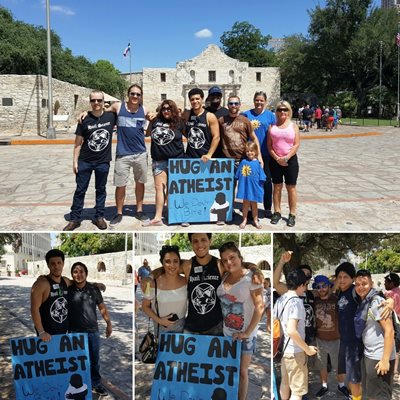 Rivera continued, "We took great care to avoid any intense debate, as our goal was the normalization of nonbelievers and not the conversion of religious beliefs. We had one or two people approach us and attempt to argue their religious beliefs, and for the most part, we stood politely and listened, chiming in occasionally when their arguments made false assertions about us, or beliefs, our morals, and where we find purpose in life. The street preacher occasionally drifted back into earshot, and made it a point to reference us as often as possible in his hellfire sermon, but all it seemed to accomplish was drive other spectators to pass by us on their way out of the plaza for hugs. We were approached and hugged by police officers, friendly Muslim women in hijabs, and at least one youth pastor, all of whom were respectful and friendly. A writer and photographer for the San Antonio Current stood by throughout the entire event, listened to the perspectives and stories of our members, and collected input from passersby and the street preacher. We shared dozens of hugs in the three hours we spent there and established a dialogue with several people. We would love to do this again!"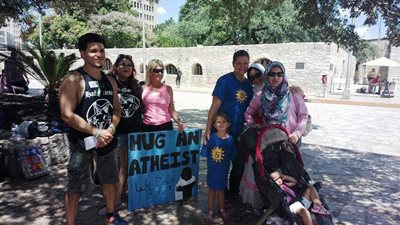 This is excellent news, Vicki, and we appreciate the public visibility and outreach provided by the UTSA SSA!