by Rory Moe
Coordinator–Central Iowa Coalition of Reason,
and Bill Shackleford–School Supply Drive Committee Co-Chair: Iowa Atheists and Freethinkers
Last month, UnitedCoR added a donation of $50 to a fundraising campaign, as it was the fifth consecutive year that Iowa Atheists and Freethinkers conducted a drive for funds to purchase basic school supplies for Des Moines students who might otherwise do without. Even here in "prosperous Des Moines," we have more than 16,000 children who meet federal poverty guidelines and qualify for free lunches. Furthermore, an estimated 7,500 students are classified as "homeless." After receiving generous donations, coupled with IAF matching funds, the school supply drive finished at $2,356, breaking last year's record amount of $1,800. (Iowa Atheists and Freethinkers donated a matching grant of $1,000, in addition to donations collected from volunteers who worked the concessions during a Marilyn Manson/Slipknot concert!) An additional $500 donation concurrent with the school supply drive was provided by an anonymous donor through STEM-CAN (Science, Technology, Engineering and Mathematics Community Action Network), administered through the United Coalition of Reason.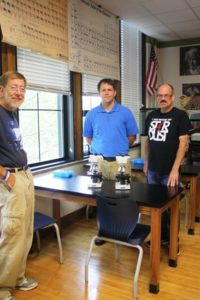 Members of the School Supply Drive committee went on a shopping excursion on August 18 at Wal-Mart, where supplies were plentiful and inexpensive. There, we followed a checklist of basic requirements for disadvantaged urban schools. From pencils and glue sticks to calculators and backpacks, we had six or seven carts filled with merchandise—and that was just the first trip! We had to make a second trip that evening to purchase more with the dollars we had raised.
The next day, we delivered to the schools which included three elementary schools: Edmunds, Jackson, Moulton, Smouse Opportunity School (their intake caters for students who have Special Educational Needs), and Hiatt Middle School. In total, these five schools serve approximately 2,155 students. We also delivered ten backpacks stuffed with essential school supplies to Hawthorn Hill shelter for homeless families. All staff members we encountered were very pleased to receive the donations with no concern at all for whom we represented.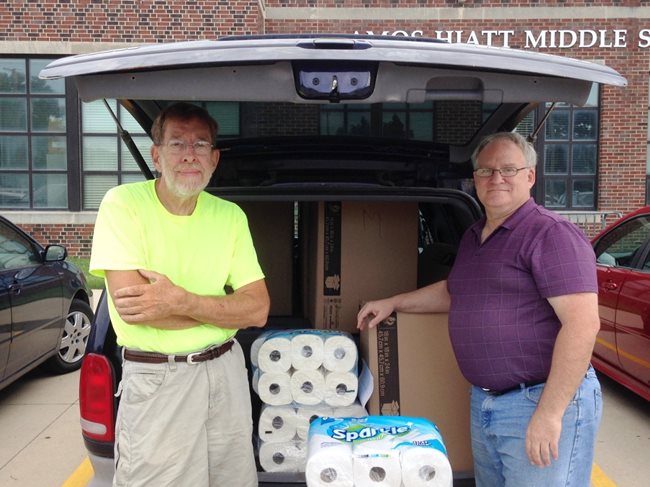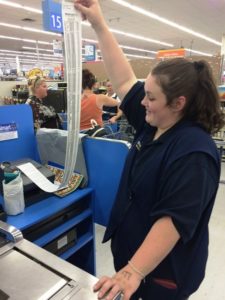 For the STEM-CAN donation, we visited with a number of local science teachers, ultimately deciding to go with the school (teacher) who best described a particular need, and submitted the best suggestion. We decided on a particular scientific instrument that enables a teacher to display images overhead: an OMAX 40X – 2500X Lab Binocular Compound LED Microscope with double-layer Mechanical Stage and Digital Camera. In fact, the STEM-CAN donation was sufficient for two such scopes, both to be shared by the science department at Hiatt Middle School on Des Moines' east side.
In a world where so much misinformation and pseudoscience is spread through social media, print and television it is of the utmost importance that students know the scientific method and of critical thinking skills so that they can make their own informed decisions. As the late Carl Sagan stated, "Science is the candle in the dark."