by Cherri Pitts and Vicki Gettman
South Texas Atheists for Reason (San Antonio Coalition of Reason)
South Texas Atheists for Reason (STAR) is 18 months old and we have been very busy! We are a non-profit group and are awaiting tax exempt status. Our focus is humanism, meaning we believe in community service and working to strengthen our families through compassion, support, kindness, and laughter.
Community Service
Our programs are focused around the environment and helping others. For the community service programs, we have several options for volunteering. We have monthly opportunities that allow any anyone from any age and activity level to participate. The community service events are usually a few times per month.
We hold a weekly Atheist/Humanist meeting on Lackland Air Force Base for 1000 basic trainees!
Once a month we harvest, plant, and weed at the San Antonio Food Bank Garden to help feed people from 16 surrounding counties.
A few times a year, we plant trees or clean up trash from our beautiful San Antonio River banks with SARA (San Antonio River Authority)
Create walking paths at the Headwaters Cleanup at UIW.
Spend several Saturdays a year with Habitat for Humanity building houses
We help the homeless the last Sunday of the month by handing out hygiene supplies, clothing items, some snacks, water and books!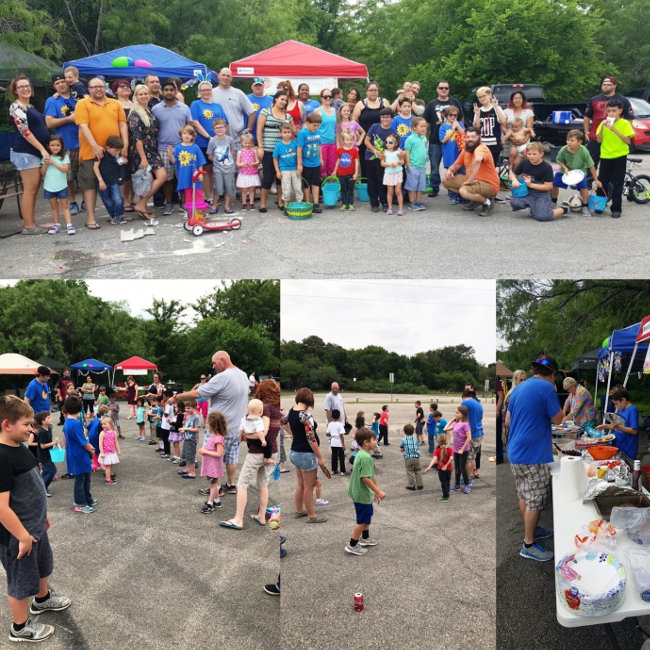 Family
We have infants to college age for the kids and early adult to the mid-50s in adults. For the family events, we make sure to have several levels of events so that the adults can get to know each other as well as the kids. These include annual, quarterly, monthly, and weekly events. We also love to spend our holidays together and have annual events! Most are on the weekends but we do have some that fall during the week.
Family dinners every Sunday evening to catch up and recharge for the week!
Superbowl party potluck and kids activities
Atheist Easter – our event this week had over 60 people come out for a potluck. We had over 500 eggs for all of the kids with outdoor activities such as bikes, chalk, and water guns.
We celebrate Memorial Day together placing flags on the graves of our fallen buried at Fort Sam Houston National Cemetery followed a few days later by a reflective potluck.
Independence Day potluck and celebration
Labor Day potluck and hanging out with our friends
Heathen Halloween as our kids Halloween party, and have one for the big kids too.
We celebrate Thanksgiving with a big get together with lots of food and football.
We have a few "fun"draisers like a chili cook off with a trophy for the winner.
Quarterly – we have a Star-Tender which is a time for adults to get together for a cocktail party usually themed around a recent holiday.
Our anniversary is in October and we use that as another excuse to eat, drink, and hang out!
A Winter Solstice party and gift exchange and ugly sweater contest around Christmas break
A New Years Eve party that is always a great time
We may also have birthday parties, singles nights, ladies night, movie nights, game nights….just depends on what's happening.
Check out our busy schedule and jump in when you can on the new UnitedCoR app in the San Antonio location on Facebook, Twitter, Instagram, Meetup, and SnapChat. It may seem overwhelming but it's never boring…there truly is something for everyone. We hope you can find a place here to live in your truth, and come be good without god.