by Susan, Education Officer and National Coordinator
It was a pleasure to dedicate an entire newsletter to be filled with interviews from people that you could meet at the Reason Rally. Now that the Rally has passed, let's check in with Jase to see what he felt were the highlights for UnitedCoR.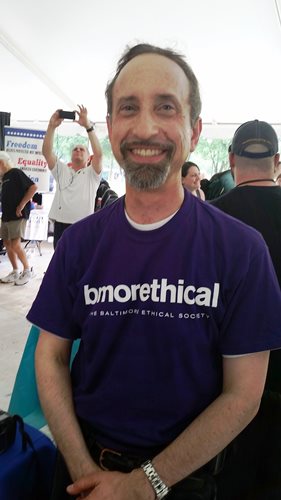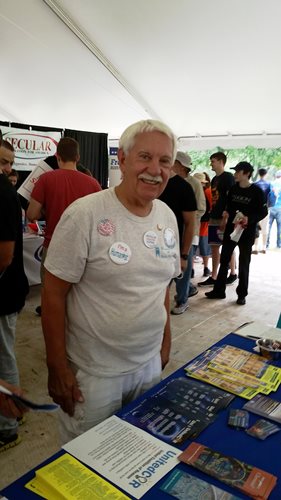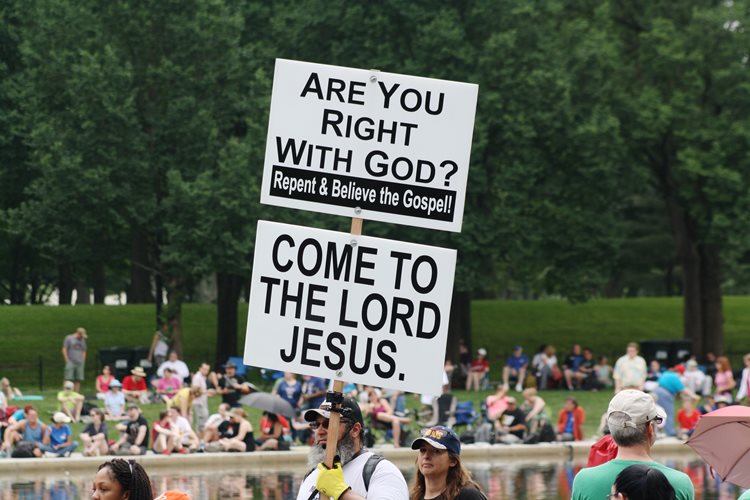 Susan: If you could summarise the Reason Rally into one word, what would it be?
Jase: To me, that word would be diversity, which is why we chose to place that word so prominently on UnitedCoR's literature. When I looked around the reflecting pool, I saw this diversity represented by local groups, special interest groups, and individuals. I saw people with "Gaytheist" t-shirts sitting next to people with Black Nonbelievers t-shirts. People were holding banners with slogans for atheism, Humanism, as well as groups such as the Unitarian Universalist Association and American Ethical Union. When I had the chance to listen to peoples' conversations, it was a celebration of being different and unique, but also united. People were asking each other questions about their groups, as well as why they identified with certain groups over others. I was pleased to hear people engaging in conversations and educating each other, rather than arguing over what "label" a person should have, or whose view of non-theism was correct. Seeing this unity with diversity was the high point of the Reason Rally for me, despite the low attendance and some of the reviews the Rally has received.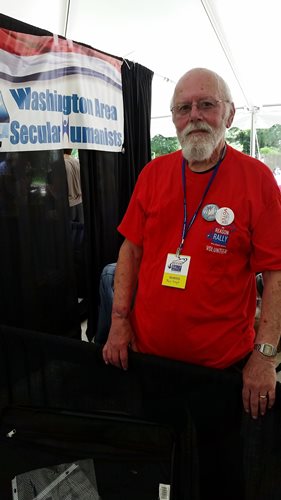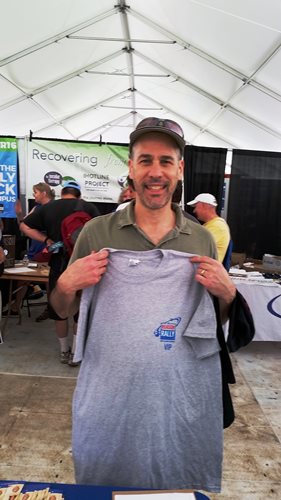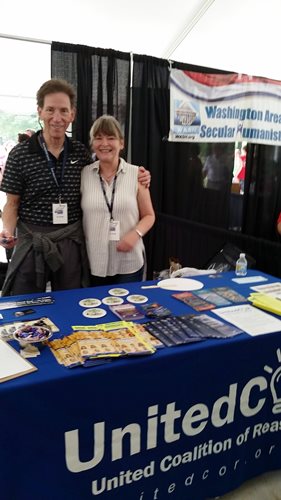 Susan: Who was your favourite speaker at the Reason Rally?
Jase: I didn't get the chance to hear any of the speakers, since I stayed at the UnitedCoR table throughout the Rally. We distributed a few thousand pieces of our literature to the attendees, as well as from other organizations such as the Foundation for Critical Thinking, Atheist Alliance of America, The Clergy Project and Oasis. There was so much happening in the exhibition tent, and with the buzz of people coming by and talking with us, I couldn't hear much beyond our immediate area. I'll be sure to check out the video of the Rally that Mythicist Milwaukee will edit and upload to YouTube.
Susan: If you weren't able to hear any speakers, who did you see at the Rally?
Jase: We had a few thousand people come past the table, and it's impossible for me to recall everyone's names, but it was like a "family reunion" in many respects. For some people like Todd Stiefel or Toni Van Pelt, whom we've interviewed, it was akin to meeting people with whom you've worked with from a distance but never had the chance to meet in person. Having them come by our table and saying "Thank you!" for UnitedCoR's assistance by connecting their work to local people was a great feeling and a sense of accomplishment.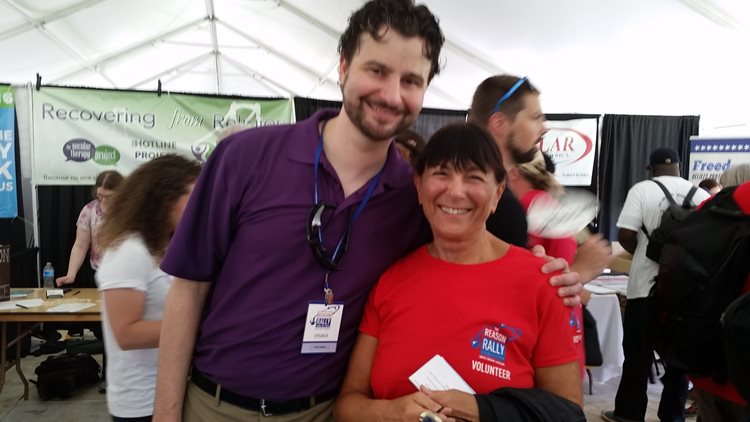 During the course of the day, many of our Coordinators and leaders of local secular groups came by to also say thanks. A few months ago, we were in Kennewick, Washington doing an evening's event with Mid-Columbia Coalition of Reason. Someone from that event came up to the table and said, "Jase, good to see you again." We picked up from where we left off in our discussion from months ago, and it was great to hear him say that he and his family were doing well and that their local group was flourishing. Likewise, I'd be at the table and recognise a person from one CoR and then introduce them to someone from another CoR who had similar interests, but wouldn't have had the opportunity to make each others' acquaintance. Most of the day was spent making these kinds of connections, and I saw a lot of cards and contacts being traded between people. I'd like to think that I was a facilitator of new connections and cooperation during the day.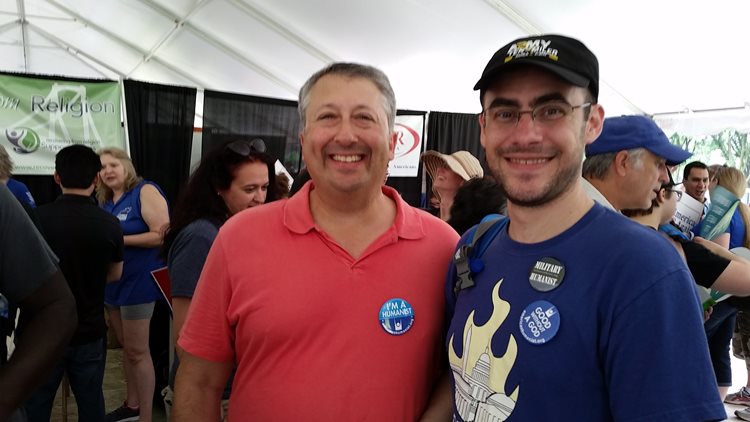 Susan: Did you attend any of the events other than the Reason Rally?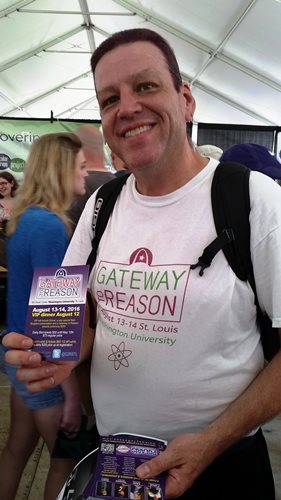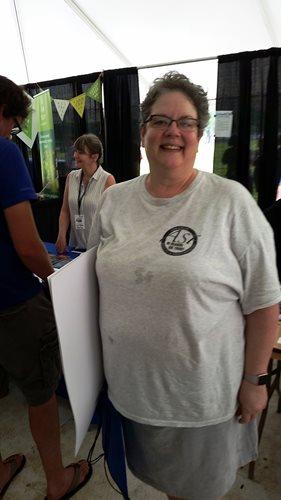 Jase: None, actually. Starting on the Wednesday before the Reason Rally, I rented a car and drove people from the airports and train station to their hotels and also to some sights they wanted to see. I had people with me from as far away as San Diego and Miami and as close as Maryland. What was fun for me was to introduce people to each other, and then to say something like, "Remember that protest that was held in Iowa? Well, that was Rory…" or "Meet Chris Stedman, the Humanist chaplain at Yale," or, "This is Micael from Brazil. He's the producer of the new documentary, Truth Beyond Belief," and then watch people make the connections with each other from there. It's amazing just how much people felt as if they knew each other from reading the stories we've been posting in our newsletter and for them to make a personal connection with each other just cemented that friendship. We filmed a few of our coordinators and friends, and the one thing I remember most of them saying to me off the camera was that they felt as if they were part of a greater, nationwide family because of UnitedCoR. That made me feel as if our work with local areas was doing the right thing.
Susan: So, your experience of Reason Rally was more like serving people, rather than being an attendee?
Jase: That's one way to look at it. For some of our friends and local Coordinators, it was their first time to Washington, DC and I wanted to make sure it was memorable and pleasant. For others, I wanted to make sure they connected with people from other parts of the country who are trying similar initiatives and projects, and by making new connections, they could learn from each other. As you know, the military has a special interest and place within my life for many reasons. I enjoyed linking individual people to various CoRs and other national groups based upon their interests, like being in the military or a veteran, as well as their personal identity and geographic areas. I hope that our table helped bring more local people to a local CoR, as well as directing people to national organisations that could best represent their uniqueness, whether from identity or interest.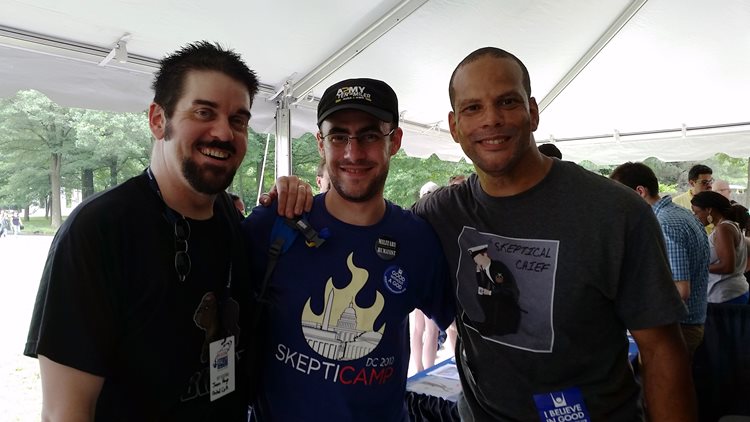 Susan: You've asked many local people what they took away from the Reason Rally that they could bring back home with them. What's your dream for local leaders?
Jase: I hope that local leaders enjoyed meeting each other, learning of and from each others' experiences and have come away from the Reason Rally with some new ideas. When I took people back to the airports and train station, it was a great feeling to see new friendships made between people, some of whom live hundreds or thousands of miles from each other. I'm proud to know so many people out in the local areas, and I'm appreciative of all the hard voluntary work that people provide in their local communities. They're the real heroes, and it's been a pleasure to help their work be more visible.