by Tee Rogers
Humanist Chaplain–BE Orlando Humanist Fellowship
(a Cooperating Member of the Orlando Coalition of Reason)
Fin)ding an on-site service project on a small budget can be a challenge. Here's a meaningful solution and a resource site with everything you need to host this project at your next event, conference, or meeting! The Positive Postcard Project shares messages of human connection and love that can inspire, comfort, or uplift a recipient of any faith or non-faith perspective.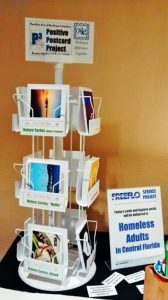 This is important. Many support card and note projects come from churches and other organizations that are biased towards theism and proselytizing. These cards often contain language that not only isn't meaningful or relevant to non-theistic people, but can further victimize or even isolate them, thereby increasing their burden, and causing unnecessary grief and anxiety during their times of need.
People who identify as non-theistic are all around us, and they, too, are among those in need. They deserve resources, support, representation, comfort, care, and love. Positive Postcards engages secular communities and our secular-friendly allies by providing that support and encouragement. The project can also be hosted at public events, educating theistic faith communities about respecting the diverse perspectives of those who receive cards or letters such as these.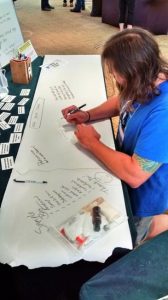 A person's time of turmoil, challenge, or disadvantage should not be an opportunity to market religious belief or no preference. We don't know the perspective of the person receiving the card and therefore should craft messages that speak to any recipient—unapologetically inclusive and loving. As non-theists, we're empowered and emotionally intelligent to ensure that members of our shared values community are respected and supported. As Humanists, we have a responsibility to seek the means to uplift others and make the world a better place.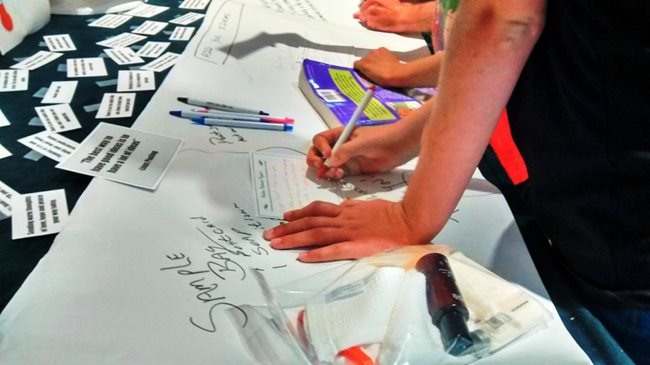 For more information about the Positive Postcard Project, visit their website at http://positivepostcardproject.wordpress.com. This DIY site offers message samples, project plan ideas, recipient organization ideas, printable resources, and cards customized (free) for your group that you can order as a free PDF or have them printed for you. You can also enjoy the wall of shame, share your ideas for positive secular messages, and share your event story.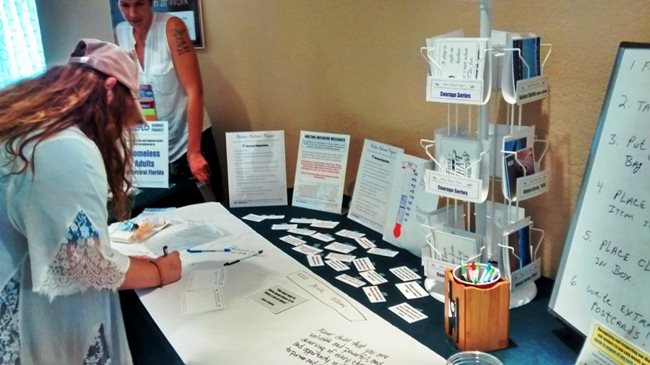 UnitedCoR is pleased to see that Tee's outreach and work in Florida as another Humanist chaplain is blossoming and going from strength to strength. You can learn more about Tee's important work on Meetup, Facebook and Twitter. Also, check out some of the other projects that she's supporting such as Secular Gratitude and STE(a)M for Youth-at-Risk…always DOing good without a god.