Ohio Wesleyan University Freethinkers, a member of the Columbus Coalition of Reason, participated in Freethought Day again with the theme of "What do you believe in?" Freethought Day is on or around October 12, the annual observance by freethinkers and secularists of the anniversary of the effective end of the Salem Witch Trials. It is an annual day of celebration which gives those freethinkers who have been unable to proudly declare themselves a platform from which to do so.
Many students, faculty, and even the University president stopped by to talk to the group and express what they believed by writing it on a dry-erase board. The tabling was also an effort to garner interest for the group and many signed up their names on the email sign-up sheet. The event was organized by OWU Freethinkers President Nancy Ransom and Vice President Jo Meyer.
Nancy talked about why OWU Freethinkers decided to do it again, "Well it is already a celebration, so we thought that we should bring the campus community together in order to celebrate our beliefs and our questions, so people are able to come up and speak up about what they believe in or they can come and if they have more questions about more belief systems they can come up and ask us that too." Jo also shared her thoughts, "I think especially because we are a religiously affiliated school, it's especially important to sort of spread the word that there are other groups on campus that aren't necessarily a sect of Protestantism that are more open."
Both of them thought they had a great turnout and great event and are really excited for all the things they can do with their group this semester and the rest of the schoolyear.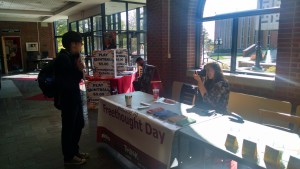 Columbus CoR Pages