by Jase, Executive Director—United Coalition of Reason
With a special report from Kellie Parkin—Orlando Coalition of Reason
Minister, officiant, clergyperson…who cares what the label says, as long as the wedding takes place, right? This was the issue that David Williamson, one of Orlando CoR's coordinators, encountered when he registered himself with the Washington, DC courts in order to perform a friend's wedding in the District of Columbia. However, David's action and ultimate victory can be replicated in your local areas, to ensure that terms are used inclusively, and not providing privilege to one sincerely-held belief.
Check out David's letter below: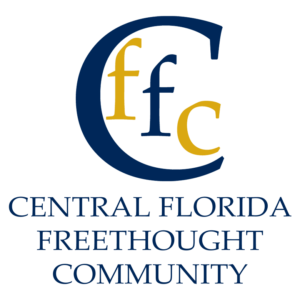 June 21, 2016

Re: Marriage Bureau "Minister" Application

To whom it may concern:

Earlier this month, it was an honor to officiate for the wedding of my close friends on the National Mall and I was very pleased at the ease with which I was able to obtain my officiant certification at the Moultrie Courthouse. The very helpful dccourts.gov website provided the applications and all the information I needed, so I was able to complete the form ahead of time. Both the temporary and permanent officiant application forms were inclusive of non-religious persons and of secular or religious organizations. Thanks so much for that.

The reason for my letter today is my surprise at what may be an oversight or simply a pending change to a process that takes time to complete.

The 'check-in' computer in the marriage license office where I applied and paid the fee for my certification refers to everyone who seeks permanent certification by the District as a "minister." See the image of the computer screen below which directs officiants to select "Minister Application." I do not see any other secular option available for the same purpose.

When I read the screen as I was checking in, I thought about what it might feel like to be an imam, a rabbi, a monk, a guru, or one of many hundreds of other types of clergypersons who know that minister is almost exclusively an honorific for protestant Christian cleryg. Surely this was not done with any malice, but I hope your office will take the time to consider an update to the name of this one field in computer program—at least as it interfaces with the public. Please consider a more neutral or secular title that would be inclusive of all who are eligible for this certification. I suggest something like "officiant" or "celebrant" since the option for non-clergy to conduct ceremonies is available to qualified applicants and in some faith traditions there are no members of clergy.

David Williamson of the Orlando Coalition of Reason

Regardless of the term you select, nonreligious clergy such as myself and my friends in minority faith traditions would be grateful to feel included and to know that the process is not designed nor intended for only Christian clergy. Thanks in advance for your consideration and please do let me know if any action is taken or is already pending.

Best regards,

David Williamson
Humanist Celebrant
Although David's victory in Washington, DC might not seem like much at first glance, it raises a higher issue in that by using the term "officiant," non-theistic celebrants are seen to have equal rights and equal respect to conduct weddings in their state. If your state uses the term "minister" to describe the person who can sign marriage certificates, why not use a letter similar to David's to bring the issue to light, and start the change process? Even little victories add up in terms of raising the visibility of non-theists in their local and state communities.
In addition to David's work in Washington, DC, other great things have recently taken place in Orlando's non-theistic communities. Check out this special report from Kellie Parkin of the Central Florida Freethought Community:
Evolution, astronomy, ancient science, neuroscience, public policy, philosophy, and separation of state and church are just some of the topics one might absorb at Central Florida Freethought Community's monthly events. Most recently, the Orlando Sentinel came to feature their July event in the column "On Any Given Sunday."

CFFC began the educational meetings in September of last year as a way to bring informed speakers to their members to talk about subjects of interest to atheists, humanists, and freethinkers of any label. The gatherings have become an anchor for the local freethought community and attendance has grown substantially over the past year with the help of CFFC's allies. Groups like Florida Atheists, Critical Thinkers, and Skeptics (FACTS), Orlando Thinkers' Discussion, and Hispanic American Freethinkers (HAFree) share CFFC event invitations with their Meetup memberships and spread the word about the offerings.

Science topics often bring in the largest audience, and Derek Demeter's June presentation to a standing room only audience was no exception. Astronomer and planetarium director at Seminole State College, Demeter posed "How do we know? Investigating the Science behind Our Most Heated Scientific Theories," then transported guests, taking them on an adventure to the universe's beginnings.

Astronomer Derek Demeter entertains the attendees.

Drawing on the immense talent found locally in Central Florida, such as Demeter, CFFC has also offered fascinating presentations by other non-theists from around the United States. Next month, guests will learn about "Transgender Dynamics in Society," from Gina Duncan, Equality Florida's Director of Transgender Inclusion. Recognized as a national and international educator and spokesperson on transgender rights and public policy, Gina is also the co-chair of the Diversity Committee for the Human Rights Campaign of Orlando.

CFFC educational events are free and open to the public. Occasionally, some presentations incur substantial costs and small donations are suggested, but never pressured. After each talk there's a social hour with refreshments. As an added bonus, you can register to vote at every CFFC meeting.

Jocelyn Williamson of the Orlando Coalition of Reason.

Since it was founded in 2012, the Central Florida Freethought Community has focused on the separation of state and church and has built a thriving secular community in the Greater Orlando area. CFFC is a chapter of the Freedom From Religion Foundation and an affiliate of the American Humanist Association. More information can be found at www.cflfreethought.org.

Kellie Parkin
Central Florida Freethought Community—member of Orlando Coalition of Reason