Widely-Acclaimed Non-Religious Artist Featured at Prestigious Collection in Liverpool
Topping off an impressive profile of displayed art works, Liverpool (UK)-based non-religious artist Peter Corbett has been given the opportunity to display his works at the Victoria Gallery & Museum at The University of Liverpool. Corbett trained with the renowned British artist Maurice Cockrill, and obtained honors degrees in fine arts in nearby Manchester. Corbett's artistic subjects often depict his interest in science, arts, philosophy, and Gamlan music. Selections from Corbett's new book of poetry and other philosophical writings will complement Corbett's visual art, and will be on display until October 31, 2015.
If any local CoRs have artists, musicians, poets or creative writers that you'd like us to highlight, please email UnitedCoR at [email protected] with further information. We'd like to help you help raise the profile of creative non-theism in your local area!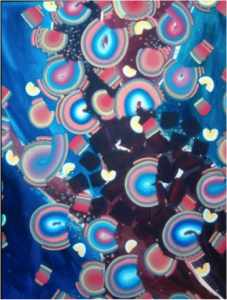 Making a "World" Of Difference with Environmental Ethics
At a recent event with some people in the Washington, DC CoR, we met up with Humanist Chaplain, Rabbi Binyamin Biber and his wife, Catherine Sheehy. We discussed how groups such as Balance the World Foundation in Las Vegas CoR are trying to raise environmental ethics practices in local businesses. Other CoRs are also making a positive impact by sponsoring collections of recyclable materials. Here are places that people have suggested that are free to use their recycling facilities:
World Computer Exchange: Picks up specific kinds of working computer equipment to help in developing nations. Welcomes financial donations to pay for shipping equipment abroad.
Bikes for the World: Collects, repairs and provides bikes to foster local and international economic development.
Best Buy: Recycles nearly all electronics and appliances. Go to customer service or check their website for specifics of recycling at all locations.
MOM's Organic Markets: Recycles clean plastic bags, electronics, batteries, lightbulbs, corks, denim, shoes.
Target: All stores recycle plastic bags, MP3 players, cell phones, ink cartridges and aluminum.
Kohl's: Recycles clean plastic bags near customer service desk.