Thousands of people flocked to the University of Delaware Green on Sunday, September 20th, for the 44th-annual Community Day, which is put on each year the by Newark's Parks and Recreation Department. Attendees perused more than 200 vendors and enjoyed live music, food and other performances throughout the day.
Delaware's Coalition of Reason was there with members from Newark Atheists, Delaware Atheist Meetup, and the Delaware Association for Humanism. Combined, we were able to speak to hundreds of people.
This year, as in years past, the adjoining event participant was quite amusing. Sitting next to us throughout the day were individuals associated with Creation Science and Intelligent Design. We were not only gracious to them but even helped them in the beginning of the day by helping set up their canopy and such. We were able maintain that cordial relationship with them throughout the day but did make sure that people walking past us were aware of the "Cosmic Joke" that happened. I'm not sure that they were able to use the choice of placement to their advantage, be we most surely did.
While we did have our fair share of true believers showing up to try and convince us that we were wrong, we did concentrate on people who were unsure of their stance and on those who already claimed to be an agnostic, atheist, skeptic, etc. We found that using Richard Dawkins' proposed "spectrum of probabilities" from his book "The God Delusion" where there are two extremes — strong theist on one end, and strong atheist on the other — allowed to focus in on how best to direct the conversations. It worked very well for us.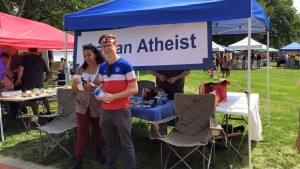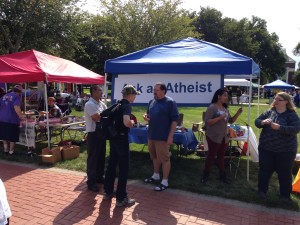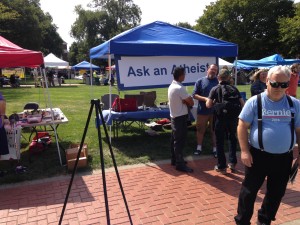 We look forward to this event every year but we are so much more excited that we are doing it under the auspices of the Coalition of Reason. We feel that we now have a greater chance to present our message to even more people at more events in the State of Delaware than ever before. So we hope that all of you will continue to check out our calendar and see where we are going next.