It started to look like the National Day of Reason was going to be a big disappointment in Connecticut.
Governor Dannel P. Malloy had not responded to the Connecticut Coalition of Reason's (CT CoR) National Day of Reason proclamation request submitted in mid-February. In early March, CT CoR co-chair Pat McCann followed up with a letter to the Governor Malloy's office. With still no response in early April, McCann called the governor's office only to find out that the proclamation request had been denied. United CoR executive director UnitedCoR's Executive Director then did some research and learned that Governor Malloy had actually issued a National Day of Prayer proclamation, adding salt to the already-festering wound.
McCann rallied secular communities in Connecticut to participate in a telephone campaign to make it clear to Malloy that government favoritism of one sincerely held belief over another is unfair. The governor's staffers provided no reason for the rejection and the Director of Constituent Services refused to speak to any caller, return voice mails, or respond to emails. McCann made a Freedom of Information Act (FOIA) request in order to find out why the National Day of Reason proclamation was denied. Although reasons for rejection are not documented and therefore not available under FOIA, the numbers are telling.
Governor Malloy's office received 675 proclamation requests between January 1, 2015 and April 10, 2015. Of these, 601 were granted. Of the 11% that were rejected, it is possible that some were denied for technical reasons, such as falling outside the required time frame. It is also reasonable to speculate that some were rejected based on content. Because the Connecticut request had complied with all the guidelines, McCann speculates, "Since the Governor's office issued a proclamation in favor of the National Day of Prayer while rejecting ours, I feel that some form of discrimination was at play given the overwhelming majority of proclamations are accepted and there was no divisive or derogatory language in our proclamation."
Since his election as Mayor of Middletown, Connecticut in November of 2011, Daniel Drew has been hosting an Evangelical Christian only National Day of Prayer event in city council chambers at Town Hall. Every year members of the Connecticut Valley Atheists have unsuccessfully requested to speak at the event. Therefore, for the past three years, members of the local Atheist and Humanist groups have respectfully and silently protested against a government facility hosting a religious gathering. David Silverman, President of American Atheists, even joined the protest in 2012.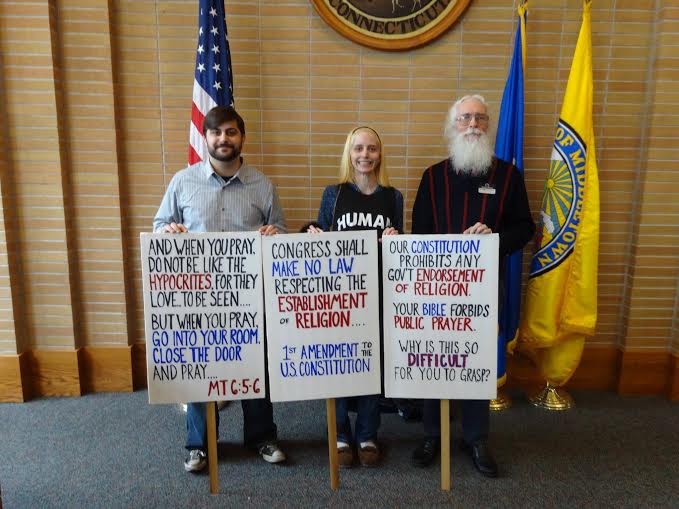 Despite the setbacks, secular communities in Connecticut remained undaunted. Under the leadership of American Atheists Connecticut State Director, Dennis Paul Himes, they laid plans to protest once again. Weeks before the protest, Mr. Himes and the CT CoR wrote letters requesting that a halt be put to the National Day of Prayer event if the secular community and those belonging to non-Christian religions are excluded. In addition, Himes and Silverman have spoken earlier this year at the American Atheist Convention in Memphis about possibly filing a lawsuit.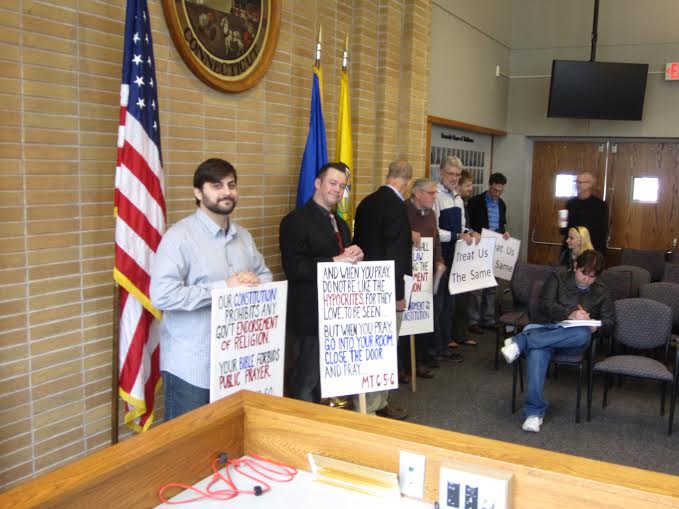 But the lawsuit was unnecessary. When the protesters arrived they found the city council chambers dark and empty. Mr. Himes, who had confirmed earlier that the event was indeed to be held there, learned from the mayor there was a last minute change in venue and time. Not only was the event moved to a private venue, but the mayor would not be participating. Mr. Himes declared victory. "This is exactly the result we were looking for", he said.
See the article regarding the protest in The Middletown Press