by UnitedCoR's Executive Director
Executive Director—UnitedCoR
Two weeks ago, we asked for photographs from your local groups' winter display and winter festival parties. Austin CoR announced that one of the Freedom From Religion Foundation's "Bill of Rights nativity" displays was going to find a special home on the steps of the Texas capitol building on December 18th.
This announcement came three days after local city officials in Orange, Texas chose to remove a nativity scene display from their City Hall. Why remove a display that had only been a tradition in the city for a decade?
Controversially, it would appear that the Orange County Atheists (TX) wanted to place a sign near the crèche that "listed several different holidays including Christmas," and would have said "regardless of what holiday you're celebrating, the Orange County Atheists would like to wish you a happy holidays." Despite Texas Attorney General Ken Paxton's letter of support in favor of the display, the holiday display was eventually removed, drawing scorn from Gov. Greg Abbott who encouraged the city to "stand up to the demands of a select few who wish to see God thrown out of the public square."
Soon after the display was removed, Orange County Atheists also reported that their Adopt-a-Highway sign had been vandalized: not only with spray paint, but also with bullets. Gov. Abbott also got involved with the FFRF display, as he pressed to have it removed from the capitol in Austin on December 22nd, the day before Chicago CoR's banner was vandalized for another consecutive year.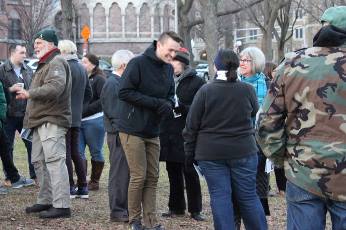 Photograph courtesy of Chris Stedman,
Humanist Chaplain at Yale University
and the Yale Humanist Community
Bearing much happier news than the situation in Orange, Texas or Chicago, Connecticut CoR wrote to us, excited with news from the Yale Humanist Community's party, held on the New Haven green.  YHC is also sponsoring a Green Light Project, which is an art installation that will serve as a "nonreligious expression of human potential." Connecticut CoR was also pleased to share that a Winter Solstice party held by the Humanists and Freethinkers of Fairfield County received TV coverage, following a media advisory sent out by UnitedCoR! This kind of coverage was well received, as plans are under way for the first Connecticut Assembly for Reason & Ethics conference, which is scheduled for Saturday, April 2, 2016 at the Mark Twain House and Museum in Hartford, CT.
We also received the following message from Blue Ridge CoR near Roanoke and Lynchburg, VA:
We appreciate the local celebrations and meetings that local CoRs held during December. Please keep us updated with your photographs and articles so that we can include them in upcoming newsletters!
Best wishes for a happy and prosperous New Year in 2016 to each of you, your friends, families and colleagues!  –UnitedCoR's Executive Director