by Andy Abbott
Stockton Area Atheists and Freethinkers–a cooperating member of Sacramento Coalition of Reason
Recently I was fortunate enough to have a chance to channel my inner Bill Nye at the Stockton Earth Day Festival, trying to, dare I say it, "CHANGE THE WORLD!!"
I ran the booth for the Stockton Area Atheists and Freethinkers at the annual festival, where we had hands-on science activities for kids and adults of all ages. The focus of our booth was a bank of microscopes with different pre-prepared slides, each focusing on the similarities we humans share with plants and different animals – we looked a the epidermal cells of green plants and talked about how they play a role similar to our skin. We looked at plant stem cross-sections and talked about how plants circulate nutrients and fluids, just like we do.
We looked close up at a bug's leg and talked about how even through from far away, an insect's leg looks like little sticks, it too needed muscles and joints, just like we do. We even had some in-process taxidermy with a tank of flesh-eating beetles which REALLY caught peoples' attention.
I wanted people to walk away remembering that things that look simple and boring on the outside can be fantastically complicated and interesting on the inside – nothing's ever as simple as it seems at first glance. I must have given my spiel, varying it for different age groups and audience sizes, about three hundred times, but it was fun each time.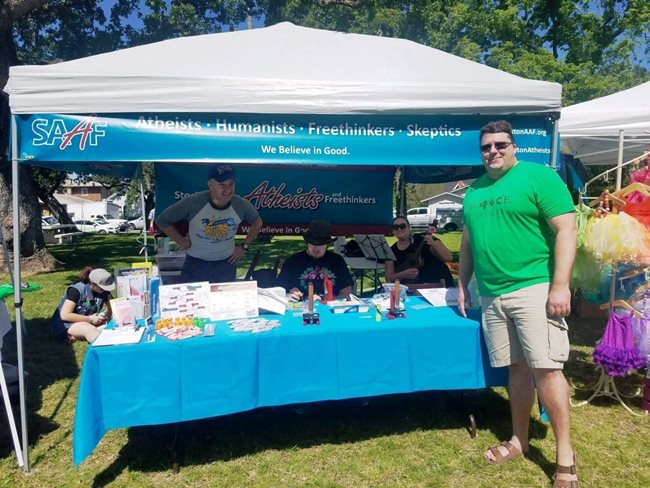 With Stockton Earth Day being family-friendly, kids would often run up to our booth before the parents. Occasionally the adults would step back to see who we were, and look on with some apprehension until they realized weren't proselytizing atheism. We were always careful, before children took our literature, to say, "Those are mostly for adults – you might want to check with your parents first." I'm not a fan of pushing any ideologies on children that are too young to process them, and that approach scored us some points with wary parents.
While I was busy talking bugs and bones with the science-curious, other volunteers in the booth helped with our other important goal for the day- outreach. We were there to celebrate Earth Day, but we were also there to connect with other non-theists who weren't aware of our group, and many of them found us yesterday. Many were younger people who had been written-off by the members of their former faith communities, close friends, family, and were having a rough, lonely time of it. We filled our newsletter sign-up sheet three times over!
Sarah Tygert, who ran out outreach for much of the day, noted, "The traffic and honest interest in our booth had increased measurably from prior events." We also encouraged and answered questions for curious theists.  When we have a booth like this we're occasionally asked, "Why have a group for something you don't believe in?" The answers are to put a friendly, normalizing, human face on atheism and the sign-up sheet of folks who connected with us. We're there for them, and it's the main reason I enjoy having a presence at events like Earth Day.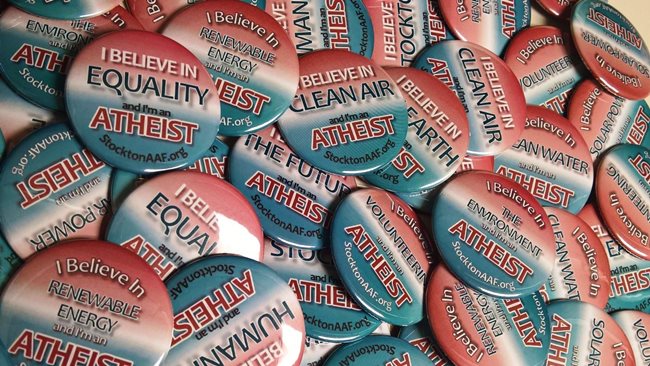 The day prior to Earth Day, our city participated in the world-wide March for Science. Several hundred were in attendance, including many from the Stockton Area Atheists and Freethinkers. One member, Tom Henry (a public school teacher), was on the committee that made the event happen. Our group marched with a 10-foot banner and was welcomed heartily.
We were very well received at both events, with almost no negative encounters (apart from the occasional "I'll pray for you"). On the whole they were two overwhelmingly positive experiences for our group, and I'm glad I got to be there for them.
We appreciate the article, Andy, and also for taking the time to write-in to UnitedCoR to tell our readers what's been happening there in the Sacramento CoR!! For the rest of our readers, did you or any of your friends and cooperating groups participate in the Science or Climate Marches? If so, please send us your photographs and a short story about your participation in the march, and we'll run your story in our growing social media networks.