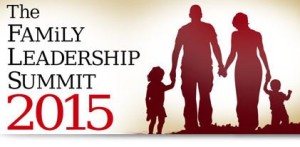 Central Iowa CoR and the Iowa Atheists & Freethinkers (IAF) are very much involved in political activism. We've even had members of the Eastern Iowa CoR make the drive to join us! This year we have already held demonstrations at two large functions: Steve King's Iowa Freedom Summit in January and the Faith & Freedom Coalition's conference in April (held at a large evangelical church!). Almost all of the 2016 conservative presidential hopefuls were in attendance.
The fourth annual Family Leadership Summit will be held on July 18th in Ames, IA and this will be the third year the IAF has held a demonstration. Again, a large number of the 2016 conservative presidential hopefuls have confirmed their participation. We send out press releases and invariably are interviewed by at least a few of the local, national and foreign press that an event such as this will attract. Our protest signs are of one theme—separation of church and state—but this year, we want to be able to demonstrate that this is something that affects ALL American interests. We started using the #AtheistVoter in January, thanks to the assistance and permission of Amanda Knief from American Atheists. The idea is to have as many participants as possible in the demonstration wearing t-shirts with that hashtag printed on them. Beyond the particulars of the demonstration, which we will be discussing at a strategy meeting on July 6, we need people! Lots and lots of people! We have competition now from other interest groups vying for the attention of the public and press. Any suggestions that you might provide for staging a successful demonstration would be greatly appreciated!
We will gather on July 18th at 8:00 am just southeast of Stephens Auditorium on the campus of Iowa State University in Ames, IA. During this period, those attending the Summit will walk past us from the parking lot to the venue. The event starts at 10:00 am, and we have a group of people inside the venue tweeting what the speakers are saying. The most important time for anyone considering helping with our demonstration is at noon. This is the lunch break for the Summit and when we get the most activity with reporters and those that want to "debate" us. We typically end the demonstration about 2:00 pm when the event resumes and since there is no more activity on the outside until it concludes in the evening.
We appreciate any help that folks across America could give us. If you could attend the Summit and help us with our protest, please let me know at the phone number listed below. Alternatively, we would also appreciate individuals and large groups to join our Twitter and Facebook campaigns to help publicize our protest as well as to re-tweet and send messages out to as many people as possible.
Rory Moe, Coordinator
Central Iowa Coalition of Reason
515-770-8541
Twitter: @_RoryMoe