by Shelagh Talbot
Dr. Richard Logan (President Emeritus) is in charge of information for new and prospective members for the Minneapolis Chapter of the Society for Humanistic Judaism (SHJ). He is a member of Or Emet, the Minnesota Congregation for Humanistic Judaism and was recently slated to become the next President for the Society for Humanistic Judaism. Dr. Logan is a humble, yet delightfully loquacious individual.
UnitedCoR: From what we understand, you're the son of a Methodist minister, and yet you were nominated to be the President of the SHJ. How did this come about?
Richard Logan: I joined congregation here in Minneapolis just over a decade or so, and after five years was elected president of congregation and I finished a four-year term as president last year. One of the things—and it's true both about our humanistic Judaism congregation here in Minneapolis and the society board as well—is that it's a group of very smart, very caring people. I spent 40 years in the academia as a professor, and I only wish that the collegiality and so on that I've experienced through the SHJ had been the case in academia (it's closer to what I dreamed academia would be).
UnitedCoR: I see that ceremony and tradition still have an important place in Or Emet.
Richard Logan: Absolutely! We are a caring community of people who embrace a human-centered philosophy. Even though most of these traditions originated as religious rituals, they are so powerful when it comes to serving historical memory. This is what is the most compelling to me, and this is a feature of Judaism as a culture to which our Society is committed. A particular cornerstone of our mission is to keep Jewish culture alive and vital, and so we will observe some of the same rituals and ceremonies and of course the holidays, but we do all of them in a non-theistic fashion. For example we certainly mention the Exodus at Passover, but rather than talk about the historically-dubious exodus described in the Bible, we will talk about real examples of people struggling to be free and becoming free –making their own journeys to freedom.
UnitedCoR: What would you like readers to know about the Society for Humanistic Judaism?.
Richard Logan: The Society for Humanistic Judaism is a Humanist organization that believes that all judgments about right and wrong, good and evil, should be based on reason and evidence—it's all about reason and evidence—and we believe in keeping Jewish culture alive and vital. We are Jewish Humanists: about 25% of young Jews these days say they're thoroughly secular, and about half of all Jews of all stripes doubt the existence of a deity. There's tremendous potential and, I would say, it presents a tremendous need for an international Jewish organization to meet the needs for secular Jews for communities. That's the large part of what we are doing. Of course, we feel deeply committed to this, not just in keeping Jewish culture alive and vital by supporting Jewish identity, but also Humanist values such as social justice, human dignity, the use of reason, the use of evidence, and democracy as the way of governing and leading people. This is very timely, and historical, because given the rise of fundamentalist ideological thinking around the world, and the fact that our institutions of governance are secular organizations, institutions and groups such as ours have never been more important. Humanists, atheists, freethinkers and the secular groups of various kinds are extremely important because we understand better than any of the others that, constitutionally, we are a thoroughly-secular nation-state. Humanists try hard to base decisions not always in a liberal political sense: they are sober-minded (and not banner-waving extremists).
UnitedCoR: Do you have any plans for presence at Reason Rally?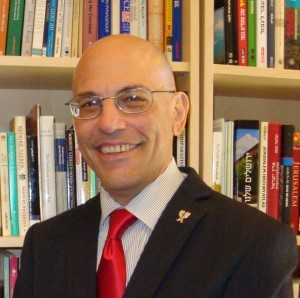 Richard Logan: Absolutely! We have a congregation in Washington, DC (please check here to find all our Humanistic Jewish congregations), and my wife and I plan to be there. I'm not sure how many will attend, but we will certainly have a presence there. We have a wonderful secular Rabbi from Detroit named Rabbi Jeff Falick, and he's a powerful speaker. If there's a space for him, it would be great if he could be included.
There's a beginning formation of a Humanist coalition here in the twin cities of St. Paul and Minneapolis bringing together the Unitarian-Universalists, The Humanists of Minnesota and the Minnesota Atheists. We'd be delighted to have United CoR's Executive Director address this new formation. Please keep us in mind. I'd be delighted to speak with him in this regard.
UnitedCoR: Thank you.