by Susan
Education Officer and National Coordinator–United Coalition of Reason
In our newsletter article on the expanding and flourishing Humanist military outreach taking place each week at Lackland Air Force Base in San Antonio, Texas, we mentioned that the trainees and new airmen graduates learned of other military non-theists, helping them to recognize that they were not alone. One of the veterans that Jase highlighted in his presentation was Petty Officer 2nd Class, Todd Kregel—a Chapel Leading Petty Officer, whom you might remember received a commendation for saving the life of a U.S. Marine.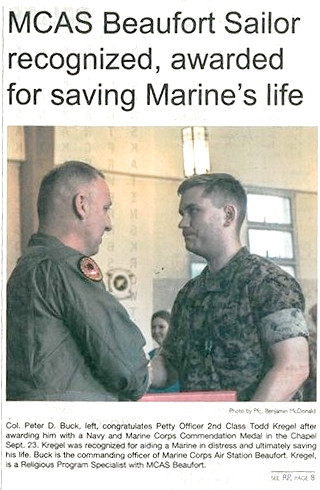 Now that Todd has retired from the Navy with an honorable discharge, it is UnitedCoR's privilege to be able to catch up with him and find out more about his work in the Navy as a Religious Ministry Specialist, being an open non-believer, and how he sees his Humanist ethics impacting upon his own life and others around him.
UnitedCoR: Please tell us more about your upbringing, especially the role in religion in your life.
Todd Kregel: I grew up in a military family, and my immediate family was "religious" but it was never serious enough to consider it forced or indoctrinating. My dad's side of the extended family were devout conservative Wisconsin Evangelical Lutheran Synod—"WELS"—and it eventually caused a lot of problems. My father and grandfather were both in the Army (please see their photographs below). My grandfather served in the Korean War, faithfully completed his contract and came back to his home state of Michigan and became a businessman. My dad did the whole 20-year career: he served the Persian Gulf and Kosovo and is now back in Michigan. I suppose that I can partially claim Michigan as a home state. I was born in Germany and have moved more than 20 times in the last 30 years. I have been everywhere from Alaska to Florida, and New York and Washington State. My dad retired at Ft. Drum in Upstate New York and I went to high school (class of 2006) and my undergrad up there. I consider that "home," even though I have no real desire to move back. It was at college where I really began to think about religion, god, and non-belief. I don't remember ever really making a big deal about realizing I was not religious, but I certainly remember the moment where I realized I couldn't believe in a "God" anymore!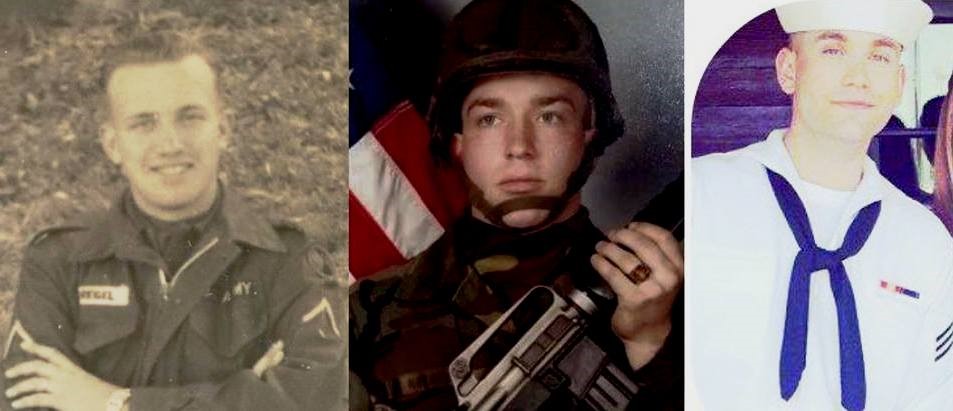 After I graduated in December 2009 with a Bachelor's in Political Science and History (dual Major), I decided to take a year off and see what kind of work I could find… and I couldn't. I then decided to get back into the academic world, move 3,000 miles out to Washington State, and get a M.S in International Relations. The goal was to eventually get into teaching. After getting my Master's, I took another year off to find work. I moved to Michigan with my dad while I tried to get my feet on the ground, but I could only find work as an assembly line tech. Every professional application came back with "needs more experience," meanwhile all of the unskilled jobs that were paying a decent wage came back with "overqualified". So, I decided to enlist in the Navy.
I caught a lot of grief about enlisting with a Master's degree, but I was in a situation where I needed to join and I didn't really care what job I ended up doing, as long as it came with a pay check. I ended up signing up to be a Religious Program Specialist (RP): or a Chaplain's Assistant.
I did my 2 months at Great Lakes, IL for boot camp, two months at Fort Jackson, SC for schooling, two months in Camp Lejeune, NC for Fleet Marine Force (Field Medical Training/Chaplain and Religious Program Specialist Expeditionary Skills Training) schooling. I was then transferred to my first (and only) duty station in Beaufort, SC where I served as the Leading Petty Officer for the Chaplain's Department—a unique position for someone who was so new to the Navy.
Now, I am a whole 4 weeks out of the Navy and I am currently working as a procurement manager for a local generator and power company in Largo Florida.
UnitedCoR: Many of our readers don't know what the role a chaplain plays in the military. Please give us a description of their duties and responsibilities to all personnel—including non-believers.
Todd Kregel: To be honest, I don't think many people in the military even know what it is a Chaplain does. Sometimes they are these elusive creatures that only come out at command events; sometimes they are only there when a tragedy happens. I had the privilege of being around them every day (literally) and witnessing what it is that they do on a regular basis. There are a lot of things that separate a good chaplain from a bad one. A good Chaplain is the morale (not exclusively moral) center of the command. They volunteer to go on hikes with the troops, and they bring candy (which the RP—me—gets to carry and hand out…bringing joy to the miserable masses). They go out of their way to make you feel noticed and not alone; they give good advice and help people connect with experts (whether they are "religious" or "secular"). They are just good people, and I have had a few of them. The thing that should resonate here is that none of that is inherently a religious duty. A "bad" chaplain, on the other hand, tends to not do these things… they also tend to make their own religion the reason for their presence within a command. They kill morale.
A good chaplain is someone who never isolates someone along religious lines. The best Chaplain will make you stop and wonder if they even have an outwardly religious bone in their body. To them, religion–anyone's religion—is just a matter of fact rather than a matter of choice.
UnitedCoR: When you hear the phrase "No atheists in foxholes," how does that make you feel, given the work that you do with military vets, plus your role as an RP (Religious Program Specialist)? 
Todd Kregel: I largely ignore those kinds of comments because I feel that they're a non-sequitur. I don't really see any value in dismissing a person's worldview when it comes to war or being in the military: it takes all kinds of people to make a military work. It does make me think of something I read a while back, that UnitedCoR's readers might find relevant: "Maybe there are only atheists in foxholes. If the faithful truly and fully believes in a protective deity, why would they dive into a foxhole to protect themselves from the bullets whizzing by? The reason: A part of their brain knows damn well that if they do not protect themselves, the bullets will hardly discriminate between those who claim faith and those who reject it." — J. Anderson Thomson, Jr., MD from why we believe in god(s) – 2011
I know a lot of non-theists in the military, and in my experience, I feel that most people are non-theists to some degree. The reason I use the term non-theist rather than "atheist" is that most people, in general, don't take religion all that seriously, or to an extreme. I've seen this in my work in the base chapels!. In my opinion, "theism" is an intentional and conscious commitment that takes a certain level of dedication, so most people aren't really overly serious about religion, any way you slice it, and I think it would be unfair to argue otherwise.
UnitedCoR: Could you tell us about a time when you feel your work with military chaplaincies really made a difference, either to you or to the people of the communities that you serve?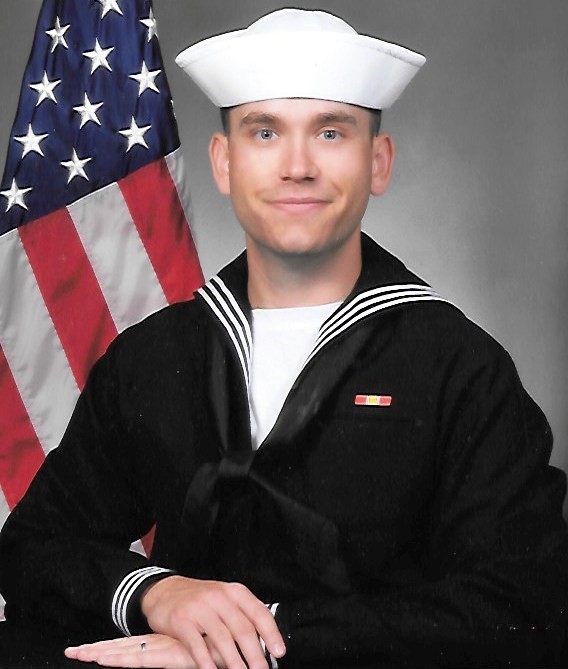 Todd Kregel: It really made a difference to me when United Coalition of Reason ran an article about my commendation in your newsletter: https://unitedcor.org/humanist-courage-maaf/. Beyond that, I felt a deep sense of love that came from the chapel community when I left. I received a second Commendation Medal from the command for what I managed to achieve at MCAS Beaufort and I think that I represented myself, and my humanist beliefs, accurately and in the most positive light I could have possibly wanted. I feel as if being a Humanist AND being an RP made a difference because I could be impartial and help for the sake of helping. Every community—whether it was the Protestants, the Catholics, the Buddhists, my AA groups, the military spouse networks, the cooking clubs, the blood drives, the volunteer programs—all of them got more than 100% from me with nothing held in reserve because "they weren't my religion or group".
UnitedCoR: If someone was considering doing military outreach what advice would you give them regarding the qualities needed and the pitfalls and pleasures of this kind of work?
Todd Kregel: The pleasures are self-explanatory. I just look at all of the work that Vicki Gettman, South Texas Atheists for Reason and San Antonio MASH are doing with the Air Force recruits at Lackland Air Force Base, and I know that it takes a lot of work and commitment. I spent the better part of three years trying to get something Humanist-in-the-military related started in Beaufort but it never worked out. The military community is always busy: they are always transferring and they never have a set schedule. It takes a motivated uniformed person (who can… since RPs really shouldn't act as lay-leaders or community leaders since it would set the notion of favoritism) to assume responsibility for keeping a group alive.
UnitedCoR: What are your plans for your life now that you've retired from the military? What kinds of skills did you learn in the military that will help you in the future?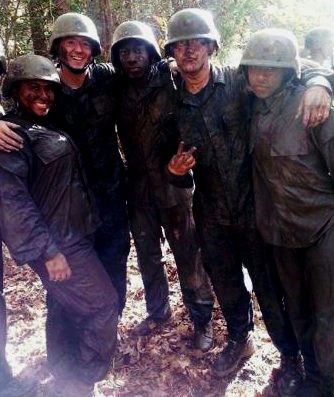 Todd Kregel: I'm currently working for a power company in Largo, Florida. I am a procurement manager for their parts division. It has absolutely nothing to do with what I want to do with the rest of my life, and it has almost nothing to do with what I did in the military. But… I am currently enrolled in Troy University for a second Masters Degree. Hopefully, I will make my way back to Michigan, get into the University of Michigan, and get a PhD in Public Administration/Political Science… Because I want to work in local government and I want to teach.
In all honesty, I learned a lot from my experience in the Navy. Patience… acceptance… the world is a big place and the majority of individuals are great people. I've noticed that people tend to be quick to judge others unfairly, unnecessarily, and usually through the lenses of our own ignorance. I came into the Navy as kind of a bitter anti-theist and left a better person who uses critical thinking rather than reactions. I attribute this change in my own life because my knowledge base and understanding of Humanism increased, but also because I met a lot of great people: Chaplains included. A part of me hopes that they open a Humanism branch within the Chaplain Corps, as I would be interested in joining. But, as of right now, I have to be realistic with my source of income and other commitments.