by Shelagh Talbot
Margaret  Downey founded  The  Freethought  Society  (FS)  and  the  Anti­Discrimination  Support  Network  (ADSN)  in  1993, and has been published in three books, Parenting Beyond Belief, A Better Life, and 50  Voices of Disbelief. A  past  board  member  of  the  American  Humanist  Association,  The  Humanist  Institute, and the Thomas Paine National Historical Association, she is a current board  member of the Freedom From Religion Foundation, Scouting For All, and Reason Rally.
UnitedCoR: How were you involved in the Barbara Mancini event, "Who Gets to Decide How You Will Die?" in Pennsylvania in April?
Margaret Downey: I introduced her. In addition to being the President of the Freethought Society, I am also the Events Manager. It was a wonderful speech and I afterwards, asked her to put together a press kit. I'm helping her refine it because I think she should be on the circuit. That's what I do: I can help people put together press kits. Now that might sound like an old-fashioned thing, but I'm telling you it works. We can make a PDF for mailing as well as a hard copy for delivery. When I hand deliver a press kit to a radio station and say my speaker is going to be here at such and such a date, this can make a huge difference on who you are trying to reach and how their information is received. It creates just the right professional edge.
UnitedCoR: How did the idea of a coloring book about Thomas Paine come about?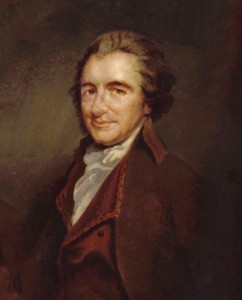 Margaret Downey: I have been working on it for more than 10 years and I found a site called I Freelance, and asked for interested artists to submit their samples for possible work. Some of the samples I found were fantastic and after working out the pricing, I was able to find out how much I would need to publish this. We estimated this would be about a ten thousand dollar project. I had my text, which will accompany the illustrations, vetted by not only Tom Paine experts, but also by authors of Tom Paine books and people that are considered Tom Paine experts across the country.  We are in the process of fundraising for it now.
What we do is to earmark those funds raised through the Freethought Society so they will go directly into that that particular project. I will be acknowledging and thanking people in post-production who donate $100 or more and will send them a complimentary issue. We recently did a Thomas Paine birthday celebration in January and I highlighted these projects—we have three of them going—and said that anyone donating more than $100 would get a free gift. I didn't say what it was. But, what I did was make color copies on fine archival paper of original oil paintings that were done of Thomas Paine for the Freethought society as well as a charcoal portrait of Thomas Paine's face. A prisoner who admired Paine greatly did this for us. Many people have written back and thanked me; they really enjoyed the interesting package we sent them.
UnitedCoR: How did the Freethought Society come about?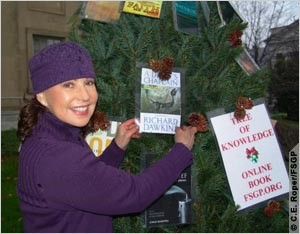 Margaret Downey: We were a chapter of the Freedom from Religion Foundation. Our friendship with Annie Laurie Gaylor and Dan Barker goes back about 35 years and in 2009. I left for two years to be the president of another nonprofit foundation—the Atheist Alliance International—so I had left the care of the Freethought Society of Greater Philadelphia in the hands of a wonderful woman, Sally Flynn, who actually I had hired to be my assistant for a couple of years and she ended up being the president for those two years. When I left the Atheist Alliance to write the business plan for, and get this!, the United Coalition of Reason, Sally threw her hands up in the air and said "Oh, this is too much! I already have a full time job…I can't take it, there's too much to do!" So, I came back with the idea that this would go from a local chapter to a national presence so we dropped the "Of Greater Philadelphia"; we had that legally done of course.

UnitedCoR: What would this country be like if Thomas Paine were our president today?
Margaret Downey: There would be NO question about separation of religion and government being of primary importance to secure the freedoms of all citizens. No priest or prophet would claim authority over any rational mind.
I also wanted everyone to know, Jase and I are such good friends and I love his wife Susan. The welcome mat at our house has their name on it and there have been events I wouldn't have been able to put on had it not been it were not for them. They are the most wonderful, generous, kind people—committed—and so passionate! You've gotta tell them how much I love them!
–Margaret, thank you so much for the compliments. It's been our pleasure to work with you and your team of committed volunteers the past months, and it's been a joy to see Freethought Society blossom and flourish the way that it has. We appreciate that you've taken time out of your already-busy schedule, in addition to your Reason Rally volunteering, to give us this wonderful interview.  –Jase