by Susan
Education Officer and National Coordinator–United Coalition of Reason
James A. Haught was born on Feb. 20, 1932, in a small West Virginia farm town that had no electricity or paved streets. He graduated from a rural high school with 13 students in the senior class. He came to Charleston, worked as a delivery boy, then became a teen-age apprentice printer at the Charleston Daily Mail in 1951. Developing a yen to be a reporter, he volunteered to work without pay in the Daily Mail newsroom on his days off to learn the trade. This arrangement continued several months, until The Charleston Gazette offered a full-time news job in 1953. He has been at the Gazette ever since—except for a few months in 1959 when he was press aide to Sen. Robert Byrd.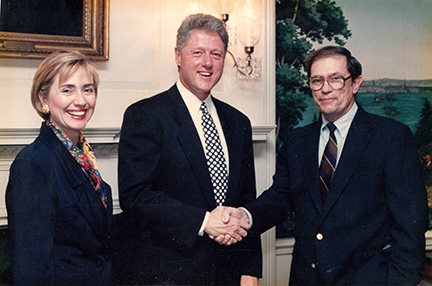 During his six decades in newspaper life, he has been police reporter, religion columnist, feature writer and night city editor; then he was investigative reporter for 13 years, and his work led to several corruption convictions. In 1983 he was named associate editor, and in 1992 he became editor. In 2015, as The Gazette combined with the Daily Mail, he assumed the title of editor emeritus, but still works full-time. He writes nearly 400 Gazette editorials a year, plus personal columns and news articles.
Haught has won two dozen national newswriting awards, and is author of 11 books and 120 magazine essays. About 50 of his columns have been distributed by national syndicates. He also is a senior editor of Free Inquiry magazine. He is listed in Who's Who in America, Who's Who in the World, Contemporary Authors and 2000 Outstanding Intellectuals of the 21st Century. He has four children, 12 grandchildren and nine great-grandchildren.
For years, Jim has enjoyed hiking with Kanawha Trail Club, participating in a philosophy group, and taking grandchildren swimming off his old sailboat. He is a longtime member of Charleston's Unitarian Universalist Congregation.
Haught continues working full-time at 85.
UnitedCoR: Please tell us a little more about the role of religion in your life. What experiences and thoughts brought you to the place where you are today? 
Jim Haught: When I was a little kid, I went to Sunday school and tried to pray. But when I became a teen, religion seemed like silly fairy tales, old nonsense. I remember wondering how Noah got to the Arctic to get two polar bears…and to Australia to get two kangaroos…and to Antarctica to get two penguins…and to America to get two bison, etc.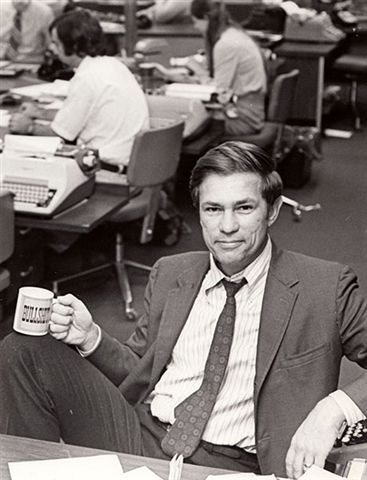 UnitedCoR:  You've been covering religion in the media for many years. Looking back on your career, what are some of the trends that you've noticed?
Jim Haught: In my long newspaper career, one of my assignments was to attend a different church each Sunday and write a Monday report. I felt like an impostor, because it all seemed absurd to me. In 1974, our community suffered a fundamentalist uprising against "godless textbooks" that caused shootings, bombing of schools, beatings of school board members, and criminal trials—all of these drew national attention. The Charleston Daily Mail editor won a Pulitzer Prize for his editorials about the nightmare. Mostly, I think news reporters see religion as fluky, a carnival. Generally, religion news is a bore unless it's another prosecution of a priest for child-molesting, or an evangelist caught in a swindle. Every month, Freethought Today prints a long list of "black-collar crimes" citing such news.
UnitedCoR: What were some of the largest stories you covered? What role did religious belief play in how those stories were either portrayed or received?
Jim Haught: I discovered a serpent-handler sect in the mountains, and printed photos of believers waving rattlesnakes…all believing they were following Christ's command in the Great Commission that believers shall "take up serpents." Actually, I rather liked the snake-handlers, because they're simple and sincere. Some of them die from rattler bites, or have paralyzed arms. I also covered an Episcopal heresy trial of Bishop James Pike at Wheeling (but it was quietly sidetracked to avoid a laughable replay of the Scopes Monkey Trial).  Pike ignored fellow bishops and hung out with us news-hounds: he was under attack because he doubted the Virgin Birth, Resurrection, etc.  Time magazine's headline about it was "Pike's Pique." I once visited Jim & Tammy Bakker's Pentecostal park in the Carolinas and wrote a series about million-dollar evangelists. Some of Bakker's leaders spoke in "the unknown tongue," and one even sang in it. My series led to a Penthouse article titled "The God Biz."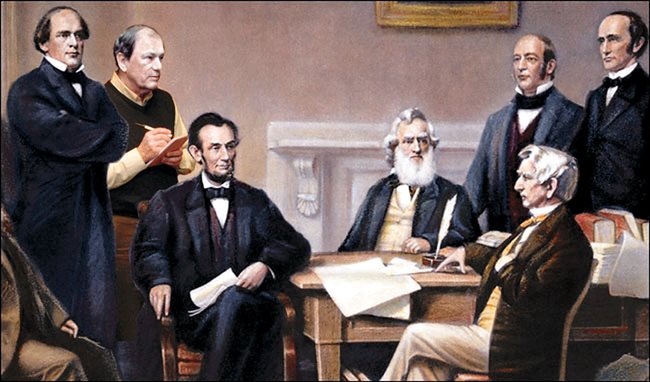 UnitedCoR: From a media perspective, what advice and tips could you give to local non-theistic groups when it comes to how their outreach and programs are covered by the press? What are some ways that they can ensure a positive reception and public image? 
Jim Haught: I think skeptic groups should send announcements of their projects to news media, so the public will see freethinkers as a legitimate social movement. The more items are printed about skeptic events, the more it will seem to be a regular part of America. If a school board tries to impose school prayer or ban evolution, or if religious displays are put on government property (right now, there's a push to put "In God We Trust" on government buildings), skeptics should fight, or file lawsuits, but do so without sneering insults. We should present a friendly image.
UnitedCoR: You've mentioned Unitarian Universalism in one of your essays. What changes have you seen within the UUA that has made it more friendly and cooperative towards non-theists? 
Jim Haught: When I joined UU in the 1950s, our congregation consisted almost entirely of chemists, professors, social workers and other educated people who were highly irreligious. (I felt like I was the only member without a Ph.D.) Later, the national UUA turned more "churchy" and began using god-talk. I protested and wrote a couple of magazine essays against this trend. I wound up in a debate with UUA President William Sinkford at our Charleston congregation.  I proposed that the denomination adopt a statement saying: "The UUA takes no position on the existence, or nonexistence, of God. Members are free to reach their own conclusions about this profound question." Actually, that statement expresses the UU reality, but leaders were afraid to put it into writing.
We appreciate that Jim has taken time out of his schedule and family life to give us this interview! We also welcome Jim on board as UnitedCoR's exclusive Writer-in-Residence. Keep checking back on our newsletters to find Jim's creative and thought-provoking articles.