UnitedCoR's Education Officer and National Coordinator
Education Officer and National Coordinator
Chris Stedman is a Fellow of Davenport College at Yale University and Executive Director of the Yale Humanist Community. Previously a Humanist chaplain at Harvard University, he is the author of Faitheist: How an Atheist Found Common Ground with the Religious. A Contributing Editor at Religion News Service and advisor to Religion Dispatches, Chris is a committed Humanist and interfaith activist and previously served as the co-founder and Emeritus Managing Director of State of Formation at the Journal of Inter-Religious Dialogue, as the atheist columnist for RNS, and as a Content Developer and Adjunct Trainer for Interfaith Youth Core (IFYC). Details magazine named Chris as one of "five next-gen gurus who are disrupting religion's status quo" and Mic called him "the millennial who's busting every stereotype about atheists." He has appeared on CNN, msnbc, and Fox News, and has written for publications including Salon, CNN, msnbc, The Advocate, USA Today, The Huffington Post, and The Washington Post.
Chris brings more than a decade of experience as a community organizer to YHC. As a young adult, he worked for Minnesota's St. Paul Public School District, helping to coordinate their Gay-Straight Alliances and drop-in center for at risk LGBTQ (lesbian, gay, bisexual, transgender, and queer) teenagers. Soon after, he worked with a food waste recovery program and the Somali community in Minneapolis, Minnesota, and with adults with developmental disabilities in rural Minnesota. Later, he ran an after school education program for at risk youth on the South Side of Chicago, coordinating a safe space and resources for youth living in the neighborhood with the highest rate of violent crime in the United States. Since then, he has spent the last seven years coordinating and executing programming for college and university students and local Humanist communities through his work for IFYC and at Harvard and Yale.
Chris served on the initial Leadership Team of the Common Ground Campaign, a coalition of young people who stood up in response to the wave of anti-Muslim rhetoric and violence in the U.S. surrounding the Park51 controversy, and continues to advise it in its current form, Groundswell. He also sits on the Board of Directors of the interfaith global development organization World Faith and is an official advisor to nontheistic charitable organization Foundation Beyond Belief's Challenge the Gap initiative, as well as their new Pathfinders Project program. A passionate advocate for the nonreligious, Chris is actively involved in the Secular Student Alliance, the Center for Inquiry on Campus, the American Humanist Association, and other organizations dedicated to building and supporting community for the nonreligious.
Chris received a summa cum laude B.A. in Religion from Augsburg College and an M.A. in Religion from Meadville Lombard Theological School at the University of Chicago (with dual concentrations in Pastoral Care & Counseling and Religion & the Arts). His favorite quote was written by agnostic astronomer Carl Sagan: "For small creatures such as we the vastness is bearable only through love." What makes the vastness bearable for Chris—and, often, what makes it more than bearable—is the meaning he finds with others in community. That, and long walks with his dog Tuna.
UnitedCoR's Education Officer and National Coordinator: Chris, you have some interesting beginnings. A secular upbringing and then at age 11 you converted to Christianity, but by the time you got to college you declared you were an atheist. Could you tell us a bit about this journey and what prompted the changes?
Chris Stedman: I was raised in a nonreligious household, but I became a Christian as an adolescent because I was looking for a sense of belonging and a space where I could explore life's big questions. I was struggling to make sense of the world after reading books like Roots and Hiroshima, and I was looking for stability after my parents divorced. So when I was invited to an after school youth group held in a nondenominational Christian church, I was thrilled to find a community concerned with questions of meaning and purpose that made me feel welcomed and valued.
But I soon learned that the church I joined was also very theologically conservative, and quite fixated on homosexuality. I also realized that I was queer. I really struggled with this for a number of years, until my mom learned of my struggle and took me to speak with a progressive Christian minister. I became a Lutheran, and after high school went to a Lutheran college.
In college, my Christian professors challenged me to articulate what I believed and why I believed it. They pushed me to take a critical look at my beliefs and ask really hard and important questions. Through this process I eventually came to realize I was an atheist. At first I struggled with this realization, and with how to relate to my still-religious friends and classmates. But eventually I came to embrace the beauty and joy of a nontheistic worldview, and now I'm happy to say that I've worked as a nonreligious community organizer and chaplain for the last 7+ years.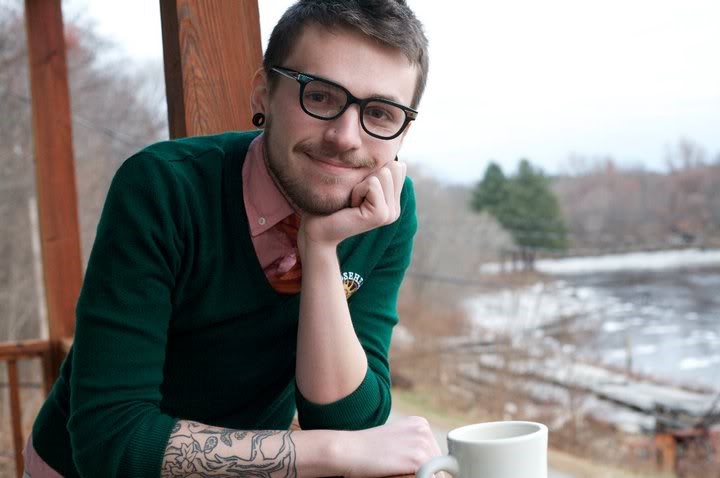 SC: Could you tell us how you first became involved with humanism?
CS: I actually learned of humanism while I was enrolled in a Master of Arts in Religion program and working for an interfaith organization. My boss, Eboo Patel, who is a Muslim, asked if I had heard of humanism. I was very open about being a nonreligious nontheist, and felt very comfortable explaining what I did not believe, but I still struggled to talk about my beliefs in the affirmative. Eboo offered that he thought, based on the way I talked about my values and beliefs, that I might be a humanist. He suggested I check out the work of Greg Epstein at Harvard, and gave me an advance copy of Greg's then-forthcoming Good Without God.
So I started reading up about humanism, and so much of what I read not only helped me put words to what I already believed, but also challenged me to think about my identity and values in new, positive, and progressive ways. I also got a chance to connect Greg, who helped me identify not only with humanism but also with the idea of humanist communities.
In American Grace, Robert Putnam and David Campbell talk about how religious communities help religious people become more civically engaged and organized because they're spaces where people can intentionally reflect on what matters most to them and what they can do to live out their values. I saw how important community is in religion, and I began to realize that community can be important for nonreligious people, too. I came to believe that humanism is incomplete without other humans; that we need communities where we can connect with one another and explore difficult questions, where we can be held accountable to the things we say we believe, and where we can join with one another in celebration and mourning.
So after finishing my degree and my work for Interfaith Youth Core, I moved out east and began working for the Humanist Chaplaincy at Harvard. After four years there, I moved to New Haven, CT to build and direct the Yale Humanist Community, where I am today. Our community has more than doubled in just the last six months, and I know we're not alone in growing quickly. I'm really excited about how humanist communities are growing all over.
SC:  We know you currently have a crowdfunding campaign for a humanist monument – could you tell us more about it? And what are some of the outreach and activities that you have been involved in and do you have plans for future outreach? 
CS: Thanks for asking about the campaign! We're so excited about the Green Light Project, our effort to install a 15 foot tall nonreligious sculpture celebrating universal human values and our shared humanity on the New Haven Green alongside the religious symbols displayed there each winter. The sculpture will include words of wisdom and it will be interactive, emanating light that changes from a cooler color to progressively warmer colors as people gather around it, until the light reaches its warmest color and begins to pulse like a heartbeat.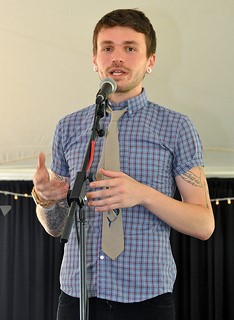 We're really excited to offer this sculpture as a gift to the community, and we're excited to show people the beauty and meaning of humanism in such a positive way. We've been doing a great deal of community outreach around the campaign for the last year and a half; we're working with arts organizations, the city, and even religious communities who are supportive of equal representation in the public square. But we can't accomplish this positive expression of humanist values without the support of people from all over, including from beyond our community. So I hope people will consider checking out our campaign page, watching our project video on the page, donating to the project if they like it, and helping us spread the word.
As for the Yale Humanist Community more broadly, which hosts programs that are open to the public with no Yale affiliation required, we have activities nearly every day of the week. We host Sunday community gatherings with guest speakers, four different discussion groups, weekly SMART Recovery meetings for people struggling with addictive behaviors, weekly student dinners and lunches, an internship program for Yale Divinity School students, special events on campus like our Carl Sagan Day celebration with Nick Sagan, a STEAMMM (science, technology, engineering, art, math, and medicine mentoring) program at a local middle school, and much more. We just finished our third annual Yale and New Haven Humanism Week, which was 8 straight days of special events including talks, service projects, a full day conference sponsored by the Connecticut Coalition of Reason, and an animal gratitude ceremony hosted at Yale's Canine Cognition Center that featured a talk on the science of gratitude and animals. We're still very young, and we only have one full-time staff person, but we're growing quickly. I encourage anyone who is interested in learning more to check out our website, our Facebook, our Twitter, or our Meetup.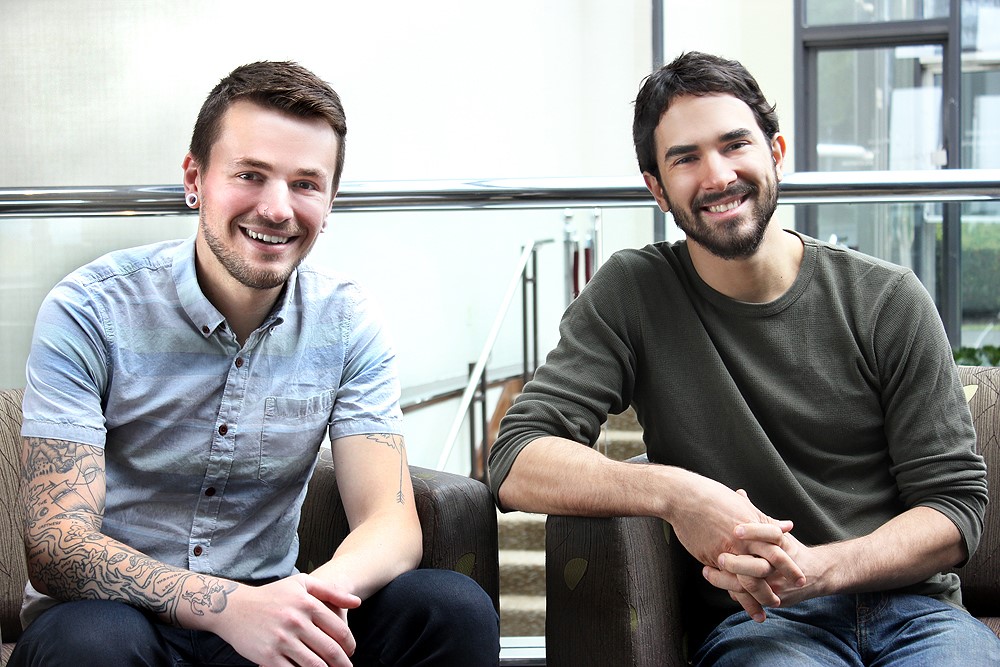 SC: You obviously have an interest in different belief systems as you are an interfaith activist. How do you envisage interfaith dialogues role in communities developing in the future?
CS: Interfaith initiatives seek to combat misunderstanding, fear, and suspicion between people of different beliefs. As I understand it, in the past, those involved in interfaith dialogues were primarily members of different Christian denominations. Then, many interfaith dialogues became inter-Abrahamic. But the circle of inclusion has become wider and wider, and now many interfaith programs include the nonreligious. In fact, some interfaith programs like my former employer Interfaith Youth Core actually have a disproportionately high percentage of nonreligious participants.
I constantly meet people who talk about how much their communities have gained from being involved in interfaith initiatives. That's certainly the case for us at the Yale Humanist Community; a number of local religious communities have been major advocates for us and have helped us become more involved in the broader community. Many more people know about us, have a better understanding of who we are, and are more accepting of us because of our allies in faith communities.
SC:  In your time at Harvard and Yale I'm sure you have many stories both poignant and amusing, are there any that particularly stand out that you could share with us, either from your own experience or those you have witnessed?
CS: It's hard to answer this because the most powerful stories are the ones I can't really share, because the counseling work I do with students and community members is confidential. But I've been fortunate enough to sit with people who are struggling with really difficult and important things and see them arrive at a place of resolution, greater understanding, or at least feeling more empowered to seek out additional resources.
And the same can be said for our community; while I don't want to share specific stories about individuals in our community without their permission, I am always so happy to hear people share how they'd been looking for a community for so long and are grateful to have found one where they can be themselves, be honest about what they believe, and make meaningful connections with others.
SC:  If someone wanted to become actively involved in interfaith how might they go about this?
CS: There are a lot of great resources out there. A good number of interfaith organizations, Interfaith Youth Core, have really excellent resources for people who want to get involved in interfaith work, and they use inclusive language to ensure that the nonreligious are a part of the work. So I'd encourage people who are interested in getting involved to look for resources.
Beyond that, I'd suggest people start in their own communities by looking to see what's already happening in their area. Are there interfaith groups? Ongoing dialogues between faith communities? Is there an upcoming interfaith conference scheduled near you? Search online and ask around.
If all else fails, try reaching out to a nearby church, mosque, synagogue, or other religious community and ask if they know of any ongoing efforts, or tell them that you want to learn more about their community and want to find out how you can be a good neighbor to them. It might surprise you how many individuals and communities are not only open to such conversations, but also really excited about having them.
Thanks to Chris for taking the time out of his work, family and volunteer commitments to give UnitedCoR an interview!