by Susan, Educational Officer and National Coordinator
A little over two years ago, UnitedCoR visited the Texas Secular Conference in Austin. While at the conference, we had the chance to speak with Victoria ("Vicki") Gettmann, and we heard some heart-warming stories of how the Humanist meetings near San Antonio were rapidly increasing in membership. Vicki was the recipient of the American Humanist Association's President's Award for 2016, and we appreciate that she has been honoured in this way.
Vicki and her husband Jed have been married for 19 years and have 5 children. She served in the Army for 20 years and earned her Master's degree in healthcare management. Vicki became the director of the San Antonio branch of the Military Religious Freedom Foundation (MRFF) after firsthand witnessing religious influence in her own military training. Shortly after, Vicki began working with Military Association of Atheists and Freethinkers (MAAF) executive director Jason Torpy, and later became MAAF's Joint Base San Antonio point of contact. In 2013, Vicki created the Atheist/Humanist meeting on Lackland and, alongside her teenage daughters, founded Atheists and Humanists Helping the Homeless in San Antonio. Vicki is also the co-founder and Executive Director of South Texas Atheists for Reason (STAR), providing low cost or free community gatherings for non-religious families.
UnitedCoR: Have you always been a non-theist, or did you come from a religious background? Please tell us a bit more about your story.
Vicki Gettman: I was raised part time Catholic. We didn't attend church regularly and really only attended so that my mother could make sure that we made all of our sacraments. I thought it was weird that we didn't go all of the time. To me it was either important or it wasn't. In my teens I started to feel that it wasn't. I had to make my Confirmation and went to classes. The youth leader only used Pascal's Wager to pacify me but it didn't. I tried on some other churches; Baptist wasn't for me. The New Testament Church was more like a cult. They wanted me to stop listening to Green Day and start listening to religious music that was similar. They handed me a Bible and encouraged me to walk in circles and pray out loud with a group of adults that were already behaving in that manner. I was saved there.
I joined the military in 1995 and during basic we were asked if we wanted candy and soda. Of course I did. We loaded onto buses and they took us to a church to get saved. You walked up to get saved and then went out the back door to get the candy and soda.  I was already questioning religion, this felt very wrong to me. I never was saved there. Eventually they just let me out the door to the candy and soda.
When I was getting married in 1997 we were military and decided to get married at the JP and have a ceremony later. My mom wanted a Catholic wedding. Jed and I had not been to church since leaving basic training. I asked the priest to marry us at the waterfall. He would not marry us unless we did 6 months of marriage counseling and agreed to marry in the church. We would not agree to either of those suggestions. We wanted to be married at the waterfall. We did so non-denominationally.
We caved into having our children baptized. We reconciled the idea as a church registry. Families have always been able to track their history though church records so we went to the church in the small town that Jed was from and baptized our children. Our last child has never been baptized. My first daughter turned 6 in 2004 and my mother really wanted her to make her first communion. I took her to the classes. When they handed me the "Catholic Parent's Handguide" I decided I couldn't do it. They wanted me to teach abstinence and that birth control was bad. I withdrew my daughter and told her that if she wanted to do it later, she could.
I labeled myself agnostic and began reading anything I could get my hands on. I started with the bible. I had read it during my New Testament days but I read it again on my own. Then I read Dawkins and Hitchens. I read parts of the Qur'an and Torah. In 2008 I attended an Equal Opportunity training course for the military. They had us identify everything about ourselves to make sure that we understood our own biases, We needed to be able to move passed them or set them aside in order to perform as Equal Opportunity Leaders. I identified as an Atheist during that class. I went back to work as an out Atheist.
UnitedCoR: Living in southwest Texas, you're surrounded by Christians like Roman Catholics and Baptist General Convention of Texas. Do you feel comfortable being public about non-belief?
Vicki Gettman: I am very comfortable in San Antonio. However, I have friends from smaller towns all over Texas that express that it is different there.
UnitedCoR: Congratulations on your recent retirement from the military! What was your experience with religion in the military?
Vicki Gettman: Thanks! When I came out in 2008 I didn't have any issues. I kind of went along with everything. I attended potlucks and ceremonies that had prayers involved and I just remained silent. I didn't bow my head or pray.
In 2012 I was teaching at Fort Sam Houston when they insisted that we have suicide prevention training. It was a critical task that we had to accomplish on a short suspense. We were gathered in the post theater with 800 of our students and received an hour of suicide prevention training. We also received about 50 minutes of Master Resiliency Training. The last 10 minutes of our training included the Chaplain that was going to say a few words. He turned off the lights and passed out plastic light up candles. He prayed to his heavenly father and his prayer was very Christian in tone to me. My Catholic friend even said to me after that he knew I would have a problem with it. I stood up and left the theater and remained in the lobby for accountability reasons. I was furious that the students weren't told that things can be mandatory or religious but they can't be both.
Then it occurred to me that a Buddhist student was in attendance and two of the Jewish students were denied leave because it was such a critical mission requirement. However, they were forced to listen and participate in a Christian prayer on Yom Kippur!! I was horrified and filed a complaint with the military representative for American Atheists. I asked him to keep it anonymous. Jed asked me if I believed in it and I told him that I really did. He suggested that I put my name on it and own the complaint. I did and filed a formal EO complaint with my unit. I was contacted by Jason Torpy and he gave me some advice on how to push the complaint. Mikey Weinstein of the MFFRF was also instrumental in helping me with my complaint, which we took public and it was in the news here in San Antonio. The complaint took a few months and went all of the way to the General and ultimately resulted with being "unfounded." I was close to 18 years so I just rode out my time.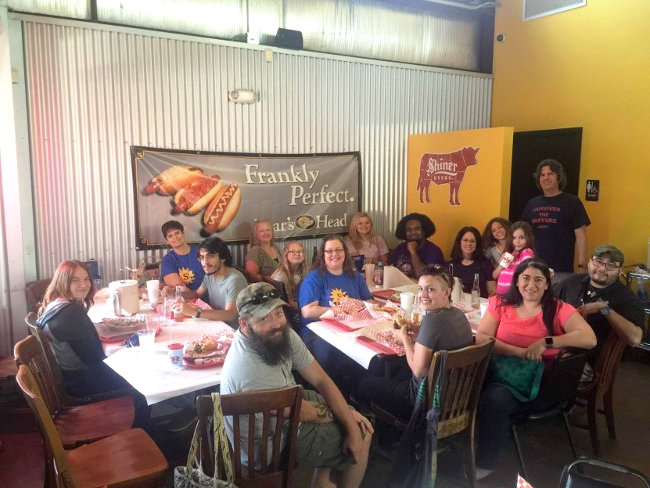 UnitedCoR: What Humanist community work have you been doing around San Antonio?
Vicki Gettman: Since my name was out there, Jason asked me to be the point of contact for Joint Base San Antonio (JBSA), and then I started the JBSA MAAF. A few months after that, he contacted me to ask if I would meet with a trainee on Lackland during basic training. It took a few weeks to get set up, but a few friends and I set it up and met with 8 trainees on the first day. I became a Humanist Chaplain to facilitate the meetings. We were in a lobby but weren't allowed to advertise. Word of mouth took control and we reached 50 trainees in a few months. We were relocated to a stage and again, word of mouth took over and we reached 100 trainees within 6 months. We were still not allowed to advertise but they did put up a small sign on the bulletin board in the dorms. Most trainees admit that it was 3 sentences, the size of a 3×5 card and in size 10 font. We continued to grow and requested a new space.
We have been in the community center since January 2014. In March 2016, we had 403 trainees and airmen attend and we asked to split into 2 meetings. We have been having over 250 attend each meeting. We recently celebrated our 3 year anniversary and yesterday had 640 in attendance. We have always covered 8 different topics for the 8 weeks of basic training. We have continued to add and improve. Trainees request different topics and ideas. Because of this, we added this week in science, we go over headlines, and we've added a new topic of Separation of Church and State and have nerd news at the end. "Nerd news" covers anything new that happens in video games. We cover sports when there's some kind of championship going on. I've also continued a working relationship with Mikey, and I am the Military Religious Freedom Foundation Director of Affairs for San Antonio
I had this overwhelming need to help. I found Joe and Austin Atheists Helping the Homeless. I contacted him and asked him to help me find the San Antonio group. He let me know that there wasn't a group and I asked him if I could start one. He agrees after hearing my determination. I started Atheists and Humanists Helping the Homeless San Antonio in August of 2013. Jed and my kids helped me shop for hygiene supplies, make giveaway bags and find locations to assist the community. We had a small budget for helping and made it work. My older daughters and I had a rough start finding locations and getting set up. We settled on doing our work on the last Sunday of the month after the Lackland meeting. It took off. People began seeing my posts on Facebook and showed up to help us. We have been stable on the corner of Frio and West Houston at 1:30 the last Sunday of the month for over two years. It is a donation only run community group.
South Texas Atheists for Reason (STAR) was born in October 2015. We have 5 kids and really needed an Atheist family group within to raise our kids. We tried on a few local groups. We didn't find the family support that we really needed. After chatting with a few other families, we started our own non-profit. We started out as individual families and we have become 1 large family!! We meet every Sunday just to hang out, let the kids play and chat for a bit. In addition, we like to go to parks, have potlucks, have game nights, BBQs, holiday parties like Atheist Easter and Heathen Halloween, Superbowl parties and really just get together for discussions and fun. Our kids are growing up together and invite each other to birthday parties, share coping skills while dealing with stories of being damned to hell at school and have sleepovers. Families babysit for each other, help each other move, and celebrate our children's achievements together. Although we are family-centered we are not always kid-focused. We have nights out without our kids a few times a month. We have karaoke nights, ladies nights and celebrate adult birthdays too. Several of our members are single or couples without children. We are growing every day. Everyone is welcome!!
STAR has an outreach program called Atheists at Work, which does things like:
a) We help Atheists and Humanists Helping the Homeless by purchasing items that they may need that haven't been donated.
b) We help the San Antonio River Authority clean up the river, pick up trash, plant trees and improve our community.
c) Other members have received their endorsements through the Humanist Society and assist on Lackland with the Atheist/Humanist meetings.
One of the STAR members felt that the work I have accomplished in San Antonio was noteworthy and submitted me for the first ever American Humanist Association President's award. I was selected and received the award in May 2016 at the American Humanist Association 75th Anniversary Convention.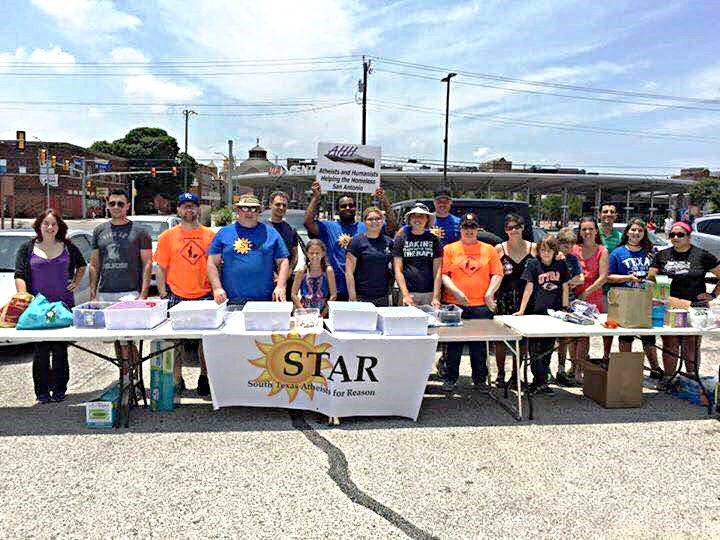 UnitedCoR: If you could have a vision for Humanist in the military, given your experience and current outreach, what would it be? What would you like to see happening in 5 to 10 years?
Vicki Gettman: I can't stress it enough, but the military NEEDS HUMANIST CHAPLAINS!
Our meetings on Lackland prove to me EVERY SUNDAY that there is a need and a want for non-theistic support. We need to acknowledge this and provide trainees and service members throughout the military access to support without religious indoctrination. The troops deserve to be respected and given the opportunity to regroup, meet with like-minded individuals. We have religious troops attend our meetings and they appreciate the opportunity to learn about their fellow airmen and how best to support their nonreligious wingmen. There have been several people that have reached out for support in the Army and Navy before they went to basic training and they have been denied. The Army and Navy have denied the support for nonreligious troops. There are 5,000 trainees and airmen on Lackland at any time. We just had 640 at our last meeting. We have over 10% of the trainees and airmen attending our service.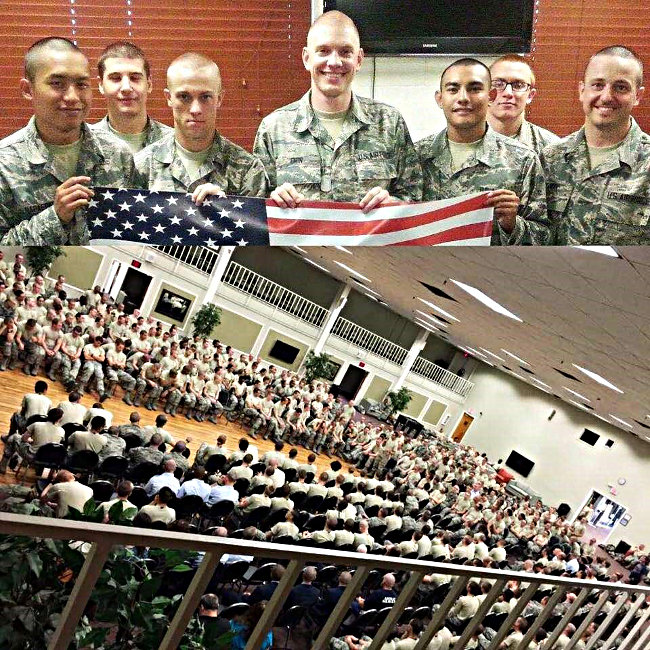 (The photograph on the bottom is only ONE meeting of non-theists…the second meeting with equal numbers of people immediately follows! And who says there's no need?)
Congratulations again to Vicki Gettman, recipient of the AHA's President's Award. We appreciate that you've taken time out of your schedule and family life to share these details with our readers about your outreach. The growth of your groups there in San Antonio is encouraging and inspiring!!