Reason is alive and well in Iowa! Humanists of Linn County was pleased to accept two separate proclamations declaring May 5th as National Day of Reason. Both the City of Cedar Rapids and the Linn County Board of Supervisors officially recognized the importance of a clear and elaborate separation of church and state and encouraged all citizens to focus on the employment of reason, critical thought, the scientific method, and free inquiry for the resolution of human problems and for the welfare of human kind. The Iowa humanist group is part of the Eastern Iowa Coalition of Reason, a coalition of numerous Iowa atheist, humanist and secular organizations.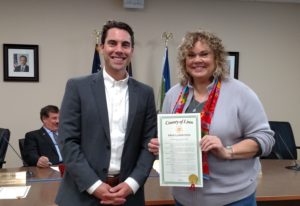 "The "nones" are a large and growing segment of the population," said Roxanne Gissler, president of Humanists of Linn County. "It is encouraging to see our political leaders of all persuasion recognize, not only this segment, but also the importance of keeping church and state separate and applying critical evaluation when considering policy and legislation."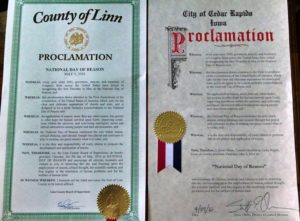 Humanists of Linn County is pleased to also be joining other member groups of the Eastern Iowa and Central Iowa Coalitions of Reason in Des Moines on May 5th where Governor Branstad will sign a proclamation for the State of Iowa.
https://www.facebook.com/HumanistsLinn/