Students at university who take courses such as "Introduction to the History and Systems of Philosophy" are introduced to the figure of Socrates and his method of dialogue as a means to examine the validity of 'truth': even to probe into the very nature and being of the dialogue partner. Plato illustrated this dialectical process in his classical work Euthyphro, where Socrates engaged in a conversation with a young man over abstract concepts such as 'piety', 'justice', and the desires of 'deities' in an attempt to challenge the initial concern of Euthyphro: would he be vindicated by the courts if he sued his own father for murdering a serf. As a result of this dialogue, Euthyphro's assumptions, prior knowledge, cultural norms, social constructs, and even his own ways of thinking about his immediate context were challenged, thereby placing him in a form of cognitive tension. Although it might be tempting to avoid challenging situations, difficult conversations are needed in order to make forward, yet necessary, steps to moving people closer together (assuming, of course, that they are willing to do this). Without having these difficult conversations, it might be the case that we might never find common grounds that allow us to connect and correct the misconceptions we have about each other and work towards a resolution of conflict.
A year and a half ago, a special inter-religious/worldview dialogue was held with a highly-respected Muslim scholar at the DuPage Unitarian Universalist congregation in the suburbs of Chicago. With the discussion moderated by the Rev. Tom Capo, our perspectives and differences were clear, but at the same time, we (along with the audience) began a new journey towards cooperation and understanding through dialogue rather than resorting to polarized mistrust. The goal of that event was not to destroy but to evolve, to create new outlets and channels that enabled new questions to be raised, and to begin the process of having some "hard conversations" in a spirit of respect—very much in tune with the dialectical process Plato had described. To give credit where it is due, the goal wouldn't have been achieved without the leadership and guidance of Rev. Capo. Since then, various members of the Chicago Coalition of Reason have kept in contact with him about his work just outside of Chicagoland.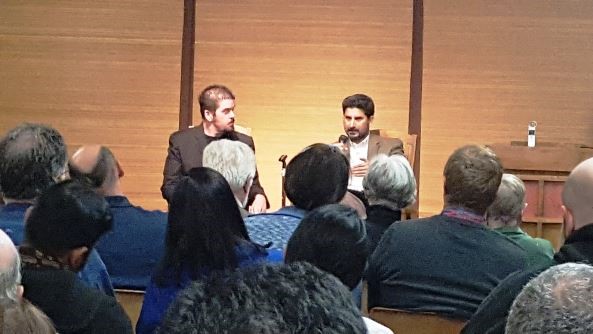 Recently, Tom wrote to us to let us know more about him as a person, his work, legacy as well as why he has made certain that his UU congregation in DuPage is inclusive and secular-friendly—being prepared to work with anyone who is respectful, considerate and prepared to dialogue. His story is fascinating, as it is unapologetically a religious leader's journey, but he also makes sure he reserves a special place for "progressive" and non-theistic outreach and outcomes in his vision. Check out his story:
Rev. Tom Capo: I've been a Unitarian Universalist pastor for 15 years, having begun my ministry in small churches in Beaumont and Huntsville, Texas. Much of my focus centered around stabilizing struggling congregations and broadening the communities that I served.  In 2008 I received a call to serve Peoples Church Unitarian Universalist in Cedar Rapids, Iowa, a city of about 130,000.
In May of that year (2008), the city had been driven to its knees by a major flood, and was still reeling when I arrived three months later. Peoples Church was one of the very few downtown properties that had "dry feet": the flood waters having stopped a half-block away from the building, while the library, the Art museum, the Paramount Theater, and countless downtown businesses had suffered catastrophic damage and loss. I rolled up my sleeves and joined the work of helping the city rebuild. Many members of Peoples Church were already hard at work in the community helping to muck out the Mother Mosque—the oldest Mosque in the United States—as well as providing strong backs and capable hands to those who were unable to do the heartbreaking, wrenching work of cleaning up their homes and, in too many cases, working to salvage what little they could from the ruins of their previous lives. I was asked by a group of local pastors to be part of the interfaith clean-up effort, Project Recovery, and I was invited to join a team of religious and non-believer leaders offering counseling to those experiencing the emotional and spiritual consequences of the flood: PTSD, sudden homelessness, and overwhelming emotions caused by catastrophic loss. I had some experience working in a Red Cross shelter in Beaumont after Hurricane Katrina, and had spent 30 years as a psychotherapist in my first career, and these were skill sets that Project Recovery could use. We reached out to the community, spending time driving and walking around town stopping when we saw two or three gathered together, giving them a sounding board, a listening ear, a sturdy shoulder to lean upon. I also joined the County Disaster Preparedness Team, offering my skills to this multi-faith team of religious leaders.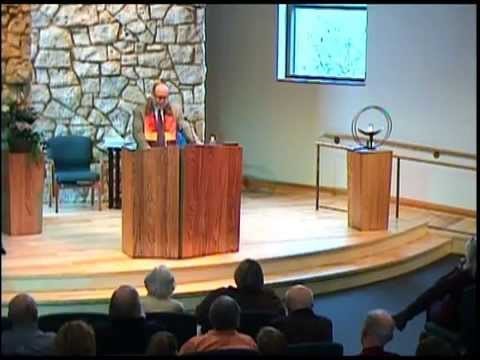 In time, I joined the Inter-Religious Council of Linn County; Cedar Rapids Unitarian Universalists have been part of this Council since its inception, and from that relationship I got my first opportunity to be a moderator on a locally-produced television show, Ethical Perspectives on the News. Sponsored by the IRC of Linn County, the show's format brought together diverse political, social, and religious leaders, as well as educators and other community leaders to discuss issues that were important to the people of Linn County. Each speaker was made aware that the show would be grounded in modeling civil dialogue on difficult, polarizing issues. As a Moderator I formed relationships with the Mayor, County Board members, State and National legislators as well as political leaders from Iowa, Planned Parenthood Board members, National Rifle Association members—people from every walk of life and every point of view on the spectrum. I joined the oldest Rotary in Cedar Rapids and met many of the business leaders in the community. From these contacts, I was able to learn how government actually works on a local level, how business gets done, and the impact of religious leaders on a community.
These experiences prepared me to chair an inter-faith team—comprised of Conservative Christians leaders, Imams, Jewish Rabbis, B'Hai leader, Buddhist monks, and liberal Christian leaders—who worked together to craft a 10th anniversary 9/11 service in Veteran's Memorial Baseball Stadium. The police department, the fire department, religious and non-theistic leaders all participated. We had over 1,000 people in attendance, and we ended the service with something that some might consider a controversial message: all people, both religious and non-theistic, must move beyond religious prejudices to a place of reconciliation and healing form this attack against our nation.
In April 2009, the Iowa Supreme Court legalized same-sex marriage—and alongside members of my church—I got involved in activities supporting same-sex marriage in Iowa.  When there was deep concern that the legislature would try to overturn this ruling, I spoke publically in many settings, lobbied in the state capitol, and wrote articles for the local paper. I'm proud to say that I was chosen to be a Commissioner on the Cedar Rapids Civil Rights Commission, and I worked to ensure that the rights of those in need were upheld, particularly in the issues of fair housing. I was also able to serve on the Board of the Eastern Iowa Planned Parenthood organization, alongside other Cedar Rapids Unitarian Universalists. I also served on the Board of the Iowa Interfaith Alliance and was a Board member of the Iowa Abortion Access Fund, providing funds for abortions to those in need (the Iowa Abortion Access Fund was founded by members of Peoples Church UU many years ago).
I was fortunate to be enriched by all these experiences in Iowa before moving to Naperville, IL just outside of Chicago, to serve DuPage Unitarian Universalist Church. My years in Cedar Rapids prepared me for the social justice work my new church was thirsty for. I came prepared to reach out to legislators, ready to embrace people of all faiths and worldviews in the critically important work of reaching across creeds and cultures so that all hands can join together to create a kinder, nobler world. I came to DuPage UU church willing to follow the congregation's lead in fighting racial inequity and finding ways to bring restorative justice programs to the city, county, and state. I've lobbied in Springfield, advocated for green jobs and for a balanced budget. I have helped in the creation of a social justice project at our church, which is a summer internship program for disadvantaged and discriminated-against youth in our area. I have also been able to mediate conflicts with faith communities of color with whom we have partnered.

In many ways, Cedar Rapids was the true birthplace of my public ministry, and will always have a place in my heart. My years as the minister of the Unitarian Universalist church in Cedar Rapids, IA, jam-packed with deeply meaningful experiences that grew me as a pastor, grounded in the ministry of speaking truth to power, of walking with the people—not in front of them—shaped me into a well-informed, well-equipped, co-creator, with the Social Justice Committee at DuPage Unitarian Universalist Church, of a meaningful justice ministry at our church.
In current climates of polarization and bifurcation, where people can be induced towards a dogmatic viewpoint, non-theistic people are fortunate to have friends and supporters like Rev. Tom Capo, who are prepared to be secular-friendly, are open to listen to the views of others, and who work with people who want to put their ethical beliefs and values into practice in ways that benefits everyone in society, but to do so without requiring a belief in deities. With the support of people like Tom, atheists, agnostics, skeptics, humanists, freethinkers and other non-theistic people in Chicagoland have found an advocate and friend who will help them work together regardless of beliefs, ideals and differences of opinion—in other words, finding a common ground where people can become better through service to other human beings, regardless of whether people believe it is to the "glory of a god" or because "I feel good about myself when I help others in need".