by Tom Cara
Freedom From Religion Foundation—Metropolitan Chicago Chapter
Reason's Greetings from Chicago CoR! Our CoR's "Good Without God" banner and the Freedom From Religion Foundation—Metropolitan Chicago Chapter Dawkins Scarlet "A" sign went up smoothly last Saturday in the public forum at North School Park in Arlington Heights. As a side note, upon completion of the setup, we were confronted by a kind man who felt it necessary to let us know that our secular displays are "ruining Christmas for everyone else."
Since some time ago the courts declared that public forums on government property can allow for private religious displays, and with more of these popping-up all over the country during the winter holiday season, our reason for being there has now become less a state/church issue and more of an equal representation issue. The people of theistic religious faith who insist on imposing their beliefs on everyone else in the public sphere have a difficult time accepting the fact that, if they really choose to do this, they must share that space with those who think differently.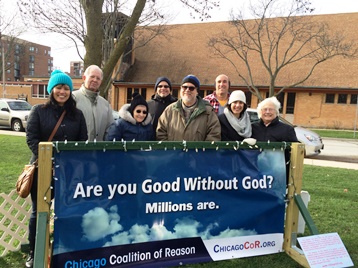 Freedom of speech on secular taxpayer property does not just apply to religious speech, and we try to impress upon theistic groups that the only reason we are there is because they are there. The Freedom From Religion Foundation, the United Coalition of Reason and many other secular organizations across the nation are all doing their part to educate the public in this matter. It's our goal to discourage the divisive debate of religion vs. non-religion from taking place on public property, and hope someday we will no longer have to erect our counter displays.
Please feel free to visit North School Park to view the secular displays, which we are pleased to announce outnumber the religious display 2-1 for the second consecutive year! North School Park is located adjacent to the Arlington Heights Park District building at 410 N. Arlington Heights Rd. in Arlington Heights, just three blocks north of Northwest Hwy. The public forum area is in the northwest corner of the park.
On behalf of all of us in the Chicagoland area, we wish a Happy Winter Solstice season to all!
Tom Cara
Freedom From Religion Foundation—Metropolitan Chicago Chapter