To end discrimination, nontheists need to be known to our communities. Hosting a booth at a local event costs less than a billboard and is much warmer. So what do you need to connect with your neighborhood?
Here are two photos of examples.
Members of the Central Iowa CoR are preparing to represent their local group in some upcoming farmers' markets by carrying the vinyl from their billboard launch.
Connecticut CoR had their own banner printed, to take with them to various local functions.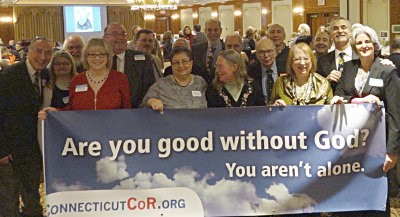 If your local CoR needs help with advertising and promotion ideas, please email us to find out more!