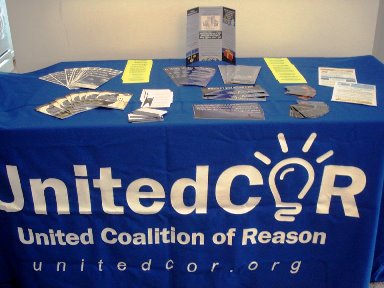 by UnitedCoR's Executive Director, Executive Director, United Coalition of Reason
Now we are unveiling our first crowdfunding campaign, with a vital goal. Local CoRs want to engage communities at street fairs and beyond their neighborhoods through conferences and festivals. When local groups hold a booth and greet passersby, representing nontheism to other people in their communities, it's their chance to say, "We're regular people, just like you!"
Unfortunately, these CoRs often lack the professional materials to make a great impression. So let's give it to them!
Our new fundraising campaign on Indiegogo lets you give local nontheist groups the banners, flyers, giveaways, and table space at public events that they need. Your donation will help a group the make a real difference in their neighborhoods! Your gift builds a "community outreach kit," providing everything a local CoR needs for a display booth.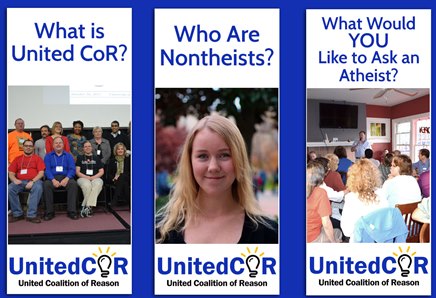 When you make your gift, put any address into the "shipping location" in the US and Canada and we'll send your materials to the local CoR that's closet. For example, to give to Chicago CoR, just put in "1 Main Street, Chicago IL" and we'll make sure that it gets to them.
You can buy them a banner, flyers, a variety of great giveaways, and even t-shirts for volunteers. Or give them a clipboard and a floating magnetic pen for sign-ups, or giveaway tote bags.
Most items come professionally printed with the name of the local group. All gifts will help local groups have a greater impact, looking more professional and showing that they are part of a nationwide movement.
All donations, going through the national United Coalition of Reason, are tax deductible in the United States.
Here's how you can help!
1. Visit the Indiegogo campaign and give today. Building momentum is the most important part to crowdfunding. When you give today, others will then take notice!
2. Get friends on board. Please email, post to social media, and get your local and national groups to participate. Just bring people to http://igg.me/at/unitedcor.
3. Encourage donors to give to your group! We'd love to hear your positive, supportive ideas for how to make the campaign more compelling and the creative ways that your local group will be using the donated materials and showing thanks to donors. For example, you might offer to shoot a thank you video for the biggest donor to your local group, or talk about how you really need those brain keychains for an upcoming city science fair! You can show others your enthusiam by commenting directly on the Indiegogo page, or email [email protected] with your thoughts!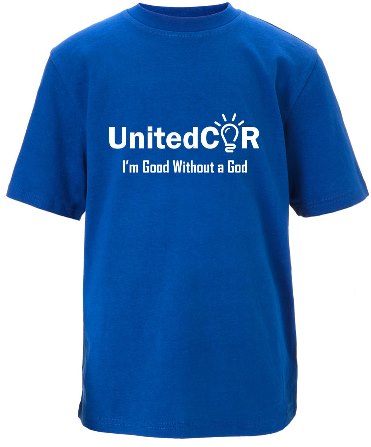 You can also give when you shop online. Earlier this year, UnitedCoR was registered as a charitable group on Goodshop, where you can donate to UnitedCoR just by purchasing items online through website retailers you would use anyway — at no additional cost to you.
Donations early in the campaign are key. Please give today on the Indiegogo page, and thank you! You guys are the best.