by Shelagh Talbot
Prior to the Reason Rally, I had the opportunity to speak with Amy Boyle, one of the pillars in the Sunday Assembly in Los Angeles, one of the cooperating groups of the Los Angeles Coalition of Reason.
UnitedCoR: How did you become part of the Sunday Assembly in Los Angeles?
Amy Boyle: I just came off working 2012 Obama campaign and was looking for a way to take those organizing principles I'd learned and work with a positive secular community in LA. Right around then, I got a call from Ann Dodd and she told me about Sunday Assembly in LA. So, I showed up at a planning meeting as I thought I might end up helping them out with some pointers. I figured that it would be a small gathering of people making friends and singing songs, listening to talks. Six months later we had 900 people signed up for the first event, so I found myself with a fulltime organizing job.
UnitedCoR: Did you expect this many people to show up?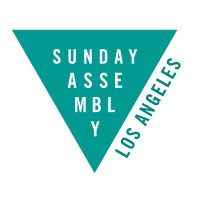 Amy Boyle: No! Our venue only held 50 people! So we had to find another venue in the area. There were at least 400 people that came. A lot of people had told us that they'd been searching for a different place—people feel they can't get together in something they don't believe in like many regular churches.
UnitedCoR: Do you have regular speakers?
Amy Boyle: Yes, of course. The Assembly needs to be experienced: you feel energized and the speakers that come to us are part of that. Essentially, we aim to provide inspiring, thought-provoking and practical ideas that help people to live the lives they want to lead, and to be the people they want to be. There are chapters all over the world; we're the world's fastest-growing secular community. All of this happened in a very short time. As our website says, we empower people to build secular communities that celebrate life. We use all the community-building techniques developed by churches, synagogues and mosques to build community in a radically inclusive and totally secular way that welcomes people from all walks of life. Sometimes people from the secular community feel marginalized. Joining a Sunday Assembly can make such a difference, since we're all about supporting one another on this life journey we are all on.
UnitedCoR: Who was your favorite guest?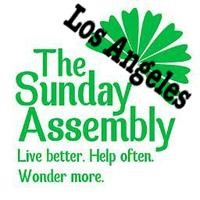 Amy Boyle: I would have to say Professor Craig Stark. He's a professor of Neurobiology and Behavior at the Center for the Neurobiology of Learning and Memory. His is the first research institute in the world dedicated exclusively to the multidisciplinary study of learning and memory mechanisms and we liked him so much we had him back twice. We had someone else who also gave a fascinating presentation—Jean Franzblau, from the Cuddle Sanctuary in Los Angeles. She's a "professional cuddler," and as she said, her organization comes from the perspective that we all deserve to feel connected, nourished and cared for. She has a nice, warm, huggy eye-opening touch, and everyone left feeling uplifted. She told us, "It's incredibly gratifying to create an experience for people which delivers the human contact and sense of community they crave."
UnitedCoR: How many Assemblies are there in the world?
Amy Boyle: I think there are more than seventy, and of course there are hundreds of assemblies that would like to start, since there are more people all the time that want to build assemblies in their community. We do our best to help. Our Sunday Assembly in Los Angeles meets monthly so people interested in this type of secular gathering get to hear great talks, connect for service projects, sing songs and generally celebrate life. Our Assemblies are free to attend, and of course everyone is welcome!
We appreciate that Amy took the time to speak with UnitedCoR and for letting us know about the exciting outreach of Sunday Assembly—Los Angeles. You can follow their Sunday Assembly on Facebook, Twitter, YouTube and Instagram. Sunday Assembly—Los Angeles meets on the second Sunday of each month from 11:10a.m. to 12:25, with a one-hour social period thereafter. They're located at 817 Vine Street in Hollywood, and all are welcome to attend, to live better, help often, and wonder more!