A Special Guest Article by Col. Erwin A. Kamp, M.A.
Chief of Chaplains [Humanist], His Majesty's Royal Dutch Marines–The Netherlands
New Year's Day is a time of reflection, a time for the bigger picture. On 11th December 2017, I was a featured guest on the talk show Up in Amsterdam. One of the topics of discussion was the question of how you want to be remembered after you die. In my experience as a chaplain, many people find this to be a difficult question with which to struggle. Too often, I've found that people are not accustomed to think about this question, nor have they taken it seriously and "worked on it" in their minds or openly talked about it with others they care about.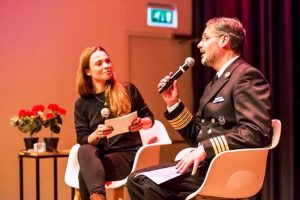 Although talking about death, dying and how we want to leave a legacy is a difficult topic, it is an important question. But why? In my experience, here are things to consider:
If people discuss end-of-life issues in advance and if you have meaningful conversations with people whom you love and respect (and they have mutual feelings of love and respect for you), then it is more likely that your wishes will be carried out.
Col. Kamp addresses the TV audience.

Thinking about how you want to be remembered and what you would like to be remembered and honoured by after you die ensures that your survivors (family, colleagues, friends and other loved-ones) don't have to grapple with these troubling questions during their time of grief. Pragmatically, dealing with these issues early on can help prevent major problems for them in the future (and who wants to add to the grief of their families?).
Be honest with yourself…ask yourself the question, "How do I want to be remembered when I die?" Your answers give depth to the relationship that you share with your loved ones. It also makes it clear just how delicate and beautiful our life is. It can help make us aware that that we mainly have to live "in the here and now," and that we have to try to make the best of our physical existence with what we can, while we can.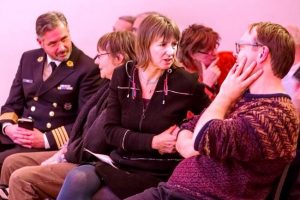 Before they're assigned to a tour of duty, soldiers in The Netherlands are referred to a manual that they discuss with their next-of-kin (we call it Handleiding Nabestaanden, in Dutch). The work from this book often gives rise to good, meaningful and reflective conversations with a soldier's family and friends. We're aware that the chances that a soldier dies during a mission are much greater than when he or she remains in The Netherlands. Having this realistic consciousness is also part of our soldiers' preparation for mission-readiness. I strongly believe that civilians can learn from the experiences of soldiers and veterans, in that it's important to think in advance about your own life's mortality and the legacy that a person wants to leave behind.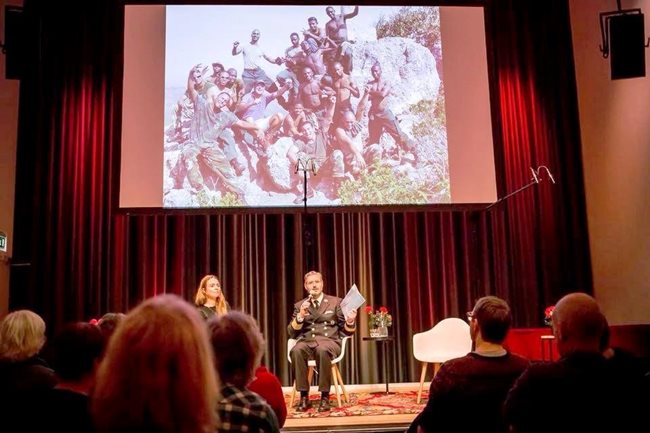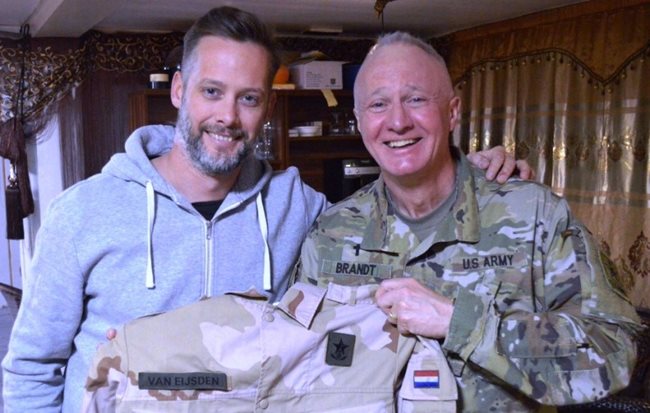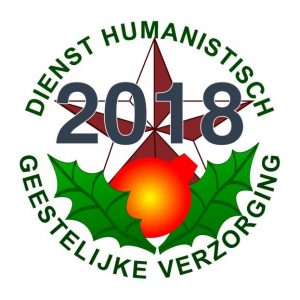 I have found it highly rewarding and a true privilege to present my role in His Majesty's Royal Dutch Marines as a Humanist chaplain, a senior officer, a counsellor, and for my ministry and work in this area to be highlighted on national (maybe European Union-wide?) TV! With such a sensitive topic, I hope that my contribution has made a difference to others….just as it has made a difference with my family and loved-ones when we've had these important discussions in the past.
To learn more about Col. Kamp's work in His Majesty's Royal Dutch Marines, check out his personal website (www.erwinkamp.nl), follow him on Twitter (@ErwinAKamp), or learn more through this exclusive interview that he gave UnitedCoR in 2016.