by Roxanne "Rocky" Gissler, Coordinator, Eastern Iowa Coalition of Reason, and Rory Moe, Coordinator, Central Iowa Coalition of Reason
With an introduction from Melissa Pugh, Grassroots and Outreach Coordinator– United Coalition of Reason
Imagine that a young man of twenty-two is picked up in a crack house that is known to the police, and he's used his latest victim's money to get high and forget the savagery of a night of crime. After being caught, he's taken to prison where he pleads guilty to rape and 1st degree murder; the judge sentences him to the ultimate punishment: death. He sits on death row for 25 years, waiting his appeals to play out. He finally becomes tired of his 23-hour life in a cell and writes a letter to the governor asking for his "rights of a condemned prisoner". He wants his appeals to be halted and his execution date set for exactly 30 days from the date of the letter. The days pass with the same monotony but he studies his Bible and knows he will be free. By the time his day of execution arrives, he is brought into the chamber where his life will end. His pastor is with him, whispering the words of forgiveness as he smiles, knowingly. He is strapped to the gurney and as the poison enters his system, he feels nothing; just a slight raising of his heartbeat and a need to go to sleep…he is now free.
Now, imagine a young student who has a bright future in medicine. All of a sudden, during her junior year, she comes down with these terrible headaches. She goes to her doctor and he assures her they're just migraines, probably brought on by the stress of her final semesters in college. He prescribes her some medication and off she goes. To her dismay, the headaches don't get better, and they worsen. She tells her parents she needs to see a neurosurgeon and get an MRI. After receiving an MRI, her doctor comes in: she knows by his face the news is not good. He sits down and tells them that she has a tumor the size of a fifty cent piece in her brain. They are shocked but decide to do all they can. They try surgery; it fails. After years of painful and unsuccessful treatment, in the end, she looks to the doctor, leans forward with tears in her eyes and whispers "Please, I beg you; I know you can do it. Put me out of my misery and end my family's suffering." The doctor goes to push back from his desk but stops: he knows he cannot do what she asks, as he would lose his medical license and no longer be able to help other patients he can save. He cannot give her the means to end her life with dignity. At the end of her life that held so much promise, she is unrecognizable. Unlike the convicted death row criminal, she is trapped…
As of 2016, 5 states have death with dignity statutes: California, Washington, Oregon, Vermont, and Montana, where physician-assisted dying is legal by State Supreme Court ruling. This pales in comparison to the 32 states that allow the death penalty. Can anyone explain, then, why it is acceptable for a condemned criminal to be given the right to have an input into the time of their passing, when innocent and law-abiding persons are subjected to persistent legal challenges, which frequently culminate in trauma and suffering, brought about by religious objections to a dignified decision to end their own lives?  –Melissa Pugh
——–
Death is not a subject that people are generally comfortable discussing in our society. However, on Saturday July 16, the Death and Dying Beyond Belief Symposium tackled that very subject! The Symposium was a joint effort of the Eastern and Central Iowa Coalitions of Reason, and co-sponsored by the Humanists of Linn County and the Iowa Atheists and Freethinkers. Nearly fifty people filled the room almost to capacity at the Kirkwood Training and Outreach Services Center in Marion, Iowa. Present were representatives of several of the member groups of both Iowa CoR's as well as attendees from the Inter-Religious Council of Linn County. The event ran from 1 to 5 pm with seven speakers from various backgrounds and perspectives.
Our first speaker was Iowa State Legislator Liz Bennett (D-Cedar Rapids) who spoke of the status of the "Death with Dignity" bills before the Iowa Senate and the House, which did not pass out of committee this year. Hearings held on Senate File 2051 (House File 65, both modeled after Oregon's 1997 Death with Dignity law) were attended by both advocates and those opposed. Unfortunately, on a March 3, 2016 hearing, the rules of decorum were not followed and the clergy in attendance went over their allotted time limits and only one of the terminally ill was allowed to speak. None of the Humanists in attendance received an opportunity for their voice to be heard in the brief one-hour session.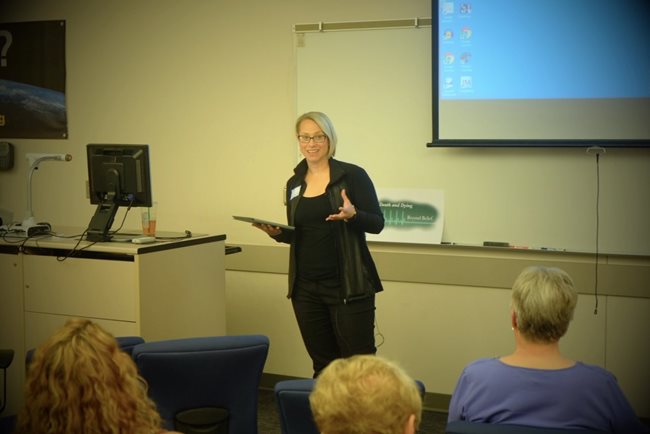 Next, we heard from Roberta "Kay" Becker, President of Compassion & Choices—Iowa.  Her organization avoids using terminology such as assisted suicide, since it's the disease itself that is the cause of death: the term "medical aid in dying" is preferred. She urges everyone—no matter the age—to prepare a Living Will or Advance Directive and to discuss with your family and doctor. Contrast this with the next speaker, Kevin Bradley with the Final Exit Network. He embraces the word suicide, as it is not illegal, and he advocates that we should stop using the phrase, "committing suicide," as that implicates a crime. He also brushed off the slippery slope argument given by clergy and many in the medical establishment: suicide rates are lower in states with Death with Dignity laws!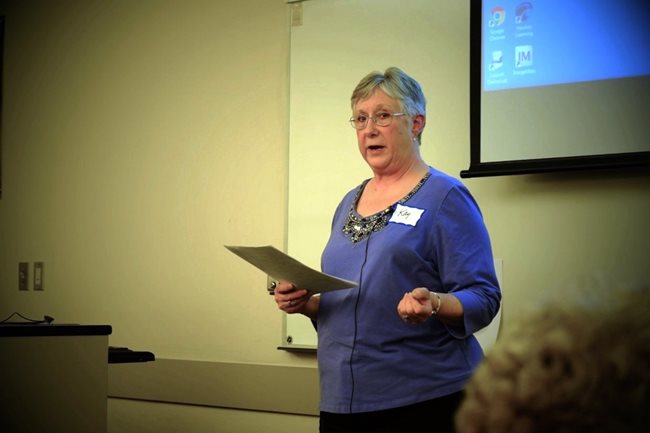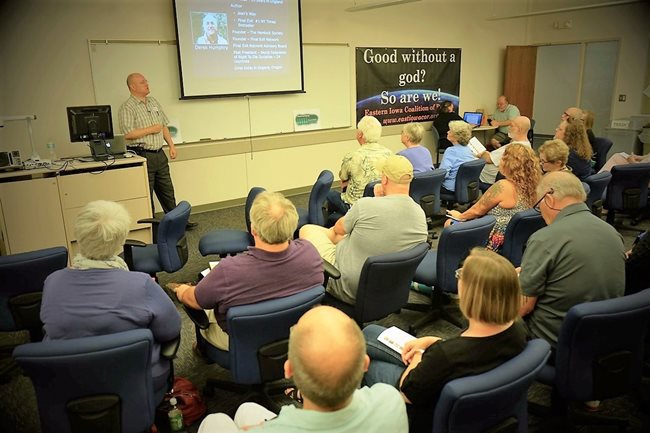 Peggy Fulton, a Registered Nurse, who has worked in the hospice care field for many years was next, and went into details as to the common misconceptions of hospice care. Peggy gave a very personal and emotional perspective giving examples of what constitutes a good death versus bad in the eyes of the caregivers. According to Peggy, it's religion that often stands in the way of a proper good-bye.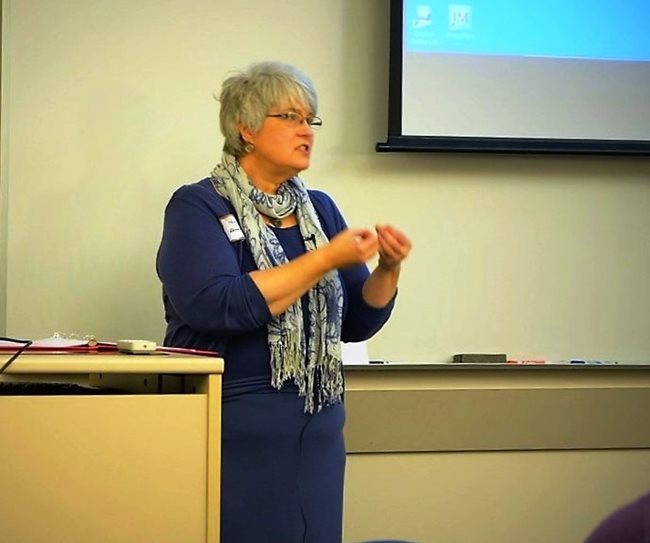 Former Evangelical associate pastor and current member of the Humanists of Linn County, Alan Diehl, gave a very animated presentation on the "evolution" of the concept of heaven and hell in the Bible. Alan also sits on the Board of the Inter-Religious Council of Linn County as a Humanist representative, which he states has been a very positive experience.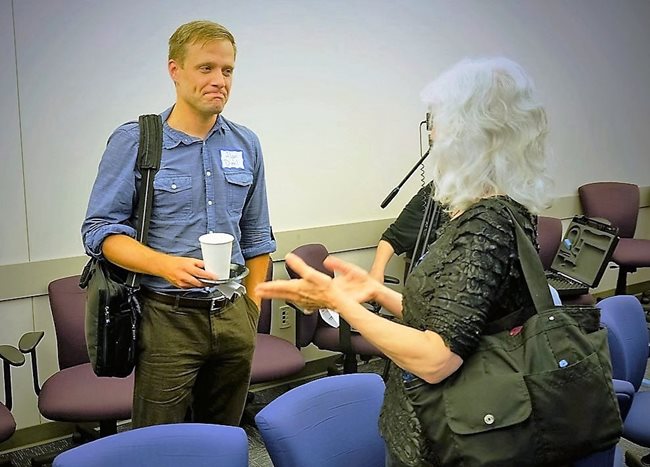 Dr. Paul Knupp, Humanist-endorsed chaplain and President of the Humanist Society of Iowa gave a presentation entitled "When Humanists Experience Death and Dying". He explained that funeral services, for example, are performed in much the same way as the religious counterparts-minus the Scripture reading. Paul provided many great examples of secular quotes, particularly from Carl Sagan, that would be entirely appropriate for a funeral.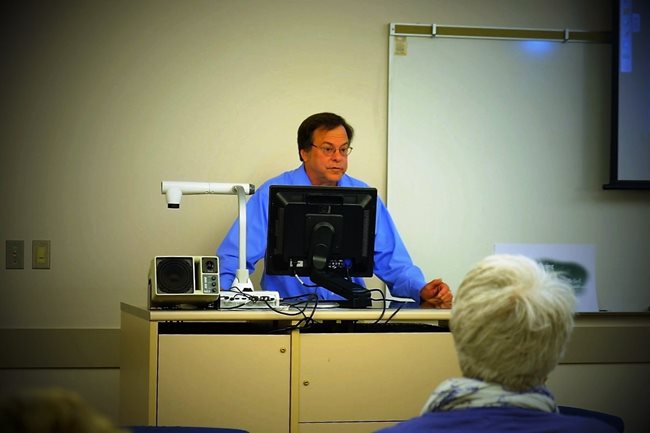 Our final speaker was the esteemed Dr. Hector Avalos, Professor of Biblical Studies at Iowa State University, and an open atheist. Dr. Avalos took us on an amazing journey from his birthplace in Nogales, Mexico through all of his struggles with health issues that brought him close to death on numerous occasions. Despite being a child evangelist faith healer and Pentecostal preacher, he realized that it was the skill of the doctors and nurses that saved his life rather than divine intervention.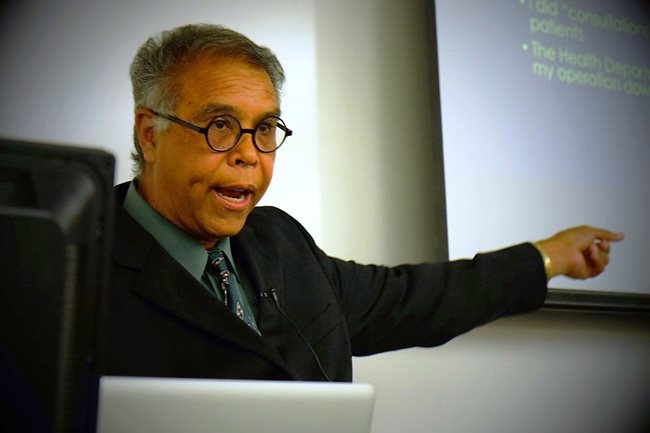 There were many excellent questions following most of the speakers from the attendees sparking great discussion during, at the break and after the event came to a close. Reflecting on the symposium, Rory Moe, Coordinator of the Central Iowa CoR said, "For all of my adult life, I've always known that I want to be in control when the time comes for my own life to cease. Barring sudden or accidental death, I will not have the terms of the end of my life dictated by others particularly those of religious influence."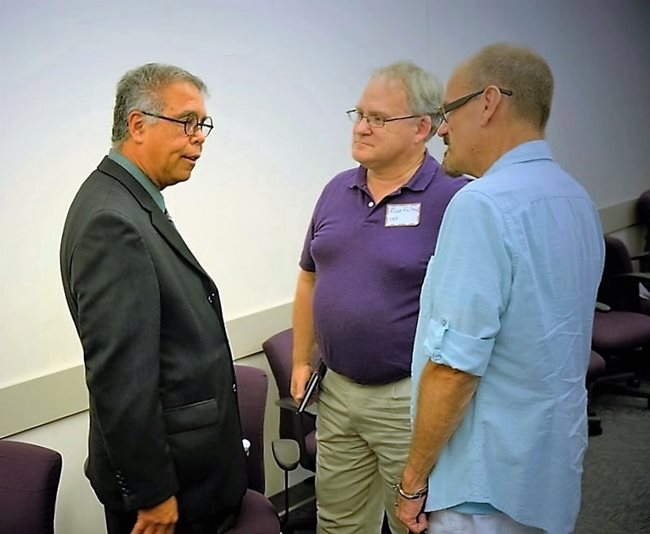 The subject of end of life came up surprisingly soon after Eastern Iowa Coalition of Reason member group, Humanists of Linn County, was formed. "One of our members lives in a smaller town outside of Cedar Rapids and she indicated that she wasn't sure that the funeral home in her town would be willing to accommodate a memorial service that wasn't religious in nature," said Rocky Gissler, President of Humanists of Linn County and Coordinator for the Eastern Iowa Coalition of Reason. "Later that week, I spent about an hour calling around to the funeral homes in Cedar Rapids asking if they would allow non-religious memorials in their facilities and all them assured me that they would. I was happy to be able to pass that information on to our group member and alleviate her concerns that there was no place she could go. That's really what started all of this."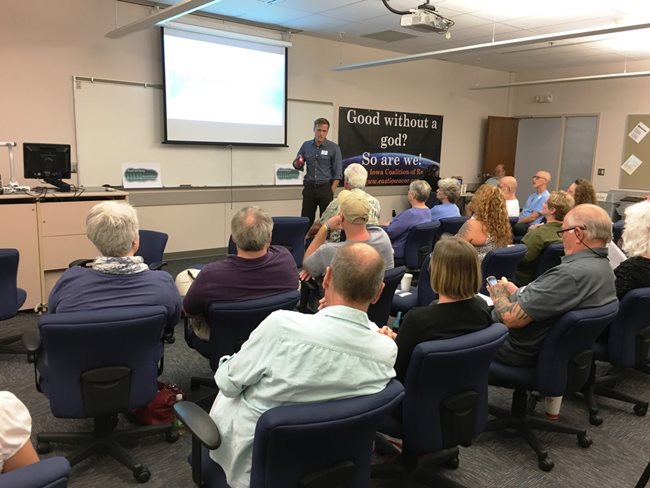 Over several months, conversations began to include the influence of religion in our health care system, the lack of support systems and understanding how grieving is different for non-theists, and ultimately, death with dignity. "When we read about what happened at the Hearings held on Senate File 2051 (House File 65) and that one of the terminally ill was a member of Iowa Atheists and Freethinkers in Des Moines, that was when we knew we needed to get involved will all of these related issues," said Gissler.
Humanists of Linn County approached Iowa Atheists and Freethinkers about co-sponsoring a symposium that would begin to address end of life issues from a non-theistic viewpoint and everything took off from there. Gissler and the other organizers were surprised by the turnout and interest once they began promoting the event. "We were afraid we might not have enough room to accommodate everyone who was coming," Gissler said.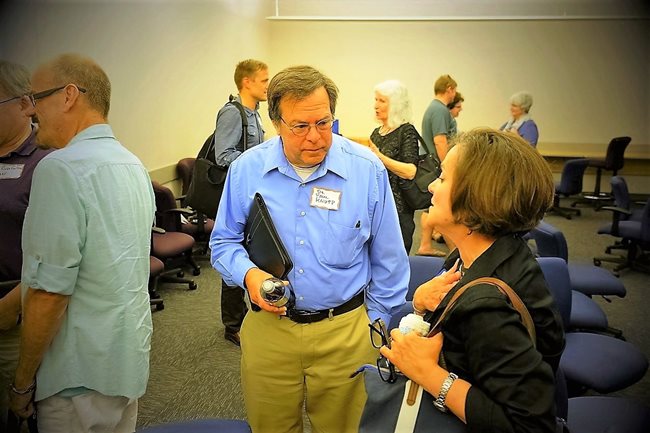 Ultimately, the symposium confirmed that there is an interest and a sincere need for non-theists to talk about these issues and to work hard to get religious objections and limitations out of health care and end of life matters that affect all people, regardless of their sincerely-held beliefs. Organizers reported that one woman rushed in about an hour before the event ended saying she had just read about the symposium and jumped in her car and came right over to see what she could. An elderly gentleman currently suffering from Bell's Palsy felt the subject was so important, that he walked three miles to attend when he couldn't find anyone to give him a ride; we made sure that someone took him home after the event. There were even theistic clergy members in attendance who wanted to learn about non-theist memorial services and how non-theists view end of life differently than theists. "Non-theists want to know what their options are regarding end of life and health care matters and they need to know how religious doctrine and belief is preventing them the freedom to exercise all their options," Gissler emphasized. "This symposium is the first of many such educational events we plan to have in Iowa. We are not going to stand idly by and let religious sensibilities make our choices and options for us: Not anymore."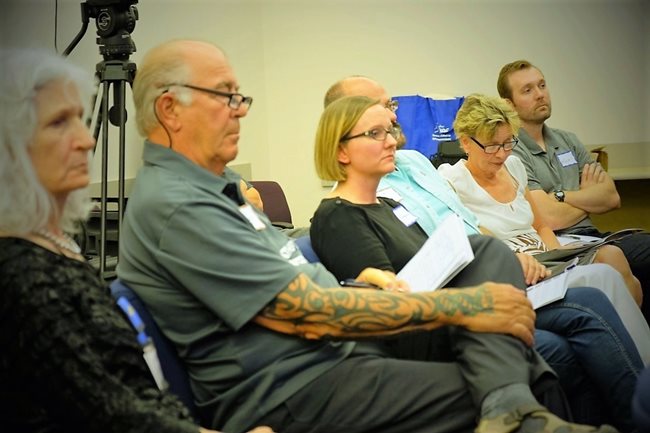 ---
———-
The two Iowa CoRs aren't alone in their work, as Rhode Island Coalition of Reason gave testimony to their state house in March 2016 for a Compassionate Care Act, and the Connecticut Coalition of Reason has done the same in 2015. As this important topic is emerging in many communities, the question becomes, how do people find Dignity in Death Beyond Belief? The most important thing to remember is that life on this planet is finite: all life. To me, and I hope for many freethinkers, atheists, humanists and agnostics, it's a comfort. As Charles Darwin said, "There is a grandeur in this view of life, with its several powers, breathed into a few forms or into one; and that, whilst this planet has gone cycling on according to the fixed law of gravity, from so simple a beginning endless forms most beautiful and most wonderful have been, and are being, evolved." This includes leaving this planet on one's own terms: a dignity that I believe that should be given to all humans on Earth.
Congratulations also go out to the Humanists of Linn County for the positive media attention they have recently received this past week for doing good without a belief in a god. –Melissa Pugh