For Immediate Release
(Tuesday, May 3, 2016) Des Moines, IA — The Central Iowa Coalition of Reason and Eastern Iowa Coalition of Reason will be celebrating a "Day of Reason" with an official proclamation from Iowa Governor, Terry Branstad. The proclamation, which will be signed at the Governor's formal office this coming Thursday, May 5 at 2:40p.m. will be presented to the secular, pro-science groups. The proposed wording of the proclamation will declare "WHEREAS, those who wrote the Constitution of the United States of America, the basic document for governing the affairs of humankind within the United States, based it upon principles delineated within the philosophies distinguishing the historical Age of Reason; and WHEREAS, most citizens of the United States purport to value reason and its application; and WHEREAS, it is the duty and responsibility of every citizen to promote the development and application of reason."
Rory Moe, Central Iowa Coalition of Reason's Coordinator stated that the two Iowa nontheist groups requested the proclamation as part of a nationwide effort to make the National Day of Reason a recognized holiday in celebration of science and intellectual pursuits. "The purpose of the Day of Reason is to celebrate reason—a concept all Americans can support—and to raise public awareness about the persistent threat to religious liberty posed by government intrusion into the private sphere of worship. The Day of Reason is also meant to help build community among the non-religious in the United States" said Moe. "In 2015 the Pew Research Council reported that 22.8% of American adults are religiously non-affiliated and that number jumps to a third of those under 30. This is the fastest growing demographic in the United States, and I commend Gov. Branstad for employing reason and recognizing this growing constituency."
"Iowa, like the rest of the country, has a significant and increasing non-theistic population.  Both the Eastern Iowa and Central Iowa Coalitions of Reason work hard to establish a safe community for all non-theists and to ensure that their rights are protected and their views are heard. " said Roxanne "Rocky" Gissler, coordinator of the Eastern Iowa Coalition of Reason.  "Proclamations such as the one Governor Branstad has signed demonstrate that our elected officials recognize that a growing number of Iowans value reason and critical thought as key to a government that is truly representative of  all people. I thank Governor Branstad for his signature and his recognition."
The National Day of Reason is not intended, however to mock religious expression, but rather to appeal to all members of American society. UnitedCoR's Executive Director, executive director of the United Coalition of Reason in Washington, DC raised his concerns. "When I read National Day of Prayer statements such as "…communicate with every individual the need for personal repentance and prayer…and to mobilize the Christian community to intercede for America's leaders and its families" or that the National Day of Prayer is to represent "a Judeo-Christian expression of the national observance, based on our understanding that this country was birthed in prayer and in reverence for the God of the Bible," such Day of Prayer proclamations will divide and exclude Americans." Dr. Heap continued, "Modern America is a multiplicity of sincerely-held beliefs—including non-theistic beliefs as espoused by Humanism—and to focus attention on divisive sectarian prayer proclamations is counter-productive to establishing civic unity, whereas proclamations on reason is inclusive of everyone in our society."
# # #
The Central Iowa Coalition of Reason (www.CentralIowaCoR.org) is a proactive partnership of four Atheist, Free-Thought advocate, and Humanist groups.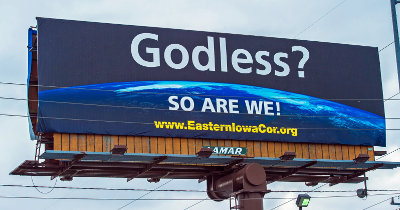 Central Iowa CoR works together in the central Iowa region with a clear vision to foster a sense of community for the Secular among us and to raise the visibility of their efforts for those who have not yet found a Secular community through which they can thrive and feel welcome.
The East Iowa Coalition of Reason (www.EastIowaCoR.org) is made up of eight Iowa atheist, Iowa freethought, and Iowa humanist groups working together in the Eastern Iowa area. Eas Iowa CoR's twin goals are to foster a sense of community among the like-minded and to raise public awareness that people who don't believe in a god or gods can be decent citizens who contribute to the larger society.
The United Coalition of Reason is a non-profit organization that helps local non-theistic groups work together to achieve higher visibility, increase membership, and have a greater impact in their local areas.
# # #
For more information, contact:
Rory Moe
Coordinator—Central Iowa Coalition of Reason
[email protected]
(515) 770-8541
Roxanne "Rocky" Gissler
Coordinator—Eastern Iowa Coalition of Reason
[email protected]
(319) 365-0923
UnitedCoR's Executive Director
Executive Director
United Coalition of Reason (headquartered in Washington, DC) [email protected]
(202) 744-1553