by William Cooney
American Atheists President and self-described "firebrand" for the cause David Silverman spoke at the Mark Twain House and Museum (MTH) in Hartford Thursday night (January 21, 2016). The evening's presentation was nothing less than transformational. Mr. Silverman is the real deal for a real cause. Just like the organization he represents, he is forward, assertive, and unapologetic about his views on atheism and religion and why the latter needs to go away. His first book appears destined to be widely read and seriously critiqued.
Silverman was introduced to the audience by American Atheists Connecticut State Director Dennis Paul Himes. The discussion was hosted by MTH Director of Communications and Special Programs Jacques Lamarre. Lamarre had his work cut out for him being point man for the interview as Silverman's excitability became something of a challenge, albeit one that at nearly every turn was jocular—often to the point of hilarity.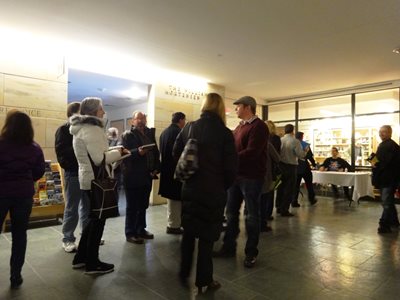 Son of a very traditional Jewish mother and a closeted atheist father, Mr. Silverman emerged from his early childhood experiences more disenchanted than wounded. He rather ingeniously managed to keep his mother happy while at the same time surreptitiously forging his own skeptical views about God and religion. Silverman regaled the audience with engaging tales of duplicity as he kept his early atheism a secret while at the same time pretending to commit to and prepare for both his Bar Mitzvah and Confirmation.
At several points throughout the conversation, Silverman adamantly made the argument that "religion is the greatest scam ever conceived," swindling people of their hard-earned money and taking advantage of a decidedly undeserved tax-exempt status. He also warned against thinking of religious people as stupid or delusional, suggesting instead that they are victims—victims of the great scam of religion. "This," says Silverman, "makes them deserving of our help and support."
An interesting aspect of Silverman's data is that they reveal an America much more secular than one would think if one takes into account all manner of skeptics, doubters, posers, pretenders, and those otherwise closeted. By this measure the United States population is more than 25% "atheist," and comprises a segment of society larger than even a number of religious groups. Silverman's argument is that many Americans—if they could only get past their aversion to the term—are indeed atheists but for many reasons refuse to acknowledge it. Silverman says that atheists are winning the war to de-stigmatize the term, and that most notably people under the age of 30 are particularly skeptical and proudly embrace their atheism.
Silverman weighed in on topics such as presidential election politics, Islamic extremism, LGBTQ rights, the Overton Window of  political viability, the national motto (In God We Trust, and why it is a big "lie"), and many others. The evening ended with a spirited Q&A session followed by his lobby book signing which, judging by the long line, was a big success. In the end, Silverman provided precisely what was advertised: a no nonsense, firebrand presentation for the cause of atheism propelled by an enthusiasm like no other.