by UnitedCoR's Education Officer and National Coordinator
Education Officer and National Coordinator
Last month, we had our first interview with a local CoR Coordinator, and we featured Pat McCann of the Connecticut CoR. This month, we've focused our attention to the next state east, and have interviewed Dr. Tony Houston, the Coordinator of Rhode Island secular group, the Rhode Island Coalition of Reason.
Tony is Associate Professor and Chair of Modern Languages at Bryant University. His research interests include language processing and acquisition, classroom discourse strategies, foreign language outcomes assessment, computer-assisted language learning, and Renaissance humanism. He teaches Spanish, formal and applied linguistics, foundations of learning, and philosophy. He and his husband—Michael Crooks—celebrate their anniversary on Festivus with feats of strength and the traditional airing of grievances
Susan M. Corbett: Please tell us a little about what brought you to decide to become an activist there in Rhode Island.

Dr. Tony Houston: I'm not a Rhode Island native. I came to the state for a faculty job at Bryant University in 2007. Bryant holds an annual "Research and Engagement Day (RED)" colloquium. I first sought out secular groups to do community outreach for a freethought session that I was scheduled to present. A few people from the secular communities were in attendance, including Steve Ahlquist, President of Humanists of Rhode Island. Steve arrived with camera in tow to film the session. Being a documentarian is among his many talents and interests.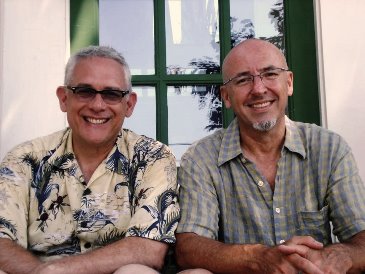 Dr. Tony Houston, Coordinator of Rhode Island CoR (left)
with husband, Michael Crooks)
My first contact with the secular communities was around the time that people were making plans to go to the first Reason Rally. I went to D.C. on my own but didn't manage to connect with any of the Rhode Islanders I'd just met. By the time Steve was filming my REDay presentation the following year, I was a fixture of the secular scene. Jessica Ahlquist's challenge to the infamous Cranston West High School Prayer Banner predates my involvement with local secular groups. I was completely oblivious to those events. Even so, it sometimes seems as if I've always been involved.
SMC: Please tell us more about the groups you work with in Rhode Island. What makes them so special to you, as a Coordinator and secular leader?
TH: My first meeting was with Humanists of Rhode Island (HRI)—the group most closely associated with opposition to the prayer banner. I'm now a board member and the Communication Chair. Steve Ahlquist, HRI President and Jessica's uncle, is a prolific journalist and blogger. He's notorious for his challenges to public statements by Rhode Island's Bishop Thomas Tobin. Tobin is regarded as one of the most conservative bishops in the nation.
When the Secular Coalition for America (SCA) set out to expand into all fifty states, Christine Eldridge and Adam Miner, both members of HRI, were the first to take on the roles of Co-Chairs of the Secular Coalition for Rhode Island (SCRI). David Finnegan and I—also of HRI—are the current Co-Chairs. Having already fought for marriage equality and reproductive freedom, the usual suspects from HRI have been a natural fit with SCRI's mission.
Rhode Island is one of ten states chosen by the SCA to launch its Put Kids First campaign to lobby against non-medical exemptions for vaccines. We're working with the Ocean State Immunization Collaborative (OSIC) and plan outreach to the Rhode Island Medical Society and local affiliates of the School Nurse Association and the American Academy of Pediatrics.
Physician-assisted suicide and non-medical exemptions for vaccines are target issues for SCA at the moment. Rhode Island has legislation on both issues that died in committee last year. We're compiling a list of SCRI volunteers and their state legislators in an effort to form a rapid-response team. It could also serve to differentiate SCRI from HRI.
I also enjoy meetings of the Rhode Island Atheists and Skeptics Societies, which are typically over dinner without a lot of parliamentary business. The Rhode Island Atheists and Skeptics Societies have shown a lot of interest in the "Put Kids First" campaign. It should come as no surprise that skeptics would oppose the "woo woo" behind the anti-vax movement.
SMC: What are some of the challenges you face in Rhode Island that you think are specific to your context in Rhode Island?
TH: One challenge we face locally is that Democrats skew more socially conservative in Rhode Island than nationally. The trend is attributed to the Catholic presence in the area. Another challenge is the notoriety of HRI. Some Rhode Islanders associate secular activism exclusively with HRI because of the Prayer Banner case.
SMC: What has been some of the most memorable achievements that Rhode Island CoR has experienced? How did your friends and cooperating group leaders rise to the challenge to make these achievements happen? 
TH: The Rhode Island CoR (RICoR) launch was a huge success. All the local secular groups took part. We received mostly positive television and press coverage, with the exception of the coverage in the Providence Journal–a local paper of record. An editorial accused us of proselytizing for the holidays and some readers took the opportunity to re-litigate the Prayer Banner case in the comments section of the on-line version—complete with reference to HRI. The alternative press coverage was memorable for an interview with Don Anderson, Executive Minister of the Rhode Island State Council of Churches, who declared that RICoR is not a threat to religious liberty.
With shared leadership among groups, it's hard to sort out RICoR accomplishments from the rest. There's definitely been more intergroup collaboration. Nativity scenes at the Statehouse have become an annual holiday tradition. RICoR joined the coordinated effort to gain space for secular holiday displays with its own "Tree of Knowledge." When United CoR's UnitedCoR's Executive Director came to Rhode Island to talk about the need for humanist military chaplains, we combined meetings of HRI and the Rhode Island Atheist Society for his presentation. Another combined meeting is planned for February 15 with Tim Appleton of Compassion and Choices, who will discuss physician-assisted suicide.
SMC: If you could look into the future, what would you hope to see Rhode Island CoR look like in 5 years' time?
TH: RICoR is one of two statewide coalitions. The other is SCRI. Neither renders the other superfluous. SCRI is focused on church-state separation. Both coalitions have the potential to build bridges between groups without changing the way groups operate. Whether a group meets informally over dinner or holds a more parliamentary-style meeting with guest speakers, I expect we'll continue to combine meetings on an ad hoc basis as issues of mutual interest emerge.
RICoR has an informal board structure comprised of the leaders of its member groups. RICoR doesn't have regular in-person meetings, but works to promote other Rhode Island atheist, humanist and secular groups.  SCRI convenes for a monthly conference call with Sarah Levin of SCA. An SCA report is also part of the standing agenda for HRI monthly meetings. There's no reason to assume that SCRI and HRI will always share leadership. As SCRI attracts volunteers who are not already members of HRI, I expect the groups will become more differentiated.
As the profiles of SCRI and RICoR become more prominent, I think we'll see more attention paid to the humanitarian work of member groups—such as Habitat for Humanity builds, highway cleanup, blood drives, food and clothing drives, fundraising for cancer research, etc. RICoR can help showcase that work. SCRI's lobbying focus isn't suited to the task. With differentiation of groups, the secular communities will be seen as diverse and formidable. Our statehouse holiday displays are already sending the message that there's more than one local secular organization. I'd also like to see the RICoR banner become a regular feature of the Rhode Island Pride Parade. It's fabulous!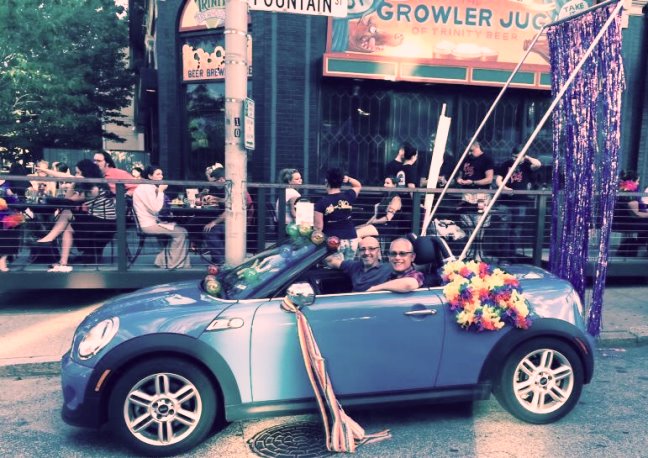 Thank you to Dr. Tony Houston of the Rhode Island CoR for taking the time out of your family, work and volunteer commitments to give UnitedCoR an interview. We look forward to hearing great news from your CoR about your work with the SCA.