Today, we join Rory Moe, the coordinator of the Central Iowa Coalition of Reason for a conversation about his work in the Iowa atheist community.
Born and raised in South Dakota, Rory was one of the last generations living on a traditional family farm. Rory described farm life as similar to living on an island with fields and pastures as your playground. He learned very quickly how nature does not discriminate as he witnessed life in all its beauty and brutality. Rory speaks fondly of having the privilege of living with no light pollution to block the view of the stars and planets which led to his lifelong love of astronomy. However, that was not the direction Rory followed in college, as he was also fascinated with archaeology; one of the digs in which he participated was a Paleo-Indian site in the Black Hills that dated to around 900 C.E. Rory graduated from the University of SD with a BA in Anthropology but was not able to continue on to graduate school; he then moved to Des Moines in 1980.
UnitedCoR's Education Officer and National Coordinator: Please tell us a little about what brought you to decide to become an activist there in Iowa.
Rory Moe: If someone had told that to me three years ago I would have had my doubts! Iowa was one of the early states to legalize same sex marriage in 2009 and my late husband and I were married the next year. Absolutely nothing changed in the state. Fire and brimstone did not rain down from the heavens and straight marriages were not impacted in any conceivable way. However, there was a backlash. A new evangelical group, The Family Leader, along with its founder and CEO, Bob Vander Plaats led a successful campaign to unseat three of the IA Supreme Court justices that had ruled in favor of same sex marriage. He called them activist judges when, in fact, they were merely upholding the equal protection clause of the lA Constitution.
Coupled with my concern over LGBT equal rights were my concerns over climate change denial, the rise of the creationist/ intelligent design agenda, and the cracks in the wall of separation of church and state. I was not a part of any atheist group until the end of 2012 when I joined the Iowa Atheists & Freethinkers. The following summer we staged a demonstration of the Family Leadership Summit (sponsored by the aforementioned Family Leader group) and I was hooked! It felt great to feel a part of a movement that seeks to bring reason, logic and science back into the discussion.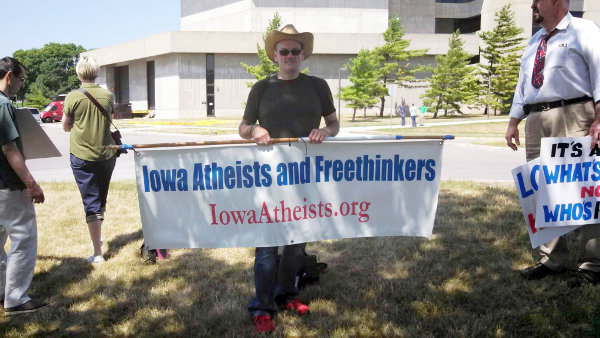 SC: Please tell us about the groups you work with in Des Moines. What makes them so special to you, as a Coordinator and secular leader?
RM: I'm also on the Board of the Iowa Atheists & Freethinkers (IAF), first as Board Member at Large and currently as Vice President. We have a very active group that is always busy with fundraising efforts, community service and outreach, social events and the continuing struggle to maintain separation of church and state.
In addition to the IAF, I am a member of the Humanists Society of Iowa and support their role in education with a monthly lecture or topic of interest to the secular community. The Iowa State University Atheist & Agnostic Society is in good hands with strong leadership and a great faculty advisor, the esteemed author and Professor of Religious Studies, Dr. Hector Avalos. This SSA operates an "Ask an Atheist" booth once a week. They have brought in speakers such as Dan Barker and Greta Christina which are always well attended by folks from central Iowa.
When searching for non-theist groups in Iowa back in 2013 to form the Central & Eastern Iowa CoR's, I traveled throughout the state and met in person with the various groups. It was such a great privilege to meet so many wonderful people and make new friends and continue to do so.
Beyond the secular groups, it has been my pleasure to work with Keenan Crow, Deputy Director of One Iowa. His organization is the state's leading organization for LGBT equality and we have much in common as to our goals.

SC: What are some of the challenges you face in Central Iowa that you think are specific to your context in Des Moines?
RM: While it is easier to go unnoticed in a city the size of Des Moines, you do not have to go far to find that the stigma is still very much alive towards atheists. Many of us are still silent at our jobs, with friends, family and neighbors. We often speak with individuals that have come to one of our meetings from a small town (typically very religious) and explain that they must remain silent or face discrimination. Forming a secular group in a rural Iowa town is likely to invite scorn (or worse).
Communication is key, but there is no consensus on the method. Depending on one's age seems to determine which social media outlet is preferable so it necessitates using all forms to reach our audience.
The other challenge is perhaps the most difficult to overcome. We have members ranging from Iowa Nice to firebrand atheists. What our Coalition does well is directing individuals to the member group that best represents their ideals. However, when we wish to stage a collective effort under the banner of the Central Iowa CoR, it becomes more difficult. The labels we give ourselves to define us also serve to divide us.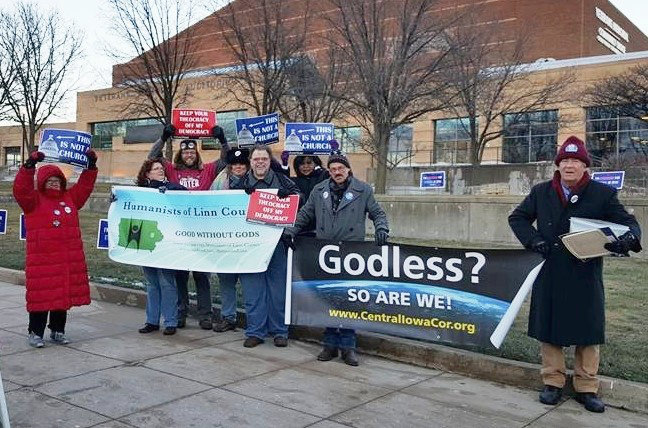 SC:  What has been some the memorable achievements that the Central Iowa CoR has experienced? How did your friends and cooperating group leaders rise to the challenge to make these achievements happen?
RM: Starting with Steve King's Freedom Summit on January 24, 2014, the Iowa Atheists & Freethinkers staged the first demonstration that would represent the current Presidential election cycle. The IAF hosted with all members of both Central & Eastern Iowa CoR's invited to participate which indeed they did! Meanwhile, I was on the inside sitting alongside Keenan Crow of One Iowa. We were sending out Facebook and Twitter messages as to what was being said on the inside by state politicians and the Republican candidates for President. I decided to use #AtheistVoter for the first time, and since I was new to Twitter did not realize those posts were listed on the Atheistvoter website. Shortly after the demonstration, our then IAF president John Fruetel was given permission by Amanda Knief of the American Atheists to print our own #AtheistVoter tee shirts to be worn at future demonstrations.
The next demonstration came on a chilly windy day in April with the Iowa Faith & Freedom Coalition's Presidential candidate forum held at a mega church. Wearing coats tends to hide the tee shirts some of us were wearing! We also had competition from other groups staging protests that day, however, our people were positioned at the only entrance to the parking lot. Most noteworthy moment: our own Senator Chuck Grassley shielding his face from us while passing by in his vehicle.
Without a doubt, the most memorable achievement of the past year was the demonstration of the Family Leadership Summit in Ames, IA on July 18. The event is sponsored by the Family Leader mentioned earlier, which is an evangelical Christian group, with the purpose to transform the culture, impact elections & influence policy by inspiring Christ-like leadership in government. Almost all of the Republican presidential candidates were in attendance.
With the help of UnitedCoR's Executive Director with an Action Alert and networking with my contacts we were able to stage a very successful demonstration involving leadership from four Coalitions! Present were Roxanne Gissler, Coordinator of the Eastern Iowa CoR along with members of the Humanists of Linn County, Thomas Gray, Coordinator of the Omaha CoR with members of the Omaha Atheists and R.E.A.S.O.N. Driving the most distance were Eric & Amanda Novotny, Coordinator of the South Dakota CoR and President of the Siouxland Freethinkers respectively. For the Central Iowa CoR, aside from me, we had the leadership of the Iowa Atheists & Freethinkers, the Humanist Society of Iowa and the Iowa State University Atheist & Agnostic Society (including Dr. Hector Avalos!)

In addition to the great turnout from the tri-state area, Amanda Knief from American Atheists attended the event with a press pass. She was able to ask questions of some of the candidates including Donald Trump. She was able to famously ask him if he wanted the atheist vote. To which he replied, "I don't know about the atheist vote. They might not like me. I'm not so sure."
In August, a few of us tried a different tactic and obtained tickets to the Ted Cruz Rally for Religious Freedom. John and Danna Fruetel and I (wearing a #AtheistVoter tee) sat and listened to the entire event (sending out FB messages and Tweets). It was extremely difficult to witness as a gay man an event that started with a "sermon" by Bob Vander Plaats of The Family Leader, an introduction by Congressman Steve King and then Ted Cruz with his evangelical audience whipped up into frenzy. It was bigotry against the LGBTQ community disguised as "religious liberty," pure and simple. On the plus side, a Washington Post reporter chased after me for an interview prior to the start of the event. It did not make it to print but she did post my photo on Twitter with my tee shirt!
We had another Iowa Faith & Freedom Coalition Presidential candidate forum at the State Fairgrounds in the fall. We had a good turnout for this demonstration again with competition with other groups but we had the optimum location of near the entrance of the venue and the parking lot. Our IAF president Russ Fulton and member Thomas Harvey had an interview with CNN, though we were unable to locate an article after the event.
As if a grand finale, a full year after the #AtheistVoter movement began in Iowa, there was the final Republican Debate sponsored by Fox News at the Iowa Events Center in downtown Des Moines. This was just days before the Iowa caucuses. Again, UnitedCoR's Executive Director was kind enough to send out an Action Alert prior to the event as well as a Media Advisory to 7000 outlets in the area. We were well represented by members of both Central & Eastern Iowa CoR's. As reported previously it was a carnival like atmosphere with many groups representing various interests demonstrating at this event. We did not expect to be upstaged by the 500 people marching up the street banging drums and chanting for raising the minimum wage to $15. Some of our group simply joined in on the fun and intermingled with that group with our own signs to "Keep Your Theocracy Off My Democracy"!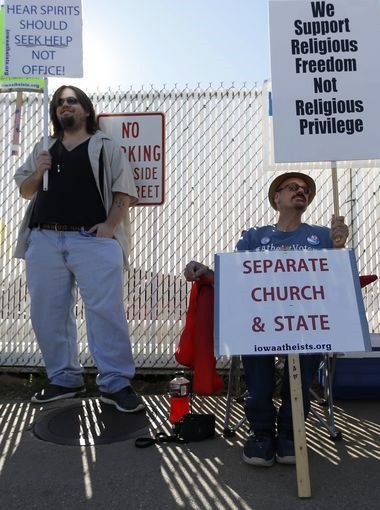 SC: If you could look into the future, what would you hope to see the Central Iowa CoR look like in 5 years time?
RM: Within the next 4 years we will go through another Presidential election cycle and I suspect we will see potential candidates "testing the waters" as early as next year. I see the struggle for separation of church and state to continue for the foreseeable future. In this context, I view the Central Iowa CoR as a unified front with effective communication, a recognizable voice to the media, with individuals skilled in the art of public speaking and debate.
My hope is that the stigma for those in smaller communities will lessen so as new groups can form to serve the more rural areas in the state. Those groups would be a welcome addition to the Central Iowa CoR and only strengthen our collective voice of reason!
UnitedCoR's Education Officer and National Coordinator
Education Officer and National Coordinator